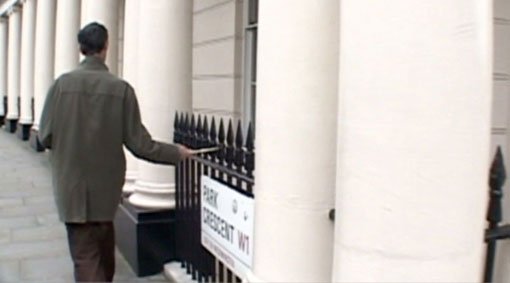 Francis Alÿs
Belgium and Mexico, b1959
Alÿs's diverse works include notational sketches, drawings, lists, paintings, performances, slide shows, animation and videos, with one work often manifested in several ways. Walking is at the core of his practice: works are conceived on long walks through cities, particularly Mexico City, where he lives. Alÿs moves through locations, telling stories, mapping spaces, making connections.
Railings 2004
This video work shows the artist walking the streets of London, trailing a wooden drumstick along a series of metal railings, making a percussive, sometimes bell-like noise. The camera follows behind, focusing on the stick as it hits the railings. Occasionally it cuts to wide-angle shots, capturing the awkward and strangely humorous presence of other people. The work is a playful example of one of Alÿs's 'interventions' in a city.
View Railings in the collection