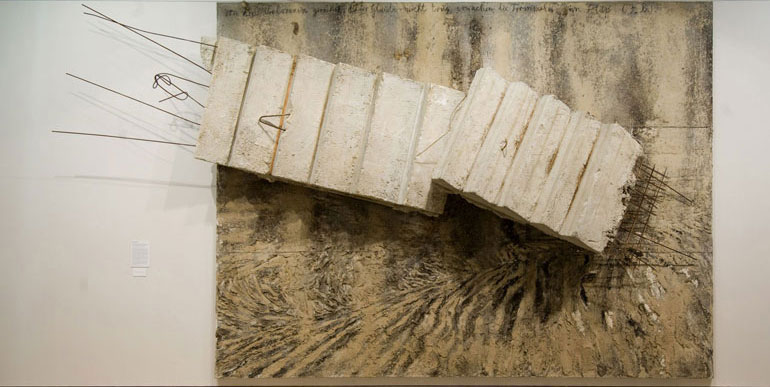 Anselm Kiefer, Von den Verlorenen gerührt, die der Glaube nicht trug, erwachen die Trommeln im Fluss 2004. Purchased with funds provided by Geoff and Vicki Ainsworth and Catriona and Simon Mordant 2006, Art Gallery of NSW collection © Anselm Kiefer
Anselm Kiefer
Germany and France, b1945
A one-time student of influential German artist Joseph Beuys (1921-1986), Kiefer is regarded as one of the most important artists working today. His early work explored German history and identity, using native subjects and symbols. Today, he is well-known for his complex, process-oriented works which use mythological and mystical references to deal with the spiritual and philosophical concerns of our times.
Von den Verlorenen gerührt, die der Glaube nicht trug, erwachen die Trommeln im Fluss 2004
The title of this work, inscribed in German across the top of the canvas, means 'The drums of the river came alive, beaten by the lost ones, who were not supported by faith'. Weighing over four tonnes, the staircase remains suspended in the gallery thanks to a concealed steel wall, leaving the viewer wondering if the stairs are floating towards the sky or on the verge of tipping back to earth.
View Von den Verlorenen gerührt in the collection
Anselm Kiefer's studio
A behind-the-scenes look at Kiefer's extraordinary studio in Barjac in the south of France, where he lived and worked from 1991 until 2008. Much of the work he did there will never find its way into a gallery or collection.