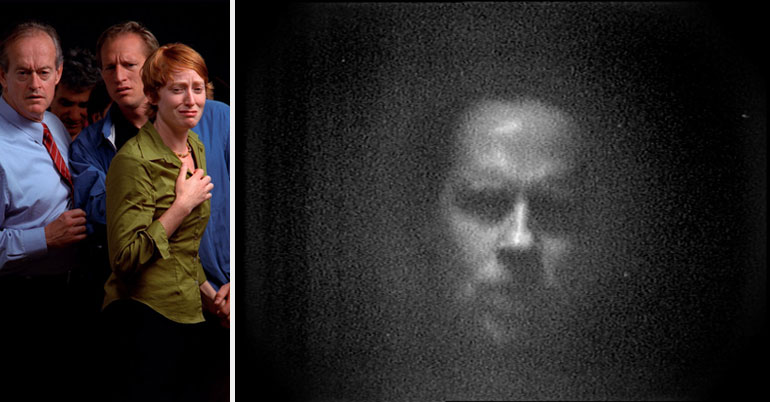 Bill Viola, stills from Observance 2002 and Memoria 2002. John Kaldor Family Collection at the Art Gallery of NSW © Bill Viola
Bill Viola
USA, b1951
A pioneer in video as art, Viola has commented that, after years of working with the medium, he experiences time as a 'palpable substance'. His video works and audiovisual installations explore fundamental aspects of the human experience. Often taking up themes from art history and religion, they have an exalted atmosphere, with images that, Viola has said, concern 'birth, death, the unfolding of consciousness'.
Viola participated in a Kaldor Public Art Project in 2008, which included works at the Art Gallery of NSW as well as St Saviour's Church in Redfern.
Memoria 2000
Shot using an old surveillance camera in low light, the footage shows a man's face but 'visual noise' intermittently obscures the image. This ghostly effect is exaggerated by projecting the image onto silk cloth hanging in a darkened room. The work recalls the shroud of Turin, a piece of fabric said to bear the imprint of the body of Christ. In a similar way, Memoria explores the idea of presence and absence.
View Memoria in the collection
Observance 2002
This work is part of a series, The passions, which explores the representation of extreme emotional states. Played in slow motion, it depicts people moving in line towards the camera. At the front of the queue, each person pauses – their expression of grief and sorrow intensified – before making way for others. Referencing funerary rituals, Observance is not only concerned with the cycle of existence and its effect on the psyche; it also considers the public performance of emotion.
View Observance in the collection