18th Biennale of Sydney

all our relations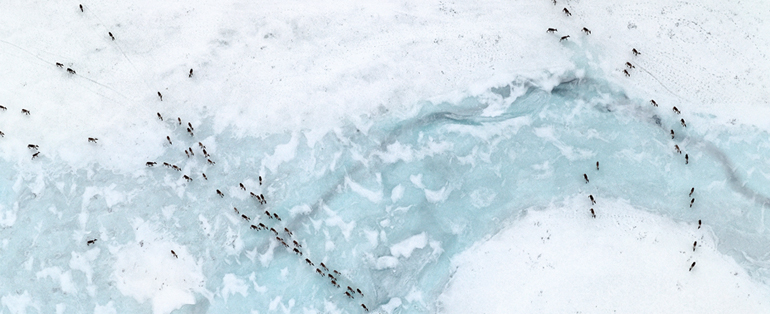 Subhankar Banerjee Caribou migration I 2002 (detail), from the Oil and the caribou series, digital chromogenic print face-mounted to Plexiglass, 218.44 × 172.72 cm. Courtesy the artist
The title of this year's Biennale – all our relations – reflects the curatorial premise of its artistic directors Catherine de Zegher and Gerald McMaster. The notion of relation has informed their curatorial conversation and working method and shaped the exhibition project, which follows the idea of interdependency and interconnectedness in the world at large.
At the Art Gallery of NSW, the exhibition is subtitled In Finite Blue Planet. Beginning with aerial views from afar, it gradually zooms in to a close-up of the everyday, with its cycle of life and death. In Finite Blue Planet announces a new consciousness of the finite – rather than infinite – nature of our blue planet and its resources. These artworks from over 20 international artists present alternative perspectives for a globalised world, while facing the challenges of living on a finite planet in an endangered environment, with war, displacement and migration as consequences.
The exhibition includes artist film screenings in the Gallery's Centenary Auditorium.
Artworks in the Biennale unfold in a sequence through the Biennale Art Walk, starting here at the Gallery before moving to the Museum of Contemporary Art Australia, then to Pier 2/3 in Walsh Bay and finally to Cockatoo Island.