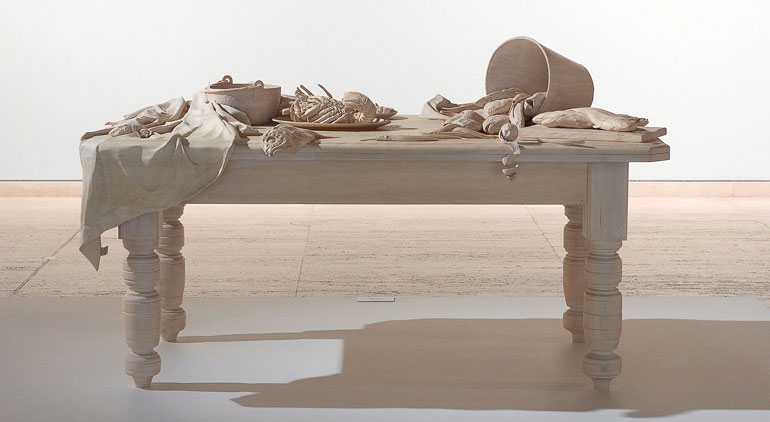 Ricky Swallow, Killing time 2003-04. Rudy Komon Memorial Fund and the Contemporary Collection Benefactors 2004, Art Gallery of NSW collection © Ricky Swallow, courtesy Darren Knight Gallery
Ricky Swallow
Australia, b1974
As part of his art practice, Swallow hand-carves intricate, naturalistic replicas of items from everyday life, often at life-size. Many of his works follow in the tradition of the vanitas or memento mori – a type of 17th-century Dutch still-life painting that used symbols such as dead animals and human skulls to remind us of our own mortality. Swallow has described his sculptures as 'evaporated self-portraits', which call on specific personal memories while also having commonly recognisable subject matter.
Killing time 2003-04
This work brings together Swallow's interests in time-passing, personal and collective memory, everyday experiences and the history of art. The fish and crustaceans are all creatures that Swallow, the son of a fisherman, remembers catching, killing and eating, and the table replicates the one at which his family ate. The work's title refers to this sense of life stilled in art, to the act of remembering and recording, and to the time spent on this labour-intensive sculpture.
View Killing time in the collection