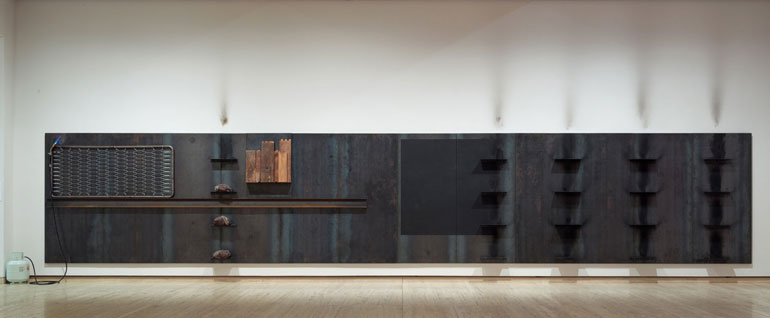 Jannis Kounellis, Untitled 1984/87 1987. Mervyn Horton Bequest Fund 1988, Art Gallery of NSW collection © Jannis Kounellis
Jannis Kounellis
Greece and Italy, b1936
Kounellis was born in the port city of Piraeus, Greece, but moved to Italy, where he began exhibiting paintings in the late 1950s. In the 1960s, he became associated with the arte povera movement, literally 'poor art' in Italian, where art was made from deliberately modest, often thrown-away materials or found objects. For arte povera artists, objects can tell stories, which may be read differently by individual viewers.
Untitled 1984/87 1987
Partly destroyed in 1984, this work was rebuilt in 1987. Highly symbolic, it is one Kounellis's most important productions and includes many of the ideas that permeate his art and the arte povera movement. A narrative moves from left to right. The flame represents the transformative power of fire. Household objects invoke our journey through life. The black square references Kasimir Malevich's 1915 abstract work – at once a nihilistic statement about the end of representation, and a window onto infinity – while the soot-marked shelves reference oil lamps burnt on graves as a token of the passage of the spirit.
View Untitled 1984/87 in the collection
Anthony Bond on Kounellis
In this video, Anthony Bond, Art Gallery of NSW assistant director and head of international art, discusses Kounellis and his work Untitled 1984/87.
Kounellis at the Gallery
Kounellis was interviewed at the Gallery during the installation of Untitled 1984/87.