Claire Healy and Sean Cordeiro

The paper trail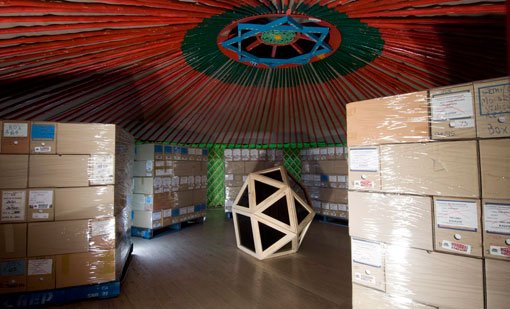 AGNSW Contemporary Project
Sydney artists Claire Healy and Sean Cordeiro make site-specific installations which often explore the ideas of the home and permanency. For this project the artists use a Ger, a Mongolian tent, filled with archive boxes, and a trailer stacked with mirrored Perspex and wooden sculptures.
The Mongol Empire was the largest continuous empire in the world and it grew from a nomadic roaming culture – epitomised by the ger as an impermanent mobile home – to a powerful global economy. To achieve maximum circulation they relied heavily on paper to disseminate information.
The paper trail not only references the different ways paper can represent the distribution of knowledge in past and present cultures, it also explores the link between bureaucracies now and then and the evolution of culture. Is there a difference between nomadism and what we now understand as contemporary globalisation?
AGNSW Contemporary Projects are supported by Andrew Cameron.