Translucent world

Chinese jade from the Forbidden City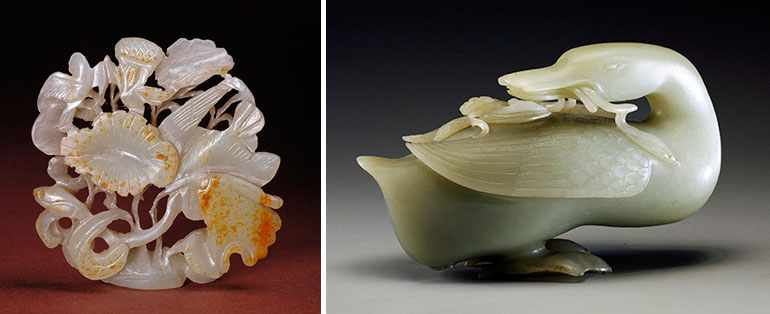 (left) Pendant in the shape of cranes among clouds, early Song dynasty (960-1279) (right) Water pot in the shape of a duck, mid Qing dynasty, 18th century
A unique presentation of Chinese jade from the outstanding collection of the Palace Museum, Beijing.
This exhibition features the manifold uses of jade to depict nature. Often natural forms are used to symbolise the various popular ideas concerning human beliefs and emotions. The group of more than 180 works is representative of all periods of Chinese jade carving, from Neolithic times to the Qing dynasty. It illustrates the different uses of this most precious stone and the variety of carving techniques used across history.
The key object is a marvellous carved jade mountain over one metre high depicting The Nine Elders of Huichang, commissioned by the Emperor Qianlong in 1787.
29 Aug – 11 Nov 2007
Closed 7 September 2007
$8.00 adults
$5.00 members/concession
$22.00 family (2 adults + up to 3 children)
$5.00 student in booked school group
Location:
Upper Asian gallery