Bertram Mackennal

The Fifth Balnaves Foundation Sculpture Project
From the 1890s to 1910s, Melbourne-born figurative sculptor Bertram Mackennal (1863-1931) became the most internationally successful artist that Australia had produced.
He was also the first Australian artist to be elected a member of the British Royal Academy; the first to have work purchased for the Tate, and the first to be knighted. As an expatriate based in London, Mackennal maintained close links to Australia and had a significant impact on the growth and directions of sculpture in this country.
Described by eminent British sculpture historian Benedict Read as 'one of the great sculptors of the period' and as 'a brilliant all round sculptor with a poetical imagination and particular elegance of style', Mackennal was part of a radically innovative movement known as the 'New Sculpture' that was influenced by Symbolist, art nouveau and 'neo-Florentine' tendencies. By 1910, under the patronage of George V, Mackennal had become one of the most successful civic sculptors of the era.
This exhibition is the first major retrospective of Mackennal's oeuvre, with over 56 domestically scaled sculptures and medallions have been sourced from national and international collections. It is accompanied by the first major monograph published on the artist.
The Fifth Balnaves Foundation Sculpture Project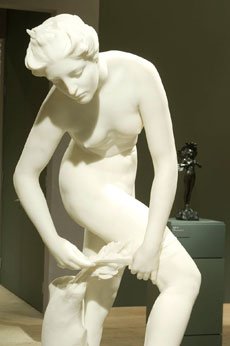 17 Aug – 4 Nov 2007
Free admission
Related