View More:
---
Title
Portrait of Lucie Beynis
---
Artist
Grace Crowley
Australia
28 May 1890 - 21 Apr 1979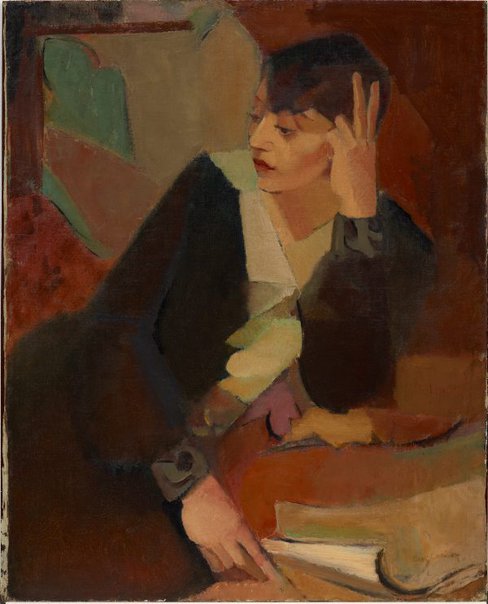 ---
About
Completed on the eve of her return to Sydney following four years of study in France, 'Portrait of Lucie Beynis' depicts a professional model whom Crowley painted over a period of four mornings whilst attending L'Academie Lhote in Paris.
Crowley recounted, 'we were united in one belief, the constructive approach to painting, and this insistence of the abstract elements in building up a design was the keynote of teaching with Lhote and Gleizes ... we were discouraged from making merely a faithful record of the nude [model] ... the abstract elements in line, shape and colour were introduced in order to induce the student to construct from it a design within a given space'.
Lhote's modified version of Cubism was one in which the human figure is retained, held within a field of dissecting geometric planes and shafts of colour running through the body. This approach dominated Crowley's semi-abstract paintings during the thirties, until her departure into pure abstraction in the 1940s.
---
Details
---
Media category
---
Materials used
oil on canvas on hardboard
---
Dimensions
79.7 x 64.5 cm stretcher; 92.4 x 77.1 x 3.3 cm frame
---
Signature & date
Signed l.r. corner, (pencil?) "GRACE CROWLEY [faint]". Not dated.
---
Location
---
Accession number
OA14.1965
---
Place
Where the work was made
Paris
---
Shown in 8 exhibitions
Exhibition history
---
Referenced in 18 publications
Bibliography
---
Project 21: Women's images of women, Sydney, 1977. cat.no. 12; Collection of the Art Gallery of New South Wales
Art Gallery of New South Wales picturebook, Sydney, 1972, 103 (colour illus.).
Australian women artists 1840-1940, Collingwood, 1980, 52, 111 (colour illus.). plate no. 33
Deborah Edwards, Two centuries of Australian painting: a selection from the Art Gallery of New South Wales, 'Introduction', pg. 8-14, Sydney, 1986, 30 (illus.). cat.no. 29
Deborah Edwards, Australian art: in the Art Gallery of New South Wales, 'Moderns', pg. 103-104, Sydney, 2000, 104, 125 (colour illus.), 300.
Face: Australian portraits 1880-1960, Canberra, 2010, 98.
Lesley Harding, Cubism & Australian art, 'L'Esprit Nouveau 1913-1929', pg. 19-47, Carlton, 2009, 40 (colour illus.).
Lois Hunter, The Australian art companion - A selection of influential artists, 'Grace Crowley', pg. 98-99, Balgowlah Heights, (1990), 98, 99 (colour illus.).
Bruce James, Art Gallery of New South Wales handbook, 'Australian Collection: Painting and Sculpture', pg. 102-181, Sydney, 1999, 140 (colour illus.).
Terence Maloon, Sydney moderns: art for a new world, 'The pedagogy of modern art: the quest for modernity by Australian artists abroad', pg. 239-251, Sydney, 2013, 249 (colour illus.), 311.
AGNSW Collections, 'From Colonialism to late Modernism', pg. 7-106, Sydney, 1994, 45 (colour illus.).
Jane Somerville, Look, 'Setting the record straight', pg. 15-16, Sydney, Mar 2007, 15 (colour illus.).
Elena Taylor, Grace Crowley: being modern, Canberra, 2006, 21 (colour illus.), 23, 31-32, 59.
Daniel Thomas (Curator), Project 4: Grace Crowley, Sydney, 1975. cat.no. 14
Natalie Wilson, Parallel visions: works from the Australian collection, 'Grace Crowley / Ralph Balson / Frank Hinder / Margel Hinder', pg. 88-103, Sydney, 2002, 88. 89 (colour illus.), 142, 147.
Author Unknown, The Australian Womens Diary 1995, 1994, 49, 50 (colour illus.). cat.no. 77. Entry by Janine Burke. Biography by Janine Burke, p. 337-338.
Art Gallery of New South Wales Quarterly, Sydney, Apr 1965, (illus.).
Grace Crowley's contribution to Australian modernism and geometric abstraction, 'Paris and André Lhote', pg. 33-35, Newcastle upon Tyne, 2010, 54, 56 (illus.). figure 2.2