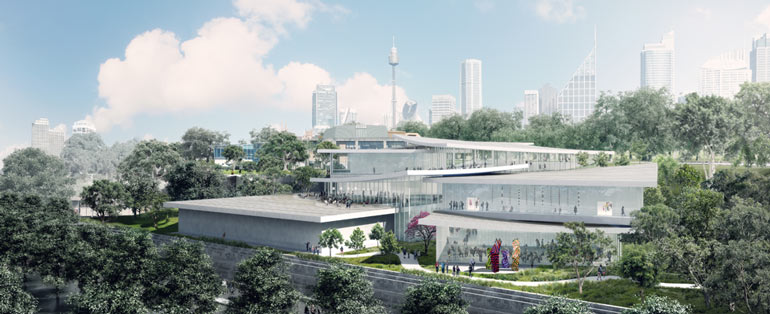 In-progress image of Sydney Modern Project, view from north-east as produced by Kazuyo Sejima + Ryue Nishizawa / SANAA
The Art Gallery of New South Wales expansion
At our magnificent site in Sydney, where extraordinary natural beauty is overlaid by complex world histories, we are expanding our much-loved Art Gallery of New South Wales and transforming it into an art museum that will further inspire both local and international audiences.
The Gallery's expansion – the Sydney Modern Project – will create a global art museum for a global city with new and expanded spaces for art, live performance and film along with spaces to learn, study and participate in cultural experiences.
Through collaboration between the Gallery and SANAA, our new building together with our existing building will create an expanded Gallery campus that delivers an exciting cultural precinct, strengthening links with the local community and improving access between the Gallery, Royal Botanic Gardens, Sydney Harbour, Sydney Opera House, State Library of NSW, the CBD and Woolloomooloo.
---
Project funding
On 14 June 2017, the NSW Government announced $244 million in funding to build the expansion of the Gallery.
Read media release
Wakil gift
The Susan and Isaac Wakil Foundation has committed $20 million to the capital campaign.
Read media release