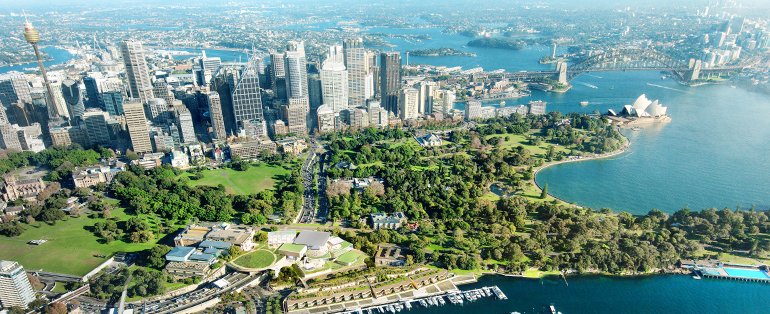 Sydney Modern Project: aerial view Image produced by Kazuyo Sejima + Ryue Nishizawa / SANAA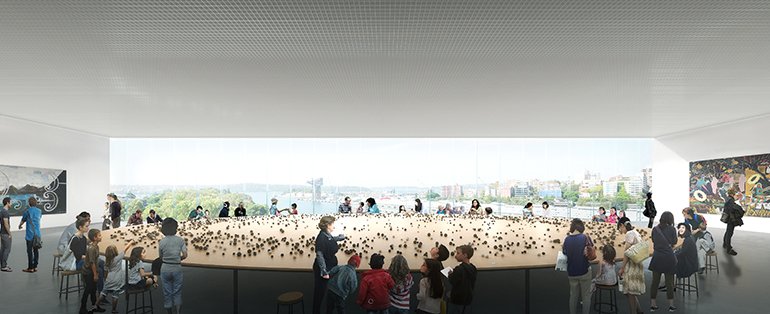 Sydney Modern Project: column-free gallery Image produced by Kazuyo Sejima + Ryue Nishizawa / SANAA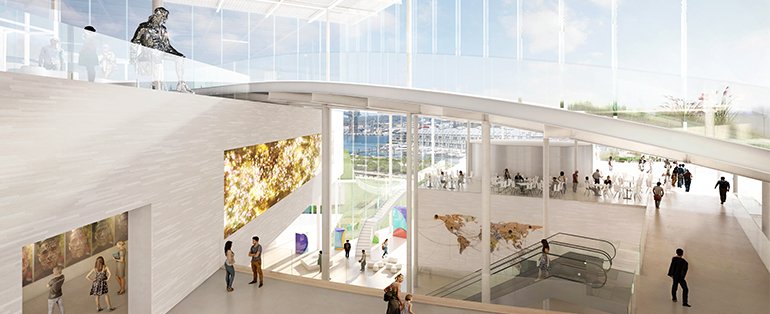 Sydney Modern Project: view of the atrium Image produced by Kazuyo Sejima + Ryue Nishizawa / SANAA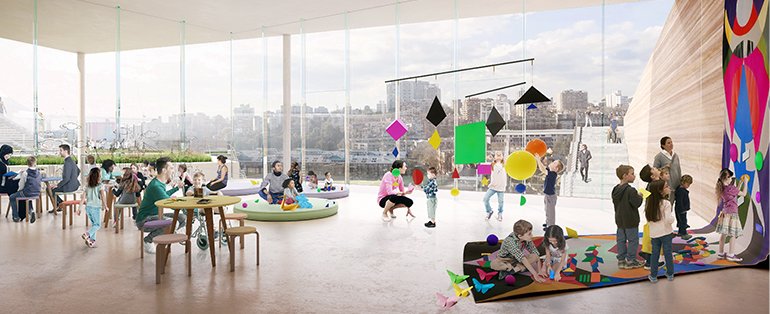 Sydney Modern Project: creative studio Image produced by Kazuyo Sejima + Ryue Nishizawa / SANAA
Slide 1
Slide 2
Slide 3
Slide 4
More art for more people
We're expanding with a new building and public art garden next to our existing Gallery.
By almost doubling the space for the display and enjoyment of art, we'll be able to show more of the state's outstanding art collection alongside the best Australian and international exhibitions.
Our new building's innovative and sustainable design brings together art, architecture and landscape in exciting new ways in one of the world's most beautiful cultural precincts.
Pritzker Prize-winning architects SANAA have designed dynamic indoor and outdoor spaces that will transform the way visitors engage with art and ideas, providing greater opportunities to learn, create and discover.
Construction is underway and scheduled for completion in 2022.
The Gallery remains open during construction.
FIRST LOOK: Explore some of the spaces in the new building in this architectural visualisation
"From our stunning parkland and harbourside home, our transformed institution will represent Sydney's bold spirit as a leading 21st-century art museum with a deep commitment to both Australian and international art."
—
Michael Brand, Gallery Director
"The Art Gallery of NSW is my church. It's an incredibly exciting time to be an artist and resident of this state as our pre-eminent art museum expands."
—
Ben Quilty, artist and Gallery Trustee
Project news
One year of construction in a minute
The first 12 months of the project's construction have been captured in a one-minute timelapse video.
Take a look
Works continue on schedule
Construction works by Richard Crookes Constructions are progressing on schedule.
Read more