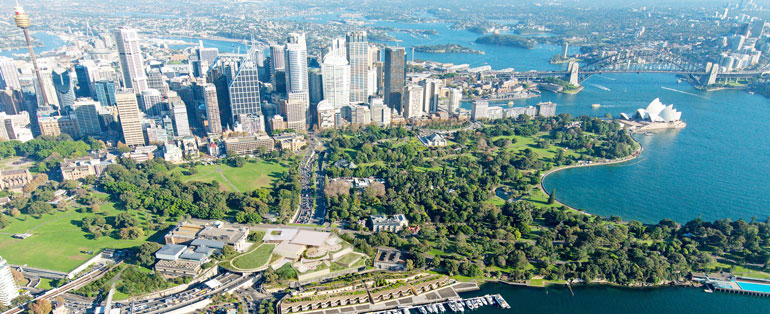 Image of Sydney Modern Project as produced by Kazuyo Sejima + Ryue Nishizawa / SANAA
The Art Gallery of New South Wales expansion
We are expanding the Art Gallery of New South Wales and transforming it into one of the world's great art museums which will further inspire both local and international audiences.
The Gallery's expansion – the Sydney Modern Project – will enable the display of more of the State's art collection and the hosting of more major exhibitions from around the world. The new building designed by international Pritzker Prize-winning architects SANAA will be linked by an outdoor art garden to the existing and much-loved historical building.
Due for completion in 2021 for the Gallery's 150th anniversary, the expanded Gallery will provide more space for art in all its evolving forms, along with new opportunities to learn, create, discover and engage. Australia will gain a vibrant new cultural hub where people, ideas and art come together, strengthening links with our local and regional communities, and improving access between the Gallery, Royal Botanic Garden, Sydney Harbour, Sydney Opera House, State Library of NSW, the CBD and Woolloomooloo.
The Sydney Modern Project factsheet provides an overview of the Gallery's expansion. Download factsheet tagged PDF (1.3MB)
Latest news
Sherman gifts welcomed
The Gallery is delighted to announce two gifts from Dr Gene Sherman AM and Brian Sherman AM supporting its collection and expansion.
Read about the gifts
Building Founders announced
An ambitious capital campaign to raise $100 million in philanthropic funding to support the Gallery's expansion is close to reaching its target, with $96 million pledged to date.
Read about the donors
Response to submissions
The Gallery has lodged its Response to Submissions Report to the NSW Department of Planning and Environment for its expansion.
Read the response