The Brett Whiteley Studio at 2 Raper Street, Surry Hills was the workplace and home of Australian artist Brett Whiteley (1939–1992).
It has been managed as a museum by the Art Gallery of NSW since 1995.
The Studio is open to limited numbers of visitors.
Thursday to Sunday, 10am to 4pm
No bookings or tickets required.
We'll be observing strict physical distancing and hygiene measures to protect the health of all visitors and staff and minimise the spread of COVID-19.
You'll need to provide your name and contact details on arrival to support contact tracing.
Bookings for education groups are still suspended until further notice.
For any queries, contact the Studio
Tel 02 9225 1881
brettwhiteleystudio@ag.nsw.gov.au


General public
Free admission made possible by J.P. Morgan
Education groups
Charges apply
Bookings required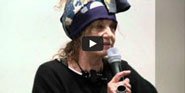 Join the conversation
#brettwhiteleystudio