The Brett Whiteley Studio at 2 Raper Street, Surry Hills was the workplace and home of Australian artist Brett Whiteley (1939–1992).
It has been managed as a museum by the Art Gallery of NSW since 1995.
2020 opening hours
General public: Thursday – Sunday 10am – 4pm
Booked education groups: Tuesday, Wednesday
Studio closed
The Brett Whiteley Studio has closed to the public until further notice to help protect the health of all visitors and staff and minimise the spread of COVID-19. During our closure, the Studio will remain accessible to you through our website and through our social media channels. You can find us on Facebook and Instagram.

General public
Free admission made possible by J.P. Morgan
Education groups
Charges apply
Bookings required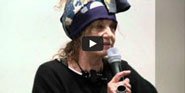 Join the conversation
#brettwhiteleystudio