On the hop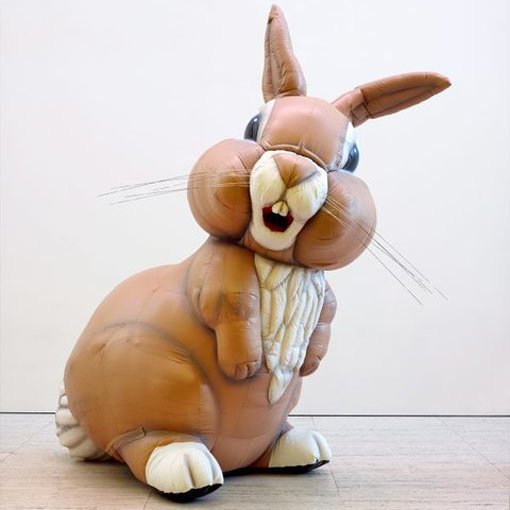 Michael Parekowhai Cosmo McMurtry 2006, Art Gallery of New South Wales © Michael Parekowhai
Bearing up to five litters of three to six young per year, rabbits are renowned for their rapid and prolific reproduction; throughout the world they have been associated with the cyclical nature of life, and with birth and rebirth. This reputation for fertility saw the emergence of the Easter Rabbit among German Lutherans in the 17th century, bringing coloured eggs (with synonymous significance) to well-behaved children in celebration of Christ's resurrection. Their seemingly endless capacity for regeneration has connected rabbits to the eternal and godly – as an attribute of fecundity and lust for Aphrodite, and as a symbol of the heroic sacrifice and rebirth of the Buddha during his path of reincarnation.
Various cultures, from the Ancient Egyptians to the Chinese and Mayans, have recognised the outline of a rabbit on the moon's surface, and paired the rabbit with the moon as twinned symbols of the natural cycle of life. The winnowing of the moon to a crescent and expansion back to a disc is seen as a celestial mirror of the rabbit, which recovers and thrives under the continual threat of predation and death.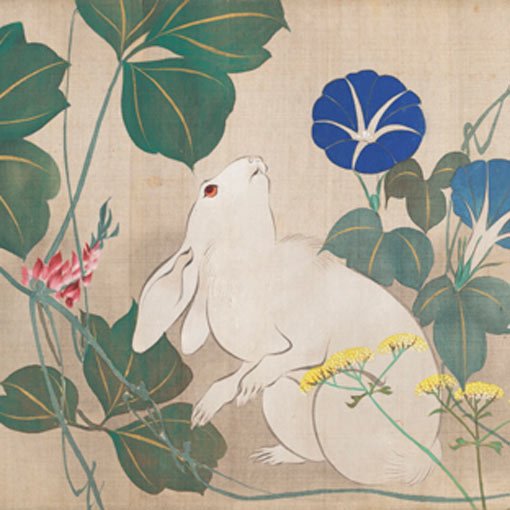 Nozaki Shin'ichi's intricately hand-painted scroll Flowers, birds and small animals of the four seasons 1850-1900 subtly reflects this association. Looking heavenward to a faroff moon, the white rabbit recalls the Jade Rabbit of East Asian folklore, thought to mix an elixir of immortality from its home on the moon. Nestled in an autumnal scene of bush clover, patrinia and morning glory, the rabbit is associated with the autumn season, when, according to legend, the moon is said to be at its most beautiful.
William Hogarth offers a rather different image of rabbits in his etching and engraving Credulity, superstition and fanaticism 1762, satirising various instances of gullibility. Among the melee of extraordinary scenes, rabbits skip merrily from the skirts of Mary Toft lying in the foreground. Possibly drawing from a history of European symbolism linking rabbits with fertility, in 1726 Toft and her accomplices convinced a horrified English public and several prominent physicians that she was in the throes of giving birth to a litter of rabbits and rabbit parts. The phenomenon was endorsed by the medical theory of maternal impression, where an unborn child could be transformed by what the mother dreamt and saw. Following proof that it was an elaborate hoax, Toft became an infamous subject of derision, along with the doctors who had believed her.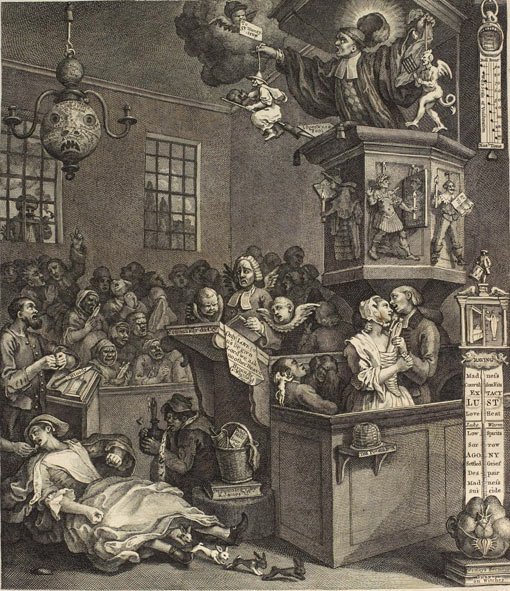 Closer to home, the Australasian rabbit represents a feral and imported pest. Michael Parekowhai's gargantuan inflatable sculpture Cosmo McMurtry 2006 considers the potential symbolism of this destructive invader, where a cute, cartoonish and quirkily irreverent bunny may mirror an insidious, ongoing settler culture.
All things to keep in mind when the Easter Bunny hops to you.
A version of this article first appeared in Look – the Gallery's members magazine
Previous post: Director's trax
Next post: A light in dark times

April 12 2020, 10am
by Susannah Smith
Deputy editor, Look magazine