Colour and music rolled into one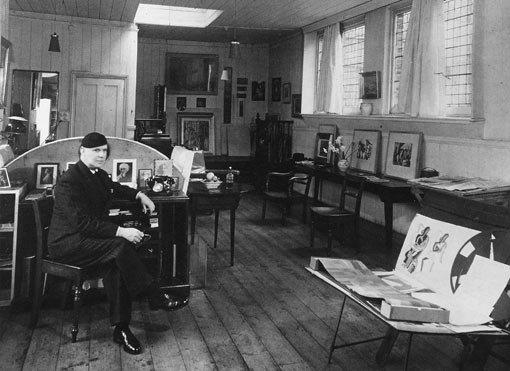 Image: from Roy De Maistre: the English years 1930-1968 by Heather Johnson
Painted across five meters of two overlaid piano rolls, Roy de Maistre's Colour music c1934 translates a classical music score into an array of vibrant colour. The work is based on a unique colour music code that de Maistre developed in the early stages of his career.
De Maistre's passion for colour and music probably began as a student of the violin and viola at what is now the Sydney Conservatorium of Music and as a student of painting at both the Sydney Art School and NSW Royal Art Society. Together with Adrien Verbrugghen (son of Henri, the Conservatorium's director), he was exposed to the newest trends in art and thinking, and began to develop a colour music code, building up a range of colour charts and palettes.
De Maistre's code was based on Isaac Newton's colour spectrum (published in Opticks in 1704). It associated the seven notes of the octave with the seven colours of the spectrum ROYGBIV (red, orange, yellow, green, blue, indigo and violet).
While de Maistre's colour theories were primarily developed between 1916 and 1919, he revisited these ideas when he moved to London in the 1930s. It was at this time he created Colour music, which you can see in the right foreground of the photo above, taken in his London studio around 1940.
Carefully and methodically, de Maistre outlined the musical score in pencil, representing notes as vertical shapes, each individually coloured and then divided and subdivided – like beats of a quaver. As with a musical manuscript, the colours appear to ascend and descend the picture plane. Colour and height variations within the work appear to relate to pitch, becoming lighter for the higher notes and progressively darker for the lower and deeper notes.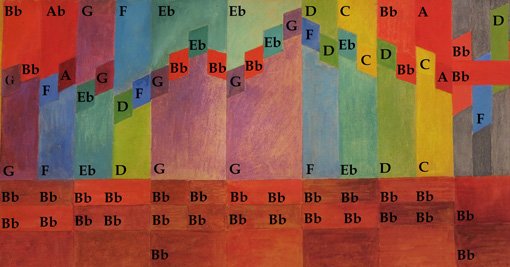 So what is the piece of music? Faint pencil inscriptions found on the roll had provided some clues, but recent investigations using infra-red reflectography supported theories by Niels Hutchinson that the score is in fact Haydn's Trio in B Flat Major (1794 – Hoboken XV:20) for keyboard, violin and cello. You can listen to an excerpt on the Gallery channel – audio 5 in the Sydney moderns playlist.
It is interesting to note that de Maistre's biographer Heather Johnson reports that no sheet music was found in his studio after his death, suggesting he may have memorised the score by listening to it or perhaps he had the synesthetic talent he claimed.
Colour music – gifted to the Gallery in 1969 by Sir John Rothenstein – has been a source of much interest to art and music historians who have come here to view it over the years. As a result, the inherent fragility of the work, primarily due to the poor quality of the paper, has meant that it has suffered severe wear and tear. Thankfully, with the assistance of funds provided by the Friends of Conservation, the work has been recently conserved and stabilised for display in the exhibition Sydney moderns: art for a new world and for future research. Funding has also allowed for the scientific analysis of the roll, including pigment identification to provide more insight into de Maistre's materials and techniques.
To find out more about the conservation process, click one of the small images in the below to start the slideshow.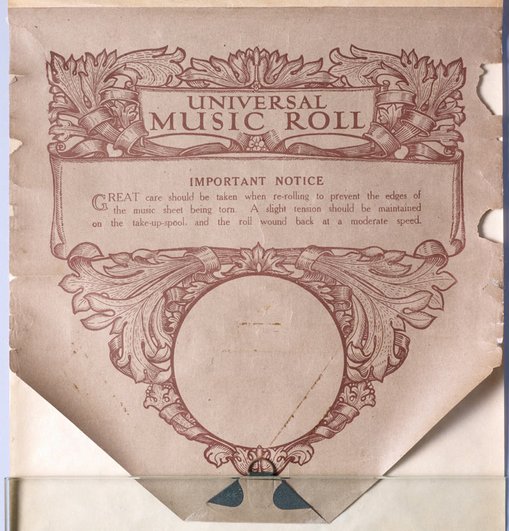 1/15
Colour music is painted on an unpunched Universal-brand piano roll, which de Maistre probably bought when he moved to London in the early 1930s. As paper production was impacted by the First World War and the Depression, paper of this period is usually poor quality and prone to discolouration.
2/15
Piano rolls are used to operate player pianos, such as this one in the Powerhouse Museum collection. Popular in the late 19th and early 20th centuries, these instruments automatically played the musical score that was punched into the roll. You can see a punched roll in the centre of this image.
3/15
Rolling and unrolling of the Colour music piano roll over time had resulted in significant wear and extensive tearing. In this image, several tears can be seen along the edges of the roll, most with poor-quality tape repairs, which have discoloured the paper.
4/15
At some stage, the roll had been stored in an environment with fluctuating relative humidity and temperature, which resulted in the mould damage you can see here.
5/15
This image, taken under raking light, highlights the extensive tearing, creasing and cockling (a form of wrinkling or puckering).
6/15
De Maistre experimented by mixing colours, particularly in the first two painted metres of the roll. In some instances the colours were incompatible, resulting in flaking and media loss. In other instances, flaking was the direct result of rolling and unrolling.
7/15
Infra-red reflectography is commonly used by conservators to detect under-drawings. Graphite and other carbon-based materials are revealed as they absorb infra-red light.
8/15
Using infra-red photography, de Maistre's pencil annotations under the paint layers were revealed. This confirmed theories that the work was indeed an interpretation of Haydn's Trio in B Flat Major.
9/15
Ultra-violet examination was carried out to help identify some of the pigments used, as some pigments exhibit characteristic fluorescence or absorption under UV light. Here, you can see a bright orange/pink fluorescence of one of the dark red pigments, which indicates the presence of madder lake.
10/15
Another non-destructive analytical technique – X-ray fluorescence (XRF) – was used to identify elements in several pigments. Mercury and sulphur in many of the red pigments, for example, confirmed the presence of vermilion (HgS), while spectral readings for zinc in the white pigment areas confirm the presence of zinc white (ZnO).
11/15
Previous repairs, including clear plastic tape and brown paper, were removed mechanically from the back of the roll using moistened cotton swabs.
12/15
A number of different papers were tested – including tengujo, barcham lens tissue and kozo paper – to determine the best one for repairing the roll. Different adhesives – including wheat starch paste, methylcellulose, isinglass, Klucel G and Aquazol – were also trialled.
13/15
A buff-toned tengujo tissue was chosen to repair the piano roll, making the new repairs almost invisible.
14/15
Retouching was carried out to reduce the visual impact of the areas where paint had been lost. An isolating layer was applied first so that the process is fully reversible.
15/15
The newly conserved work can be seen on display in the exhibition Sydney moderns: art for a new world at the Art Gallery of NSW.
Browse more works by de Maistre in the collection
Previous post: With thanks to the art lovers
Next post: Get around the Gallery on a scooter

August 28 2013, 8am
by Analiese Treacy
Paper conservator