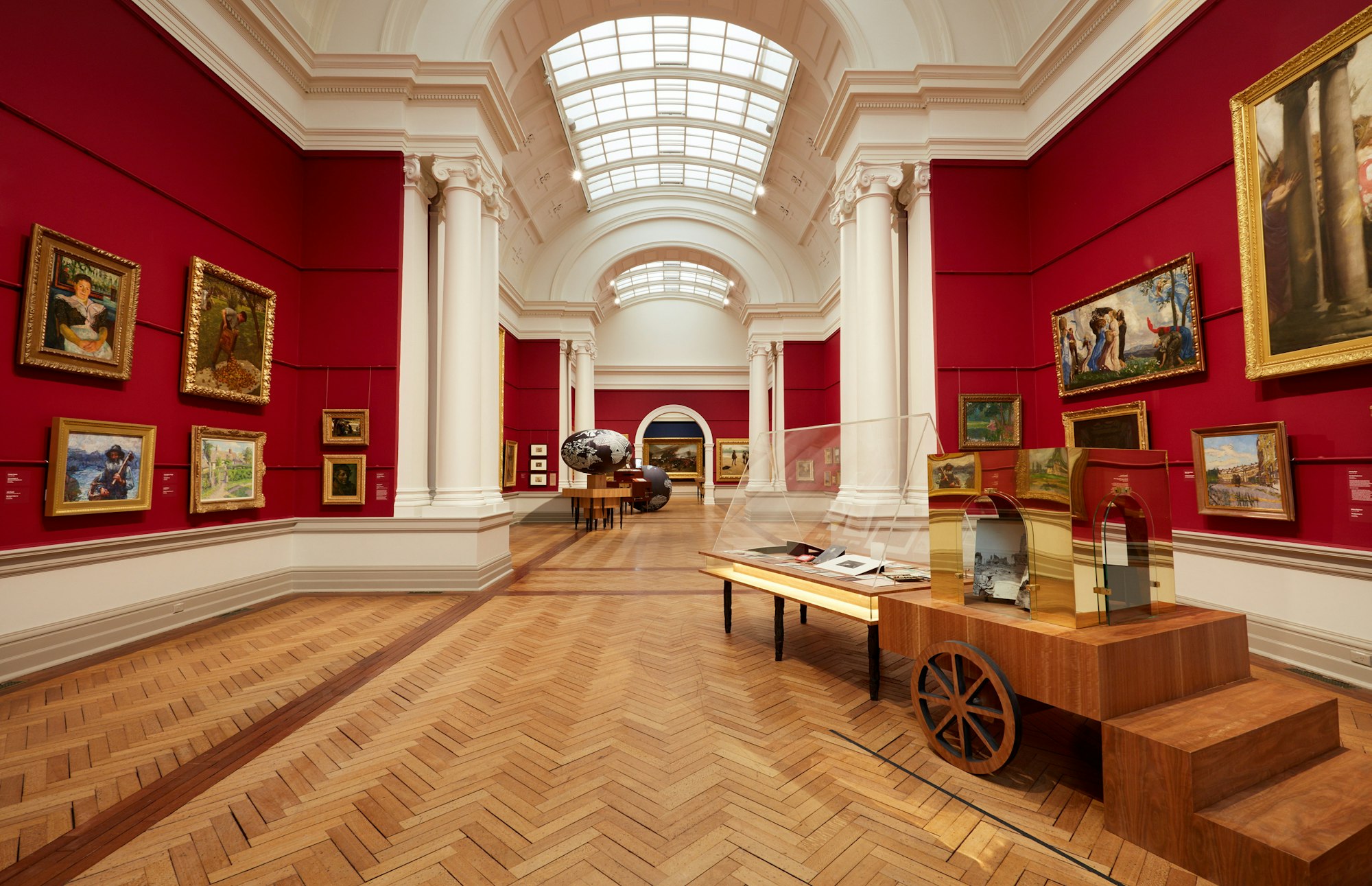 Take a journey through time, ideas, human stories and contested histories
Grand Courts
Art Gallery of New South Wales
Beautifully refurbished, the Grand Courts in our historic South Building are home to artworks from our international and Australian collections – from 15th-century European Renaissance art to exceptional ceramics from across the centuries and around the globe, and 19th-century sculpture and painting.
The displays in these magnificent spaces have been reimagined. While the focus remains on the historical collections, a small group of contemporary artworks encourage moments of pause and offer new perspectives. Visitors can enter powerful conversations between Indigenous and non-Indigenous art; explore archival material that connects objects, memories and the fabric of history; experience rare works from the early colonial era and early film; and encounter cherished Australian paintings in vital dialogue with international art movements.
Highlights include a 2018 installation by Brook Andrew that introduces the Indigenous Australian perspectives that resound throughout, and new acquisitions such as the early-17th-century painting Aesop by Jusepe de Ribera.
For the first time, Edward John Poynter's The visit of the Queen of Sheba to King Solomon 1881–90 is shown in dialogue with Ethiopian Belachew Yimer's painting of the same subject from 50 years later, and a new sculptural commission by Cameroonian Pascale Marthine Tayou.
Paintings by Indian artists from Chennai, Chinese Jingdezhen ware and Kakiemon-style Japanese Arita ware form a select group of highlights from the Asian collection.
Beloved and contested colonial landscapes join the iconic paintings of Australian artists such as Tom Roberts, Arthur Streeton and Violet Teague, and a new acquisition by impressionist Jane Sutherland, shown alongside those by leading European moderns Claude Monet and Paul Cézanne.