View More:
---
Artist
Margaret Preston
Australia, England, France
29 Apr 1875 - 28 May 1963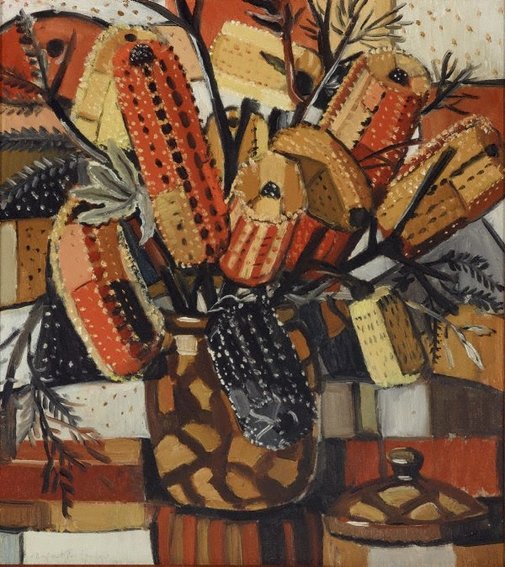 ---
About
Without the footnote of its accompanying lid, the homely brown pot would almost appear to be painted as if in a state of suspended animation, an unlikely proposition of weightlessness given its sturdy and unremarkably utilitarian form. This is the first of many curiosities that lie at the heart of the enigmatic appeal of this 1940 work by Margaret Preston. Shadowing cast in opposition to the light emanating from a hidden source to the left of the frame implies a mirror-like surface upon which the pot and lid rest – perhaps of highly polished wood, given the furnishing predilections of the time. Yet it offers a bizarre reflection, or refraction, of reality. Even the 'crazy-paving' glazing on the brown pot is answered by red banding, also at odds with the palimpsest background of cuboid colour.
'The brown pot' contains no delicate bouquet of blushing blooms; these are banksias, the tough native flowers that survive and thrive along the wooded coastal fringes of Australia's eastern coast. Preston lived for a time at Berowra, an idyllic Hawkesbury River community surrounded by bushland some 40km north of Sydney, where banksias proliferate. With spiky-leaved accents and sculpturally arthritic branches, the artfully haphazard floral arrangement appears to embody a wartime patriotic domesticity at its most grassroots level – in the home, and in this instance in the very comfortable middle-class of Sydney's lower North Shore. A domesticity as unpretentious as using a lidded jar for a vase. It could be considered a fine example of artistic propaganda, a kind of painterly call to arms to instil a nationalistic pride in one's homeland. Like a previous generation of passionate Australian pastoral painters, Preston advocates a pervasive appreciation and embracing of Australiana, in this case the use of cut native flowers in the home, or on another level, the introduction of distinctively Australian themes to the sacrosanct artistic canon of the still life.
'The brown pot' stands out amongst Preston's works of the period that reveal her deepening engagement with Aboriginal art, before her viewpoint capsizes under the weight of the Aboriginal spirituality she introduces into her oeuvre. The stylised brushes of the flowers and the decorative patchwork background, overlaid with flecks of colour, are key pieces of the puzzle. The emphasis is not naively realist representation but an attempt to articulate a Euro-Aboriginal visual language, a panoptic 'National Art'. Quite subversively for the time, Preston's agenda was the infiltration of 'native' art into the domestic and fine arts. And, unlike others who followed her, she focused on Australia's unique cultural inheritance rather than employing Indigenous art as one of many world cultures apparently viewed as fair game in the amoral world of modernist appropriation.
Knowing Preston's persistent and well-documented interest in and advocacy for Aboriginal art informed by her travels throughout Australia, this work at first reading suggests the aesthetic influence of the boldly decorated Queensland rainforest shields or the distinctive Tiwi visual schema – dots and dashes offset by blocks of rich, earthy colour. And while it offers a visually harmonious synthesis, to Aboriginal eyes it reads as a scrambled orthography of vaguely familiar words, or a discordant symphony where the notes don't ring quite true. Preston's passionate attempts, while well intentioned, were doomed to fail ultimately because they are meaningless to Aboriginal people – not unlike the contemporaneous government policy of assimilation.
The references, however, were blatant enough for Aboriginal artist Trevor Nickolls to return the compliment almost half a century later with the work 'Homage to Margaret Preston' 1988, also in the collection of the Art Gallery of New South Wales. This painting is similarly composed of native flowers embellished by abstracted quasi-Aboriginal symbolism. In coinciding with Australia's bicentenary, the execution of this painting perhaps notes the very late maturation of the Australian art world in engaging with Aboriginal cultural expression as art, and quite rightly acknowledges Preston's pioneering role and prescient vision. The riddle Preston posed remains as yet unsolved at the opening of the 21st century.
Hetti Perkins in Deborah Edwards and Rose Peel with Denise Mimmocchi, 'Margaret Preston', Art Gallery of New South Wales, Sydney, 2005
---
Details
---
Place where the work was made
---
Media category
---
Materials used
oil on canvas
---
Dimensions
51.0 x 45.8 cm stretcher; 66.7 x 61.5 cm frame
---
Signature & date
Signed l.l., pencil "Margaret Preston/ (illeg.)". Not dated.
---
Location
---
Place
Where the work was made
Sydney
---
Shown in 12 exhibitions
Exhibition history