View More:
---
Artists
The Letter Edged in Black Press Inc.
United States of America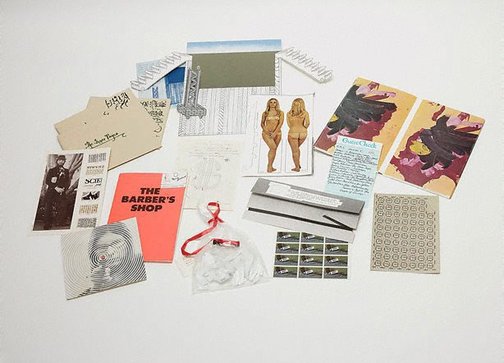 ---
About
Artist, dealer, collector and patron, William Copley became involved with art in the mid 1940s when he met John Ployart, who became his brother-in-law and partner in a short-lived gallery in Beverley Hills. Exhibiting the work of the surrealists, who were just beginning to exhibit in New York – René Magritte, Yves Tanguy, Joseph Cornell, Man Ray, Roberto Matta and Max Ernst among others – the gallery sold only two paintings and closed after six months. Copley moved to Paris, where he worked as an artist before he returned to the United States in the early 60s and settled in New York.
Inspired by Marcel Duchamp's reproductions and multiples of 'La boite-en-valise' (the box in a suit-case) 1934–41, Copley set out to produce a new form of art journal in 1966. He invited a diverse range of artists, writers and musicians to submit a work of art that would be reproduced and included, without comment, in a boxed collection that was available by mail order subscription with an edition of 2000. The deliberately ambiguous title 'S.M.S.', which was a private joke between Copley and his lawyer, stood for 'Shit must stop'.
Although decidedly utopian in concept and lasting only six issues, the publication included contributions from Copley's surrealist friends and representatives from almost every art movement that was vying for public attention at that time: the Fluxus artists, pop artists, minimalist artists, colour field artists, conceptual artists and even the work of Congo the chimpanzee, whose paintings were introduced to the art world by the writer Desmond Morris and were the subject of hilarious debate concerning the validity of abstract art. As the title implied, 'S.M.S.' was a reaction against the elitism of the art world in which reputations were made and destroyed by a small clique of dealers, critics and curators. It was the initiative of an artist idealistically striving to provide artists with direct access to a public audience. Contributors, regardless of their current reputation, were paid a standard fee of $100. Their contribution could be any size or form they wished as long as it could be folded down and packaged within a standard carton.
© Art Gallery of New South Wales Contemporary Collection Handbook, 2006
---
Details
---
Media categories
---
Materials used
portfolio of fourteen mixed media works
---
Dimensions
14 works: dimensions variable :
a - Robert Rohm (USA b1934) - 'Cut corners' 1968 - 4 c; 17.3 x 27.5 cm; instruction sheet
a - Robert Rohm (USA b1934) - 'Cut corners' 1968 - 4 c; 17.7 x 27.9 cm; each card
b - Mel Ramos (USA b1935) - 'Candy' 1968 - colour phot; 27.6 x 17.6 cm; card
c - Bruce Nauman (USA b1941) - 'Footsteps' 1968 - offs; 19.1 x 27.5 cm; card [open]
d - William Copley (USA 1919-96) - 'The barber's shop'; 25.4 x 17.2 cm; cover
e - William Schwedler (USA 1942-82) - 'Against the gra; 34.2 x 56.5 cm; card [open]
e - William Schwedler (USA 1942-82) - 'Against the gra; 27 x 19.8 cm; instructions
f - Wall Batterton (USA b1932) - 'Splendid person' 196; 25.1 x 16.6 cm; card
g - Lawrence Weiner (USA b1940) - 'Turf, steak and str; 15.9 x 22 cm; card
h - Angus MacLise (USA 1938-79) - 'The inner pages' 19; 17.1 x 22.2 cm; each leaf
i - Edward Fitzgerald (USA b1927) - 'Twenty-four still; 26.3 x 18.6 cm; each sheet
j - Neil Jenney (USA b1945) - 'Bucks American' 1968 - ; 21.9 x 16.6 cm; each sheet
k - Diane Wakoski (USA b1937) - 'The magellanic clouds; 17.5 x 17.7 cm; card [closed]
l - Yoko Ono (Japan/USA b1933) - 'Mend piece for John'; 35 x 51 cm; dimensions variable
m.1 - Congo the chimpanzee (England 1954-64) - 'Untitled; 35 x 51 cm; cover [open]
m.2 - William Anthony (USA b1934) - 'Cluster's last stan; cover [open]
---
Signature & date
Signed and dated l.r. instructions [a], [inscribed on screen] "...March 15, 1968. R.Rohm".
Signed and dated l.r. card [e], [inscribed on screen] "WM. SCHWEDLER 68".
Signed and dated l.l. inside cover [n], [inscribed on screen] "Anthony 67".
---
Accession number
494.1995.a-n
---
Shown in 2 exhibitions
Exhibition history
---
Referenced in 1 publication
Bibliography
---