View More:
---
Artists
The Letter Edged in Black Press Inc.
United States of America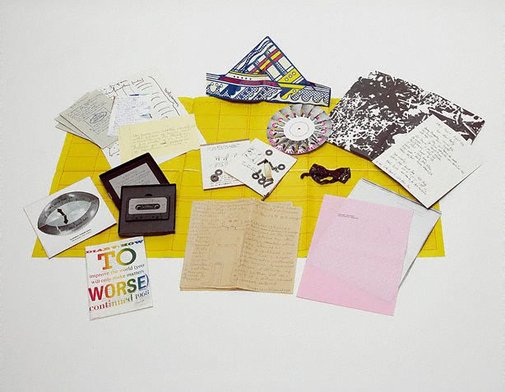 ---
About
Artist, dealer, collector and patron, William Copley became involved with art in the mid 1940s when he met John Ployart, who became his brother-in-law and partner in a short-lived gallery in Beverley Hills. Exhibiting the work of the surrealists, who were just beginning to exhibit in New York – René Magritte, Yves Tanguy, Joseph Cornell, Man Ray, Roberto Matta and Max Ernst among others – the gallery sold only two paintings and closed after six months. Copley moved to Paris, where he worked as an artist before he returned to the United States in the early 60s and settled in New York.
Inspired by Marcel Duchamp's reproductions and multiples of 'La boite-en-valise' (the box in a suit-case) 1934–41, Copley set out to produce a new form of art journal in 1966. He invited a diverse range of artists, writers and musicians to submit a work of art that would be reproduced and included, without comment, in a boxed collection that was available by mail order subscription with an edition of 2000. The deliberately ambiguous title 'S.M.S.', which was a private joke between Copley and his lawyer, stood for 'Shit must stop'.
Although decidedly utopian in concept and lasting only six issues, the publication included contributions from Copley's surrealist friends and representatives from almost every art movement that was vying for public attention at that time: the Fluxus artists, pop artists, minimalist artists, colour field artists, conceptual artists and even the work of Congo the chimpanzee, whose paintings were introduced to the art world by the writer Desmond Morris and were the subject of hilarious debate concerning the validity of abstract art. As the title implied, 'S.M.S.' was a reaction against the elitism of the art world in which reputations were made and destroyed by a small clique of dealers, critics and curators. It was the initiative of an artist idealistically striving to provide artists with direct access to a public audience. Contributors, regardless of their current reputation, were paid a standard fee of $100. Their contribution could be any size or form they wished as long as it could be folded down and packaged within a standard carton.
© Art Gallery of New South Wales Contemporary Collection Handbook, 2006
---
Details
---
Media categories
---
Materials used
portfolio of twelve mixed media works
---
Dimensions
12 works: dimensions variable :
a - On Kawara (Japan 1932-2014) - '100 Year calendar 1968 - colour offset lithograph, 50 x 195 cm, sheet
b - Paul Bergtold (USA b1942) - 'Concept Bergtold' 1968 - 12 photocopies, tissue paper cover, 28 x 21.5 cm, each sheet
c - Princess Winifred (USA) - 'Asylum manuscripts' 1968 - 6 offset lithographs, 24 x 25 cm, each sheet
d - Hollis Frampton (USA 1936-84) - 'Phenakistiscope' 1968 - colour photo lithograph, 17.2 cm, diameter
e - Lil Picard (USA 1899-1994) - 'Burned bow tie' 1968 - synthetic fabric, plastic bag, 6 x 12.5 cm, bow tie
f - Roy Lichtenstein (USA 1923-97) - 'Folded hat' 1968 - colour offset lithograph, 18.4 x 17.7 cm, hat [folded]
g - Mimmo Rotella (Italy 1918-2006) - '6 prison poems' 1968 - 6 colour offset lithographs, 34 x 24.1 cm, dimensions variable
h - Robert Watts (USA 1923-88) - 'Parking meter stickers' 1968 - colour photo lithograph, 17.1 x 17.1 cm, each
i - John Cage (USA 1912-92) - 'Diary: How to improve the world (you will only make matters worse) continued' 1968 - colour offset printed book with mylar cover, 10 leaves, 19.1 x 13.7 cm, each leaf
j - Arman (France/ USA 1928-2005) - 'Tortured color' 1968 - tube of paint, Plexiglas, washers, screws, wing nuts, offset lithograph, plastic bag, dimensions variable
k - La Monte Young (USA b1935) and Marian Zazeela (USA b1940) - 'Drift Study 4:37:405:09:50 5 VIII 68' 1968 - audio cassette and box, box
l - Robert Stanley (USA 1932-97) - 'Untitled' (Cover) 1968 - offset lithograph , 35 x 51 cm, cover [open]
---
Signature & date
Signed l.r. each sheet [c], [inscribed on screen] "Princess Winifred". Not dated.
Signed l.r. mylar cover [i], [inscribed on screen] "John Cage". Not dated.
---
Accession number
493.1995.a-l
---
Shown in 2 exhibitions
Exhibition history
---
Referenced in 1 publication
Bibliography
---