Behind the scenes of Faboriginal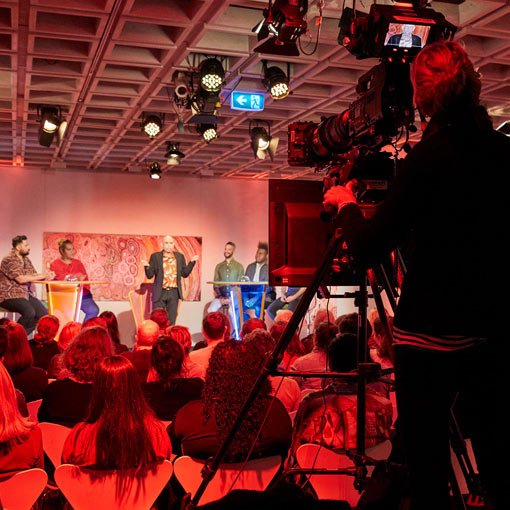 Bjorn Stewart, Elaine Crombie, Steven Oliver, Daniel Browning and Ian Zaro are filmed in front of a live audience at the Gallery with Jakayu Biljabu's 2008 painting Minyi Puru, Art Gallery of New South Wales © Jakayu Biljabu. Licensed by Copyright Agency.
You've watched the show avidly during iso – or, if you haven't, you should start doing so immediately. Faboriginal, Australia's deadliest art gameshow, was filmed in front a live audience at the Gallery in August last year. In this post we go 'behind the scenes' for stories from the Gallery team who brought Faboriginal into being. Some staff appeared in front of the camera, others worked behind it. But all – in collaboration with sexy and hilarious host Steven Oliver – used fun, facts, chat and whip-smart humour to enrich and challenge people's perceptions of Aboriginal and Torres Strait Islander art.
---
Amanda Peacock, senior programs producer, Aboriginal and Torres Strait Islander art
This project began for me with a group of colleagues – Aboriginal and non-Aboriginal – giggling around a table in the Gallery cafe, making each other laugh with jokes about ways to mess with people's preconceptions of art, culture and people. As much fun as it was, we were hard at work. We were thinking about new ways to connect audiences with Aboriginal and Torres Strait Islander art in all its exciting, important and revelatory dimensions. Our aim was to crack open some of the points of resistance that impede non-Indigenous audiences from open engagement – anxiety, self-consciousness, guilt, a sense of duty – and to find ways to make a big colonial institution relevant for Indigenous audiences.
You know you're onto something when just describing the premise to people makes them smile, even laugh – 'yes, we DO want to make an Aboriginal art game show!' Humour is powerful when used strategically, as artists such as Destiny Deacon and Richard Bell know. Humour can disarm, make familiar and then, when all defences are down, deliver a stunning impact. We saw this occur again and again on set. The hilarity and repartee would build until the knockout blow, when the audience would pause in its laughter, absorbing a sobering thought.
Faboriginal was built on our curatorial team's deep knowledge of our art collections. Their nuanced judgement and relationships with artists and community were the backbone of the show, making it possible to walk the fine line of having fun and being playful while honouring and illuminating the aesthetic power, importance and sometimes serious intention of the artworks. But what brought it all to life and made it zing was the comic genius of Steven Oliver and the warmth, hilarity, quick wit and unreserved competitive spirit (…Daniel Browning…) of the brilliant contestants – AND the style queen Coby who stole the show as the Taboriginal.
---
Coby Edgar, curator, Aboriginal and Torres Strait Islander art
When we started this project I never thought I would be in front of the camera. With no acting experience and severe anxiety, the only reason I went through with it was because I trusted my colleagues. Faboriginal was an exercise in trust and brain Olympics for me.
The project was the ultimate test of all my colleagues' flexibility and knowledge, with everyone from security to executives playing a part in the creation of this mad and wonderful idea. There is a huge list of people who all deserve a mention; you can find them in the credits of every episode.
The intention was always to open up Aboriginal and Torres Strait Islander art to different audiences. It was always about the art. In the end, I got to share the screen with people that I admire, and artists that I love were given a platform outside of gallery walls and in people's living rooms instead.
For me, it was a baptism by fire. I learnt more about the collection and the extensive histories that artists make work about, both happy and sad. It proved to me that I am valued in my workplace and that I will do just about anything for the artists I represent! I also learnt how to sit very still for hours while being turned into a completely different person.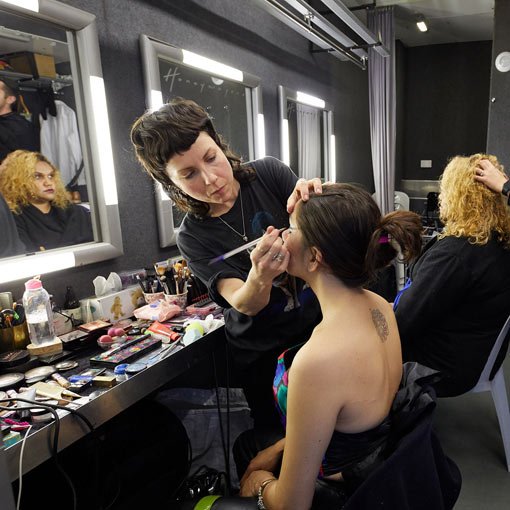 ---
Cara Pinchbeck, senior curator, Aboriginal and Torres Strait Islander art
Working on Faboriginal was like riding a rollercoaster – simultaneously exhilarating and terrifying – with unexpected twists and turns from start to finish. As a curator, it's not something I would ever have imagined I would work on. I put a lot of thought into my exhibitions, carefully considering connections and relationships between artists and artworks, while trying to bring fresh perspectives to the way audiences engage with art. I now realise that Faboriginal required the exact same approach – a considered selection of artists whose works and ideas resonate with the theme of each episode. And Faboriginal provides that fresh lens through which to view artworks – humour.
Research from a few years ago highlighted that, generally, people are more likely to attend Aboriginal and Torres Strait Islander events for educational purposes rather than for entertainment. Awareness of this fed into the idea for the quiz show that became Faboriginal.
I would not have ended up on this crazy journey if it were not for the amazing team who join me in writing this post, as well as the extraordinary Ashlie Hunter, our project manager. Their bravery pushed this project forward and our belief in each other's diverse abilities and strengths was at the heart of our collaboration. Also central was the unwavering support and contribution of our colleagues right across the Gallery. At times we would laugh at how no one ever said 'no' to our crazy requests that ultimately resulted in the Yiribana Gallery morphing into a TV set with a live studio audience. It's a good reminder that you just never know what is possible if you don't ask!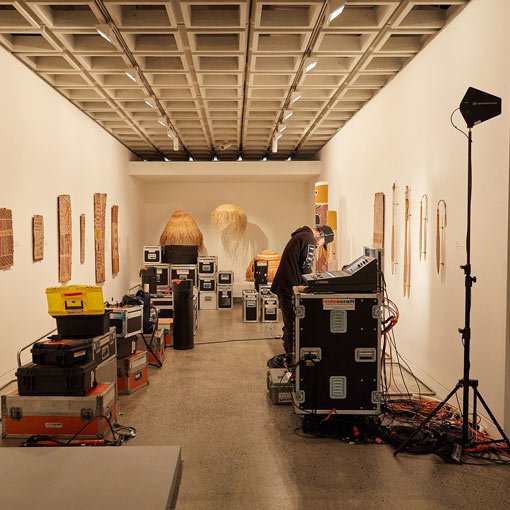 Previous post: Art interrupted: part 2
Next post: Opening the view

May 08 2020, 4pm
by Together In Art