Explore the themes in our Grand Courts displays and some of the artworks you'll encounter.
The Art Gallery of New South Wales is transforming the galleries that display works from our extensive art collection, including a stunning reimagining of the Grand Courts on the ground level.
While historic international and Australian works remain the focus of the Grand Courts, along with a sprinkling of contemporary artworks, the emphasis is on moments of connection and reflection, and encouraging conversations between past and present, Indigenous and non-Indigenous art.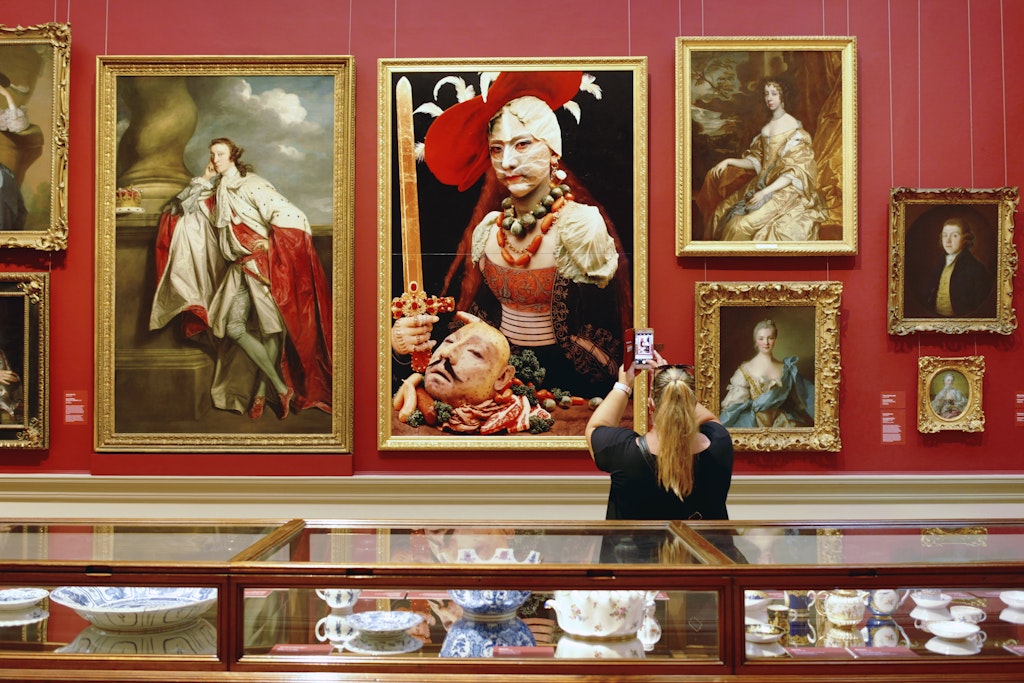 Urgent current issues can be seen in enduring themes, which include war and its consequences; and landscape as a real or imagined space that might suggest the respite of nature, or act as a declaration of contestation.
Baroque artists tackle the coexistence of the sacred and the worldly; Victorian-era artists grapple with the realities of gender, race and class (or find their escape in a world of dreams and beauty); and through the work of many Aboriginal artists, a picture of resilience, resistance and a continuing connection to land, waters and culture emerges.
Highlights of the Grand Courts include master prints from the Renaissance to the Romantic period by Albrecht Dürer, Hendrick Goltzius and others; sacred works by Sano di Pietro, Domenico Beccafumi and Prospero Fontana and worldly portraits by Giovanni Battista Moroni and Agnolo Bronzino; a new acquisition by Jusepe de Ribera, Aesop c1625–31; and one of the greatest modern British paintings in Australia, Ford Madox Brown's Chaucer at the court of Edward III 1847–51.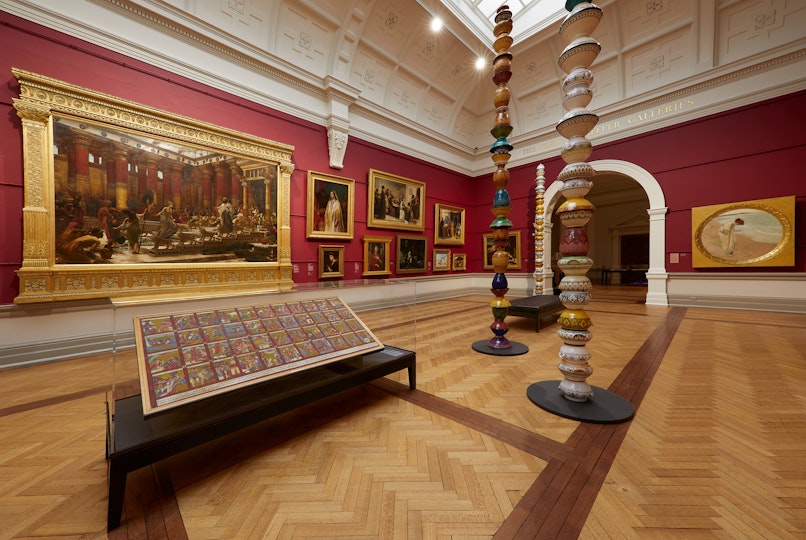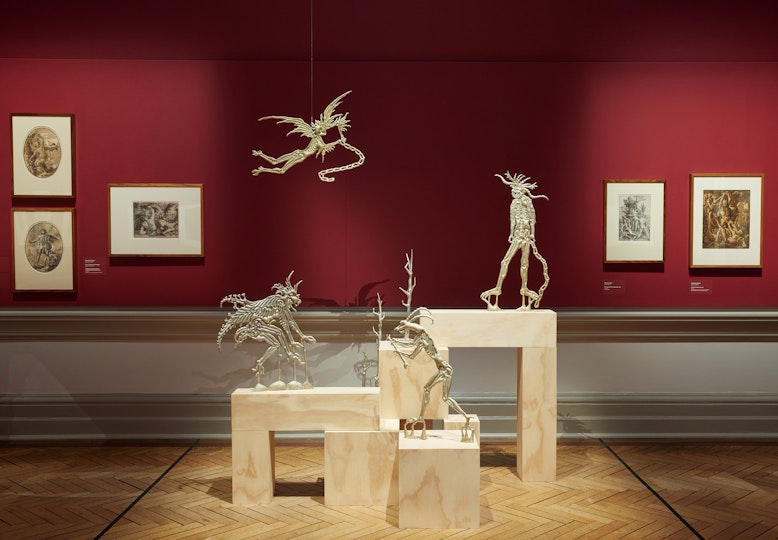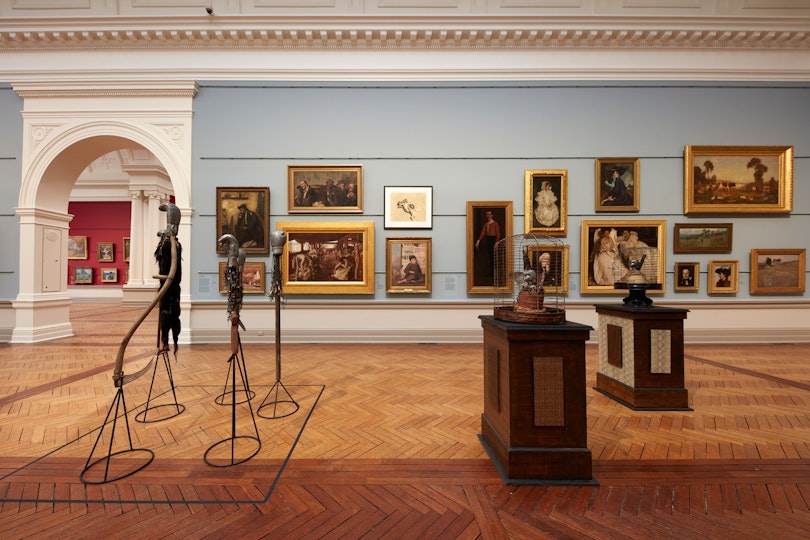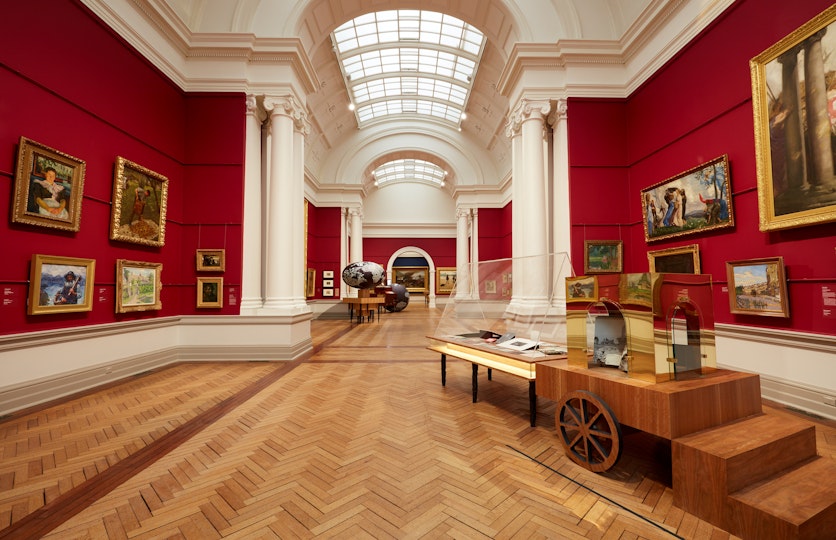 Paintings by Indian artists from Chennai commissioned by the British East India Company, Chinese Jingdezhen ware and Kakiemon-style Japanese Arita ware are some of the Asian highlights.
A display of Francisco de Goya Y Lucientes' Disasters of war etchings challenges Edouard Detaille's Vive l'Empereur! 1891, and Edward John Poynter's spectacular The visit of the Queen of Sheba to King Solomon 1881–90 is shown in dialogue with the Gallery's first African acquisition (in 1955) – Belachew Yimer's The legend of the Queen of the South 1941 – and a new sculptural commission by Cameroonian artist Pascale Marthine Tayou.
An installation by Brook Andrew introduces the Indigenous Australian perspectives that resound throughout; colonial era watercolours of Sydney Harbour by Conrad Martens meet significant, contested landscapes by John Glover, WC Piguenit and Eugene von Guérard; and iconic paintings by beloved Australian artists Charles Conder, Tom Roberts, John Russell and Arthur Streeton are shown along with stellar works by leading European moderns Paul Cézanne and Claude Monet.
Important images of the First World War by war artist Evelyn Chapman join major works by fellow Australian women artists Adelaide Ironside, Dora Ohlfsen, Jane Sutherland and Violet Teague, who take their rightful prominent place alongside 17th-century Dutch painter Maria van Oosterwijck and Canadian Emily Carr.