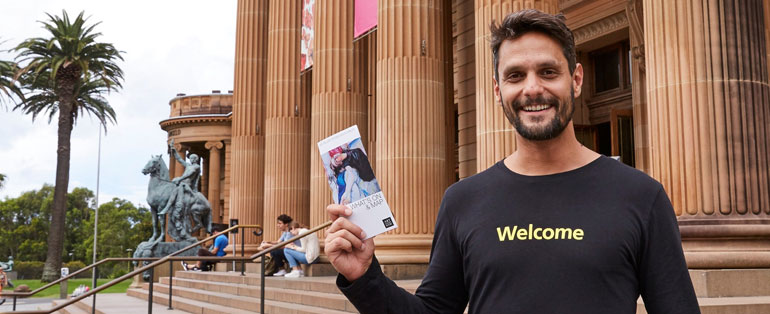 What you need to know before visiting
---
Entry is free
Tickets are NOT required for general entry and most displays and exhibitions (subject to any changes from NSW Government health guidelines).
Visitors are required to provide their name and contact details on arrival at the Gallery to support contact tracing in line with NSW Health rules and our COVID-Safe plan.
Exhibition tickets
You do need to buy tickets for the exhibitions Archibald, Wynne and Sulman Prizes and Streeton. Tickets for the Archibald are timed and dated, with limited numbers per session. We strongly recommend you pre-purchase your ticket online to avoid disappointment.
Ticket prices and booking information
---
What's open
There is also a limited number of ticketed events, including:
We are also offering:
What's closed
Cloaking facilities are closed and there are presently no late-night Wednesday openings for Art After Hours.
---
Ways to provide your contact details
We'll need to have a name, phone number and home postcode for each person visiting the Gallery. When you arrive, use your smartphone camera to scan the QR code displayed at the Gallery entrance and follow the instructions. Show the confirmation screen to our staff as you enter.
If you don't have access to a smartphone, our staff will make a record of your contact details.
---
What else we're asking you to do
Bring a credit or debit card for any on-site purchases (we won't be accepting cash).
Bring a water bottle (we've turned off the drinking fountains/bubblers).
Avoid bringing large bags (you'll have to carry any bag at your side or on your front).
Don't visit in a large group.
Don't visit if you're unwell or, if in the last 14 days, you have experienced cold or flu symptoms, returned from overseas or been the close contact of an identified

COVID

case.
Before you visit, check

NSW

Health's list of locations where

COVID

cases have been.
Consider downloading the Australian Government's COVIDSafe app.
At the Gallery
Follow any requests or instructions from our staff.
Use the hand-sanitiser provided on arrival and before entering a ticketed event in the theatre.
Cloak your umbrella yourself in the stands provided.
Keep at least 1.5 metres distance from others at all times, including while in queues.
Consider wearing a mask while in the Gallery.
Wait in a marked queue or go elsewhere if a particular space has too many people.
Allow less-mobile visitors to use elevators first, or consider using the stairs or escalators.
Cough and sneeze into your elbow or a tissue, and put the tissue in a bin.
Wash your hands with soap for at least 20 seconds in our restrooms.
Please don't touch the artworks.
Visitors with access requirements can still use ramps and lifts, and borrow the Gallery's wheelchairs or mobility scooters which are sanitised after each use.
For ticketed events
Pre-book your ticket as seats are very limited.
Arrive 15-30 minutes before the start time so you can be seated safely.
Have your ticket ready for presenting at the theatre door or event entrance. Only ticket holders are permitted to enter.
Sit only in your designated seat.
Visitors who don't comply with these conditions will not be admitted or will be asked to leave to ensure the safety of all.
---
What we're doing for you
There are separate entry and exit doors, floor markings and signage to help visitors maintain safe distances.
There are limits on the number of visitors overall and each Gallery space has its maximum capacity, based on the rule of 1 person per 4 square metres (or 2 square metres in our theatres). Please follow instructions from staff.
We've removed some seating in exhibition spaces to give visitors more space to move. Folding chairs are still available from the information desk.
There are limits on the number of visitors at ticketed events and seats have been allocated based on 1.5 metre distancing.
We're cleaning frequently with hospital-grade disinfectants, including disinfecting all hard surfaces in the theatre between events, and high-touch items are sanitised after each use.
We've provided hand sanitisers at the Gallery entry and at various places throughout the building.
All Gallery officers are trained in COVID-safe first aid.
We will continue to be guided by the

NSW

Government's health guidelines and will provide updates to this information.
We look forward to seeing you at the Gallery soon.