View More:
---
Artist
Bertram Mackennal
Australia, England, France
12 Jun 1863 - 10 Oct 1931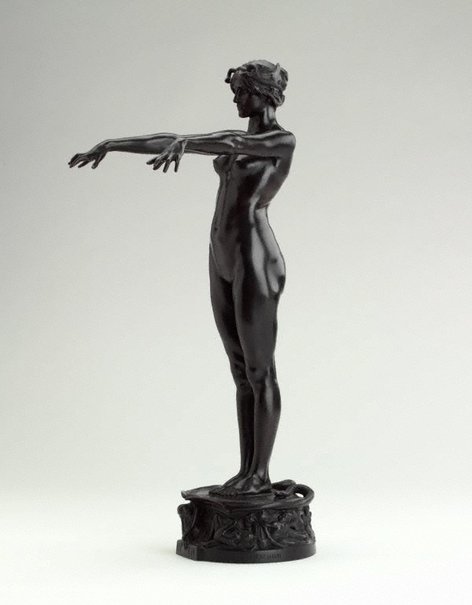 ---
About
This work is a statuette version of Bertram Mackennal's 'Circe', an important figure from Greek mythology and the favoured 'femme fatale' of nineteenth century Symbolist art. He has portrayed the enchantress at that compelling moment when, according to Homer's Odyssey, she transformed Ulysses' crew into swine.
The life-size version of Bertram Mackennal's controversial masterpiece was first exhibited at the Paris Salon in 1893, where it was awarded an Honourable Mention and gained much praise and recognition for the artist. The sculpture was exhibited by Mackennal the following year at the Royal Academy, London, where the Hanging Committee, offended by the overt sexuality of the reliefs, placed the work on display with the base covered. The subsequent controversy and the notoriety achieved by this work made the artist famous.
Australian Art Department, AGNSW, 2000
---
Details
---
Date
(circa 1902-circa 1904)
---
Media category
---
Materials used
bronze statuette
---
Dimensions
57.5 x 22.0 x 27.0 cm
---
Signature & date
Signed right of base, incised "B. MACKENNAL". Not dated.
---
Location
---
Shown in 13 exhibitions
Exhibition history
---
Referenced in 20 publications
Bibliography
---
Michael Barden, Australian Journal of Philately, 'Sir Edgar Bertram MacKennal, KCVO (1863-1931): Australian Sculptor, Medal and Stamp Designer', pg. 15-18, Melbourne, Sep 2008, 15 (colour illus., detail), 16 (colour illus.). NOTE: Sculpture reproduced was from the NGV collection.
Deborah Edwards, Bertram Mackennal: Catalogue raisonné, Sydney, 2007. Artworks: Sculpture: 1890s
Deborah Edwards, Bertram Mackennal: the fifth Balnaves Foundation Sculpture Project, ''Adaptability and versatility': Bertram Mackennal – an overview', pg. 15-82, Sydney, 2007, 11, 17, 30, 31 (colour illus.), 32, 33, 34, 96 (detail, colour illus.), 97, 112 (detail, colour illus.).
Deborah Edwards, Stampede of the Lower Gods: Classical Mythology in Australian Art, 'The Expatriates', pg. 3-8, Sydney, Sep 1989, 5 (illus.), 44, 63.
Deborah Edwards, Look, 'Bertram Mackennal', pg. 24-26, Sydney, May 2007, 24 (colour illus., detail).
Deborah Edwards., Australian sculpture 1890-1919, 'Australian sculpture 1890-1919', Sydney, 1987, (illus.). no catalogue numbers, not paginated
Sasha Grishin, Australian art: a history, "Australian expatriates of the Edwardian period in Great Britain", pg. 160-171, Carlton, 2013, 166, 167 (colour illus.), 548, 564. not AGNSW edition; plate no. 17.5
Noel Hutchinson, Early Australian sculpture, from its beginnings up to circa 1920, 'Sculpture in Australia 1788-c.1923: Introduction', Ballarat, 1977, (illus.). cat.no. 20; NOTE: this cast is NOT from the collection of the AGNSW but from the NGV
Leonard Joel (Compilator), Australian and European paintings (3 Nov 1993), South Yarra, 1993. lot 168
Macquarie Galleries, Exhibition of bronzes by Sir Bertram Mackennal K.C.V.O, Sydney, 1926. cat.no. 10; priced £150.00
Joanna Mendelssohn, Art & Australia, 'Australian symbolism: the art of dreams', pg. 309, Sydney, Summer 2012, 309.
Denise Mimmocchi, Look, 'DAPHNE: Intense, erotic and now in our collection', pg. 16, Sydney, Oct 2014, 16.
Royal Academy of Arts, Royal Academy of Arts commemorative exhibition of works by late members: winter exhibition, fifty-second year 1933., London, 1933. cat.no. 90; lent by Lady Mackennal
Angus Trumble and Unknown (Editors), Edwardian opulence: British art at the dawn of the twentieth century, 'Catalogue: Mystery, myth, pagent', pg. 328-351, New Haven, 2013, 349 (colour illus.), 351, 410. cat.no. 89
Author Unknown, Spring Exhibition 1979 (Joseph Brown Gallery 1976), Melbourne, Oct 1976, (illus.). cat.no. 33
Author Unknown, Sotheby's - Melbourne: Fine Australian paintings (22 April 1991), Melbourne, 1991. lot 439B
Glasgow Institute of the Fine Arts Exhibition (1918), Glasgow, 1918. cat.no. 60; priced £60.00
Author Unknown, Franco-British exhibition, London, 1908: fine arts catalogue, London, 1907.
Editor Unknown (Editor), Christie's Australia - The Dallhold Collection (28 July 1992), South Yarra, Jul 1992, (colour illus.). lot 37
Unknown, Reverie, myth, sensuality: sculpture in Britain 1880-1910 : an exhibition organised by Stoke on Trent City Museum and Art Gallery in association with Cartwright Hall, Bradford., Stoke-on-Trent, 1992, 49.