View More:
---
Artist
Sidney Nolan
Australia, England
22 Apr 1917 - 28 Nov 1992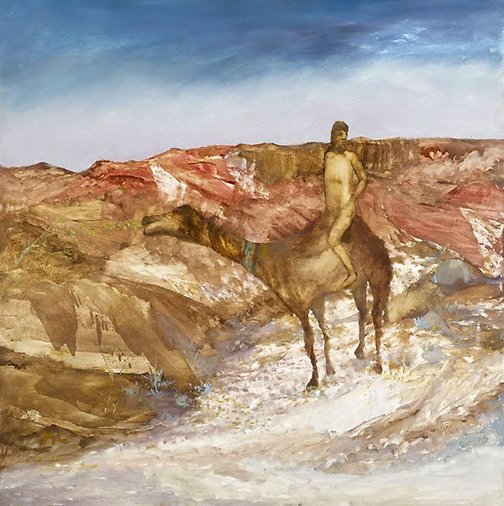 ---
About
The story of the ill-fated 1860 expedition of the Irish explorers Burke and Wills, who attempted to traverse the continent south to north, first preoccupied the artist throughout 1948-50. The totality of their sacrifice was clearly one which impressed him. His own predilection to long soul-searching journeys, coupled with his ability to place the observer in the explorer's eye, evokes an actual vision of the immense skies and the sense of vast space and empty, desolate landscape which these men had experienced.
In the second series, painted 1961-62, Nolan's concern is the suggestion of a universal emotion rather than incidental details of history. He expresses his admiration for these doomed men:
"I doubt that I will ever forget my emotions when first flying over Central Australia and realizing how much we painters and poets owe to our predecessors the explorers, with their frail bodies and superb will-power."
- Sidney Nolan 1967
The Perth newspaper, 'Critic', reported on this series of works, first exhibited in 1962:
"The camels are unforgettable, slightly comic but also disquieting with their long sinewy necks, ... their wobbly swaying stance; and their riders perched precariously on the steep rump seem to have grown into the beasts, a kind of desert centaur. Sitting well back they look rather like figureheads on the wrong end of the ship of the desert."
Australian Art Department, AGNSW, 2000
---
Details
---
Other Titles
Camel and figure
Burke - Burke and Wills expedition
Explorer
Explorer - Rocky landscape
---
Media category
---
Materials used
polyvinyl acetate and oil on hardboard
---
Dimensions
122.0 x 122.0 cm board
---
Signature & date
Signed l.l. with monogram, enamel "N [in reverse]". Not dated.
---
Credit
Gift of Godfrey Phillips International Pty Ltd 1968
---
Shown in 10 exhibitions
Exhibition history
---
Referenced in 24 publications
Bibliography
---
10 Masterpieces of Australian Painting, Sydney, 1993, (colour illus.).
Sidney Nolan - landscapes and legends: a retrospective exhibition 1937 - 1987, 'Outback', pg.95-108, Sydney, 1987, 95, 96, 106, 107, 133 (illus.), 134.
Jeremy Eccles, Art Monthly Australia, 'art + soul', pg. 42-43, Canberra, Nov 2010, 43. Book review. General reference.
Deborah Edwards, Art treasures: candidate citites for the 2000 Olympic Games: Beijing, Berlin, Brasilia, Istanbul, Manchester, Sydney, 'Burke', pg. 172, Lausanne, 1993, 172, 173 (colour illus.). cat.no. 7 Sydney
Prue Gibson, Australian art review, 'Nolan retrospective', pg. 17, New South Wales, Nov 2007-Feb 2008, 17 (colour illus.).
Kate Hart, Australian art pack: 1788-21st century animals, 'Sidney Nolan: Burke', Box Hill, 2007, (colour illus.). card no. 6
Seeking the Centre, 'Seeing red: from topography to imagery', pg. 161-183, Cambridge, 1998, 176-77 (colour illus.).
Thomas Keneally, Australia, 'Dead heart / live heart', pg. 30-35, London, 2013, 32 (colour illus.). fig.no. 10; dated c1962
Lou Klepac, Australian painters of the twentieth century, 'Sidney Nolan', pg. 136-147, Sydney, 2000, 146 (colour illus.), 147.
Robert Lindsay., Aspects of Australian Art: Art Gallery of New South Wales travelling art exhibition 1976, 'Sidney Nolan', Sydney, 1976, (colour illus.). cat.no. 57; not paginated
The artist & the desert, Sydney, 1981, 59 (colour illus.).
Sidney Nolan. Retrospective exhibition. Paintings from 1937 to 1967, Sydney, 1967, 34. NOTE: General reference
Sidney Nolan - Australia, Sydney, 1979, 134, 135 (colour illus.).
Sidney Nolan, Sydney, 2007, 178, 181 (colour illus.), 237. cat.no. 84
Twentieth century Australian masterworks from the Art Gallery of New South Wales and the Fred Williams Pilbara Series, Tokyo, 1985, 40 (colour illus.). cat.no. 22
Barry Pearce, Art Gallery of New South Wales handbook, 'Australian', pg. 13-35, Sydney, 1988, 29-30.
Margaret Plant, Painting Australia, Sydney, 1995, 41, 63.
Geoffrey Smith, gallery: ngv members magazine, 'Sidney Nolan Desert & Drought', pg. 4-7, Melbourne, Jul 2003, 5. NOTE: General reference.
Landscapes: 1788-21st Century Australian, Box Hill, 2004?, (colour illus.). card no. 6
Unknown, Australian painting and sculpture in Europe today, England, 1963, front cover (illus.). possibly cat.no. 2; titled 'Explorer - Rocky landscape'
Unknown, Viscount collection: 'The Australian scene', Australia, circa 1963, 6 (illus.). titled 'Burke: Burke and Wills Expedition'
Sidney Nolan: Burke and Wills, Sydney, 1986, 14. cat.no. 18
Editor Unknown (Editor), Time, 'Sidney Nolan: Painter from Down Under', pg. 25-26, New York, 26 Apr 1963, 25 (colour illus.), 26. titled 'Explorer, Rocky Landscape'; NOTE:Caption of reproduction reads 'Explorer, Rocky Landscape' was inspired by lore of Australia's pioneers. Image provided by Marlborough Fine Art.
Unknown, Zeitgenössische Malerei und Skulpturen australischer Künstler in Europa, England, 1963, front cover (illus.). possibly cat.no. 2; titled 'Explorer'