View More:
---
Artist
Arthur Boyd
Australia, England
24 Jul 1920 - 24 Apr 1999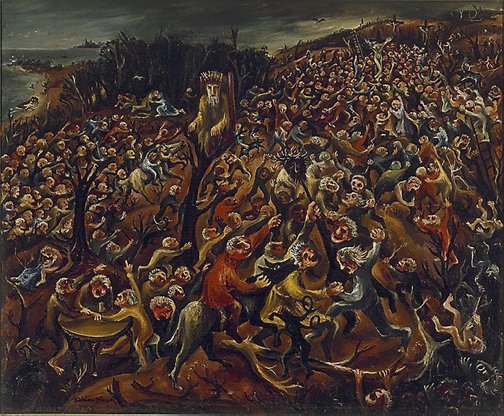 ---
About
Born into an extraordinarily artistic family, Arthur Boyd is considered one of Australia's greatest painters of the 20th century. In the 1940s, he produced a series of paintings which tackled overtly biblical themes, set predominantly within the Victorian landscape near the Boyd family property at Murrumbeena, close to Port Phillip Bay.
'The mockers' is one of a series of about 15 paintings executed between 1945 and 1948 after Boyd's discharge from the army. Responding to the horrors of the Nazi concentration camps, witnessed through newsreel footage, Boyd drew on his knowledge of the allegories of Pieter Breugel the Elder and Hieronymus Bosch, in an attempt to find a personal answer to the moral chaos and social disorder he observed.
---
Details
---
Place where the work was made
---
Media category
---
Materials used
oil on canvas on hardboard
---
Dimensions
84.3 x 102.2 cm board; 86.2 x 104.0 x 3.0 cm frame
---
Signature & date
Signed l.l., black oil "Arthur Boyd". Not dated.
---
Shown in 17 exhibitions
Exhibition history
---
Referenced in 38 publications
Bibliography
---
Art Connections, 'Why talk and write about artworks', pg. 89-92, Port Melbourne, 1998, 91 (colour illus.).
Jenny Aland, Art connections, Port Melbourne, 1991, 91 (colour illus.).
Jane Alexander, Sea of dreams: Port Phillip Bay 1915-2013: Part Two, 'Introduction', pg. 9-15, Mornington, 2013, 12, 13 (colour illus.), 50.
Art Gallery of New South Wales picturebook, Sydney, 1972, 113 (colour illus.).
Diana Brydon, Mosaic: a journal for the comparative study of literature, 'Tradition and Post-Colonialism: Hugh Hood and Martin Boyd', pg.1-15, Winnipeg, Sep 1982, 6 (illus.), 8 (illus. detail),11, 12 (illus. detail).
Our Art Critic, The Sydney Morning Herald, 'Contemporary art more conservative', pg 5, Sydney, 12 Nov 1946, unknown. Review of Eighth Interstate Exhibition of the CAS.
Rosemary Crumlin., O Soul O Spirit O Fire, 'Beginnings', Brisbane, 2001, not paginated. exhibition list
F.A.Philipp, Present opinion, 'On three paintings by Arthur Boyd', pg. 9-14, Melbourne, 1947, 11 (illus.).
Peter Fuller', Modern painters, 'Arthur Boyd interviewed, pg. 20-26, London, Summer 1990, 22 (illus.).
Margaret Garlick, Dissent: a radical quarterly, 'The extremes of Arthur Boyd', pg. 21-23, Melbourne, Spring 1964, 22.
Contemporary Australian painting, Unknown, 1956. cat.no. 5, lent by the artist
Sasha Grishin, Australian art: a history, 'Murrumbeena and the humanist tradition in Melbourne art', pg. 332-347, Carlton, 2013, 340, 341 (colour illus.), 550, 557. plate no. 33.6
Patrick White, painter, manqué: paintings, painters and their influence on his writing, 'Jerusalem', pg. 54-64, Carlton, 2002, 61.
The art of Arthur Boyd, London, 1986, 17-18, 42-43. cat.no. 36
Ursula Hoff, Meanjin, 'The paintings of Arthur Boyd', pg. 143-147, Carlton, Jun 1958, 144.
Art and Australia, Sydney, Sep 1965, 118 (illus.).
Barry Humphries, Australians on Arthur Boyd, 'A conscientious chaperon', pg. 4-6, Melbourne, 1998, 4 (colour illus.).
Ray Matthew, London magazine, 'Arthur Boyd', pg. 38-42, London, Aug 1963, 39.
Susan McCulloch-Uehlin, The Weekend Australian, 'The lie of the land', pg. 16-19, Sydney, 20 Nov 1999-21 Nov 1999, 18.
Arthur Boyd: Art and life, London, 2000, 64 (colour illus., detail), 65-66.
Arthur Boyd retrospective, Sydney, 1993, 64 (colour illus.). cat.no. 46
Barry Pearce, Art Gallery of New South Wales handbook, 'Australian', pg. 13-35, Sydney, 1988, 24.
Barry Pearce, Look, 'The legacy in Sydney Arthur Boyd', pg. 18-20, Melbourne, Jul 1999, 20.
Arthur Boyd, London, 1967, XII (illus.), 241. cat.no. 3.1, Biblical Paintings 1945-50, including The Grange Frescoes
John Reed, Ern Malley's journal, 'Arthur Boyd: a personal reaction to his painting and career', pg. 29-32, Melbourne, Nov 1954, 31.
T G Rosenthal., Retrospective exhibition of paintings, drawings and other work by Arthur Boyd: 14 April to 10 May 1969, 'The art of Arthur Boyd', Edinburgh, 1969, (illus.).
Masterpieces of Australian Painting, Sydney, 1984, 149 (colour illus.).
1965 Acquisitions, Sydney, 1965, 13-14.
Laurence Thomas, Twelve Australian artists, 'Introduction', pg. 6-10, London, 1953, 16. cat.no. 33
Arthur Boyd: retrospective exhibition (1962), London, 1962. cat.no. 28
Natalie Wilson, Australian art: in the Art Gallery of New South Wales, 'Out of Melbourne: realisms and mythologies', pg. 163-164, Sydney, 2000, 164, 172 (colour illus.), 300.
Mary Woodburne, Look, 'Arthur Boyd 1921-1999: The mockers', pg. 38, Melbourne, Jun 2000, 38 (colour illus.). Australian Icon series
Unknown and Unknown (Editors), Consent and consensus: Politics, media and governance in twentieth century Australia, Perth, 2005, front cover (colour illus.).
Unknown, The Murrumbeena Boyds: just like us; but different, Caulfield, 2006, 18. List of works.
Editor Unknown (Editor), Daily telegraph and daily news, 'Emotional art in exhibition', Sydney, 13 Nov 1946, unknown. Review of Eighth Interstate Exhibition of the CAS.
Angry Penguins and Realist Painting in Melbourne in the 1940s, London, 1988, 76, 131 (illus.), 169. cat.no. 112
Unknown, Art and architecture of twentieth century: Australia and the West: Study guide, Geelong, 1993, 87 (illus.).
Unknown and Unknown, The art of the Boyds: generations of artistic achievement, Sydney, 1990, 100 (colour illus.). plate no. 93