View More:
---
Artist
Sydney Long
Australia, England
20 Aug 1871 - 23 Jan 1955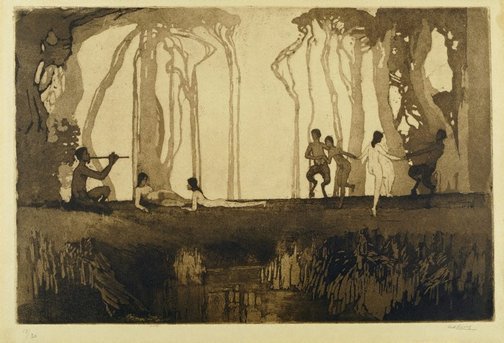 ---
About
Sydney Long was born at Goulburn, NSW and studied under A J Daplyn, Frank Mahoney and Julian Ashton at Art Society of NSW classes 1892-96. He was taught etching in London by Frank Emanuel and Malcolm Osborne and started to etch in earnest in 1918-19, devoting much of his time to it for the following twelve years. Sales of his etchings were his livelihood and helped establish his reputation in London. He was an Associate of the Royal Society of Painter-Etchers and Honorary Secretary of the Society of Graphic Arts in London. Following his return to Australia in 1925, Long was elected President of the Australian Painter-Etchers Society.
'Pan' is one of Long's best known early etchings and is closely related to a major painting, considered to be one of his early masterpieces, 'Pan' 1898 in the Gallery's collection. In a letter to his friend and Sydney agent, Adolph Albers, dated 25 April 1918 Sydney Long stated:
'I am going to take up etching, have been intending to do so for some time, so I will be able to supply you with a bigger variety of subjects later. When I was in Cornwall I showed photographs of my work to Alfred Hartley who is one of the finest etchers in England. He advised me strongly to take up etching as my work would etch admirably, there being a decorative feeling for line in it. I was very interested in your account of the Lindsay etching from one of my landscapes and would very much like to see what he made of it but he hasn't sent the copy as you said he was going to'.
Later (undated), 'I am going strong at etching and have already done several plates, so will pack you out some proofs. If there's any particular picture of mine you would like done, let me know. I have good reproductions of 'The spirit of the plains', 'Pan' and all the other Gallery pictures and intend to produce fair sized plates later of them in soft-ground and aquatint. In the meantime I am doing some stylish things of landscapes etc, of course I won't be able to send many until I get a printing press of my own but I will be able to send you proofs very shortly and perhaps you could book orders for them'.
In 1919 he wrote, 'I am just finishing a large plate of the Pan pictures and also one going of the flamingos, a replica of the one in the gallery with the figures. I will send you along proofs as soon as they are done... The pan is on zinc and as zinc is very soft, won't yield more than thirty at most, so don't sell these proofs too cheap'. (Richard King, 'The etchings of Sydney Long, the Richard King collection', Goulburn Regional Art Gallery, 1990, pg.14)
Hendrik Kolenberg and Anne Ryan, 'Australian prints from the Gallery's collection', AGNSW, 1998
---
Details
---
Media category
---
Materials used
etching, aquatint, printed in brown ink on buff wove paper
---
Dimensions
28.0 x 42.2 cm platemark; 33.2 x 45.6 cm sheet
---
Signature & date
Signed l.r., pencil "Sid Long". Not dated.
---
Accession number
DA44.1969
---
Place
Where the work was made
London
---
Shown in 4 exhibitions
Exhibition history
---
Referenced in 13 publications
Bibliography
---
Roger Butler, Sydney Long: the spirit of the land, 'Sydney Long and Australian Printmaking', pg. 73-76, Canberra, 2012, 73, 74, 164 (colour illus.). cat.no. 75; not AGNSW impression
Deborah Edwards, Stampede of the Lower Gods: Classical Mythology in Australian Art, 'The Antipodean Arcady / 'When Pan purloined Apollo's lyre'', pg. 8-31, Sydney, Sep 1989, 11, 21 (colour illus.), 23, 24, 63.
Sarah Engledow', The world of Thea Proctor, 'The world of Thea Proctor', pg. 16-84, Canberra, 2005, 22.
Robert Lindsay., Aspects of Australian Art: Art Gallery of New South Wales travelling art exhibition 1976, 'Sydney Long', Sydney, 1976, (illus.). cat.no. 18; not paginated; dated 1916
The etched work of Sydney Long, A.R.E.: a complete catalogue of his etchings, Sydney, 1928, (illus.). cat.no. 12; titled 'Pan'; dated 1916
Denise Mimmocchi, Australian Symbolism: the art of dreams, 'Sydney Long: Arcadian myth and the decorative landscape', pg. 110-123, Sydney, 2012, 111,114-115 (colour illus.), 146, 153 (colour illus.). image on pg.153 is a detail.
The life and work of Sydney Long, Sydney, 1979, 128 (illus.), 248-249. cat.no. 10; titled 'Pan'; dated 1916; ANG editions 1st State Proof and one unknown impression
The etchings of Sydney Long: the Richard King Collection, Goulburn, 1990, (illus.). cat.no. 44; titled 'Pan'; dated 1919; Artist's proof
Printed images by Australian artists 1885-1955, Canberra, 2007, 37 (colour illus.). printed in sepia ink; Collection of National Gallery of Australia
Margaret Marsh, Michelle Watts and Craig Malyon, A.R.T. 2 practice, South Melbourne, 2005, 25 (colour illus.). illus.no. 2.7
Australian prints from the Gallery's collection, Sydney, 1998, 45 (colour illus.). cat.no. 32
Fin de Siècle, Sydney, Jan 1994.
Australian etchings and engravings 1880s–1930s from the Gallery's collection, Sydney, 2007, 11 (colour illus.). cat.no. 10