View More:
---
Artist
David Davies
Australia, England
21 May 1864 - 26 Mar 1939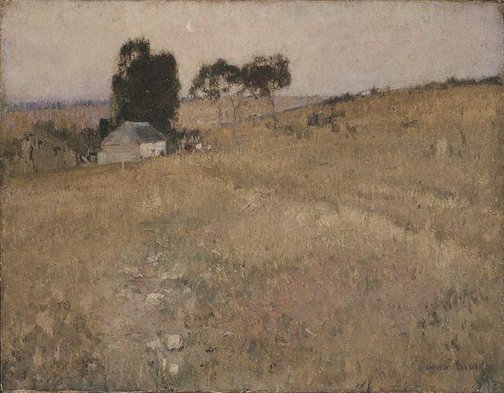 ---
About
Davies painted 'A summer evening' during an industrious five-year sojourn in Australia, which followed a brief period of travel and study in Europe. The work is characteristic of Melbourne painting of the 1890s, in the shift of its mood from the bright, sunlit imagery of the Heidelberg painters, to the pensive, restrained and fugitive effects of early evening light upon the landscape. In this painting David Davies moves away from Australian nationalism to a softer, European sensibility, possibly influenced by Whistler and other artists when he studied in Paris and England during 1890–93.
---
From the Gallery Shop
---
Details
---
Other Title
Summer evening
---
Media category
---
Materials used
oil on canvas on hardboard
---
Dimensions
71.1 x 91.2 cm board; 92.7 x 112.3 x 6.0 cm frame
---
Signature & date
Signed l.r. corner, brown oil "DAVID DAVIES". Not dated.
---
Location
---
Shown in 9 exhibitions
Exhibition history
---
Referenced in 19 publications
Bibliography
---
Julian Ashton., Daily telegraph, 'National Art Gallery: The Australian Court', Sydney, 27 Sep 1905, unknown.
Herbert Badham, A study of Australian art, Sydney, 1949, 56 (illus.).
Lionel Lindsay, 150 years of Australian art, Sydney, 1938. cat.no. 76
Elwyn Lynn, The Australian landscape and its artists, Rushcutters Bay, 1977, 51 (illus.).
Susan McCulloch-Uelin, The Weekend Australian, 'Lunar dreaming', pg. R16-R17., Sydney, 20 Apr 2002-21 Apr 2002, R17. In the Arts section of the Weekend Australian. Review of the exhibition 'Nocturne'.
Barry Pearce, Art Gallery of New South Wales handbook, 'Australian', pg. 13-35, Sydney, 1988, 18.
Ursula Prunster, Australian art: in the Art Gallery of New South Wales, 'Home and abroad', pg. 73-74, Sydney, 2000, 77 (colour illus.), 300.
Bernard Smith, 100 years of Australian painting, 'Foreword', pg. 2-4, Sydney, 1948, 5. cat.no. 7; titled 'Summer evening'
Cameron Sparks, David Davies 1864-1939, 'David Davies: 1864-1939', pg. 9-20, Ballarat, 1984, 12, 40, 41 (illus.). cat.no. 22
Barry Pearce, A century of Australian landscape: mood and moment, Sydney, 1983, 15, 46 (colour illus.). cat.no. 28
Edmund Capon and Jan Meek (Editors), Portrait of a Gallery, 'Australian Art in the Old Courts', pg. 24-37, Sydney, 1984, 32 (colour illus.), 33.
William Splatt and Barbara Burton, 100 masterpieces of Australian painting, Adelaide, 1973, 84, 85 (colour illus.). plate no. 39
Art Gallery of New South Wales, Art Gallery of New South Wales picturebook, Sydney, 1972, 85 (colour illus.).
Art Gallery of New South Wales, A selection of eighty-two reproductions mainly from the Australian collection and including examples from the British, French and Dutch [Art Gallery of New South Wales], Sydney, 1959, (illus.). plate no. 18
Unknown, The golden age of Australian art, Victoria, 1992, 52-53 (colour illus.).
Alan McCulloch and Susan McCulloch, The Encyclopedia of Australian Art, St Leonards, 1994, 279 (colour illus.).
Ewen McDonald, AGNSW Collections, 'From Colonialism to late Modernism', pg. 7-106, Sydney, 1994, 21 (colour illus.).
Unknown, Masters of the Heidelberg School, Leichhardt, 1998, 86 (colour illus.). plate no. 82
John Buckley (Curator), Nocturne: images of night and darkness from colonial to contemporary, Mornington, 2002, 10, 27. no catalogue numbers