View More:
---
Title
(Untitled maquette for painting)
---
Artist
Carl Plate
Australia
19 Dec 1909 - 15 May 1977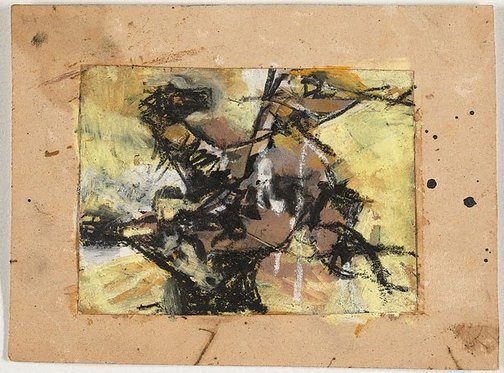 ---
About
Carl Plate's appreciation of international modernism influenced his intuitive and expressive paintings, which were strongly founded in his interest in nature, landscape and organic forms, and commitment to abstraction.
He sought to reconcile unconscious creative impulses, randomness and chance with an empathetic response to nature and by the early 1960s almost all obvious references to the material world had been subsumed in his art. Throughout, Plate retained his natural affinity for harmonious form and composition, and particularly, lyrical colour.
Returning to Sydney from Europe in 1940, Plate established himself as an artist, exhibiting his work locally and internationally, until his death in 1977. He re-established the Notanda Gallery in Rowe Street as a centre for British, International and Australian art which was to have a significant impact on successive generations of students and artists as one of the rare sources of visual material and information on modern art in Sydney. An indefatigable advocate for modern art, he was one of the most active members of the Contemporary Art Society in NSW from its earliest days.
These delightful, jewel-like miniature drawings were described by Plate at the time as 'maquettes, a word commonly used to describe small-scale models for sculpture. He made hundreds of them, many of which he retained in his studio for reference and further development. Not all the maquettes Plate made were developed into larger works, but many were, and he occasionally wrote on them afterwards, linking them to a finished piece.
'One makes a small maquette, a very small ... piece of note ... and if this appears to have some life, ... one might develop it perhaps a bit more on to paper or board, and in this process the thing may develop, it may become more alive; it is a process of breathing on this tiny little flame'.
© Australian Art Department, Art Gallery of New South Wales, 2007
---
Details
---
Media category
---
Materials used
pastel, gouache and ink on illustrated magazine paper on card
---
Dimensions
10.2 x 7.3 cm; image /sheet; 15.1x 11.2 cm card
---
Signature & date
Not signed. Not dated.
---
Credit
Gift of Jocelyn Plate 2007