View More:
---
Artist
Rayner Hoff
United Kingdom, Australia
1894 - 1937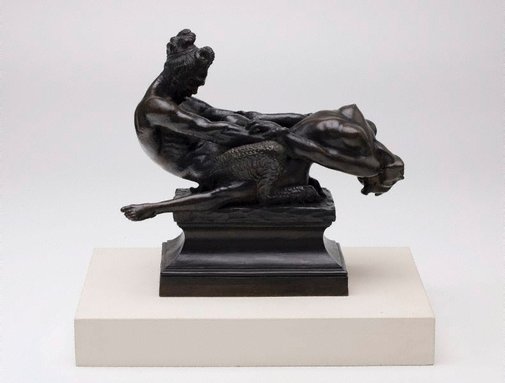 ---
About
In the 1920s, Rayner Hoff associated with Norman Lindsay and a group of writers, musicians and artists who strove for an Australian version of Classicism in art as a creative and rejuvenating force for society. They focused their attention on the 'lower gods'; satyrs, fauns and nymphs. In Greek pagan beliefs these were followers of the wine and fertility god Dionysus, who also represented liberated, creative, sexualised spirits.
'Faun and nymph' displays Hoff's progressive response to the ideals of this circle. He used the metaphor of pagan spirits and their representation through Art Deco forms to modernise art. The work portrays an intense sexual energy, yet is ambiguous in its nuances. The explicit sexuality of the piece was unprecedented in Australian art and exemplifies Hoff's innovative approach to modeling the body through a sense of primal energy.
---
Details
---
Media category
---
Dimensions
26.6 x 28.6 x 14.0 cm overall :
Base, 19 x 11 cm, these are the dimensions for the base of the work for display purposes only
---
Signature & date
Signed and dated on base below faun's left thigh, incised "1924 G.RAYNER.HOFF.".
---
Credit
Gift of the Rayner Hoff Memorial Committee 1938
---
Shown in 7 exhibitions
Exhibition history
---
Referenced in 10 publications
Bibliography
---
Christine Dixon and Dinah Dysart, Counterclaims: presenting Australian art 1938-1941, Sydney, 1986, 46. cat.no. AAA29
Deborah Edwards, Australian art: in the Art Gallery of New South Wales, 'Classical allusions', pg. 135-136, Sydney, 2000, 136, 146 (colour illus.), 301.
Deborah Edwards, 'This vital flesh': the sculpture of Rayner Hoff and his school, 'The new Renaissance: the practical apparatus', pg. 15-30, Sydney, 1999, 19 (colour illus.), 24, 34, 101. cat.no. 201
Deborah Edwards, Aspects of Art Deco in Australia: Sunrise over the Pacific, 'The new classicism: Rayner Hoff and his school', pg. 36-45, Sydney, 2001, 38 (colour illus.), 41. plate no. 37
Deborah Edwards, Stampede of the Lower Gods: Classical Mythology in Australian Art, 'Pan at Lane Cove', pg. 55-60, Sydney, Sep 1989, 55 (illus.), 58, 65.
Deborah Edwards, Art and Australia (Vol. 24, No. 1), '"This vital flesh": the 1920s sculpture of Rayner Hoff', pg. 62-68, Sydney, Spring 1986, 65 (illus.), 67.
Liz Gibson, Parallel visions: works from the Australian collection, 'Rayner Hoff / Arthur Murch', pg. 60-71, Sydney, 2002, 60, 62 (colour illus.), 144, 147.
Grahame Kime., Heaven on earth: Visions of arcadia, 'Visions of Arcadia', Gymea, 2005. List of works; not paginated
Enid N MacDonald, The Sydney morning herald, 'Rayner Hoff: examples of his work; fine gallery collection', pg. 13, Sydney, 17 Jun 1939, 13.
Ewen McDonald, AGNSW Collections, 'From Colonialism to late Modernism', pg. 7-106, Sydney, 1994, 33 (colour illus.).