Aboriginal and Torres Strait Islander art
View More: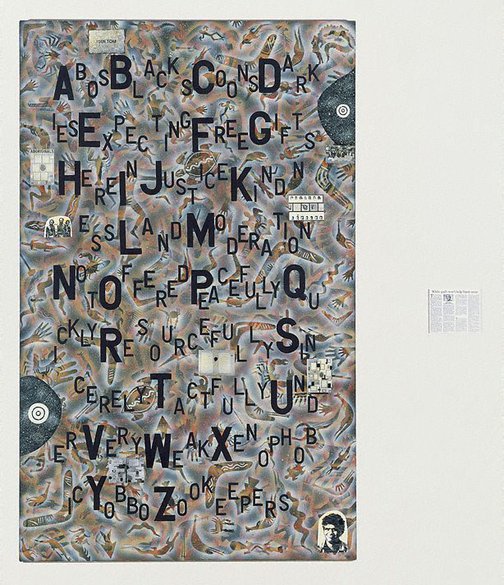 ---
About
Richard Bell warns in the introduction to his unpublished 'Bell's Theorem' that his thesis will be '... conversational, playful, serious, tongue in cheek, moralistic, tolerant, sermonistic and informative'. Aboriginal culture, Bell believes, has become a commodity, slowly being digested by Western society. Within this system, Aboriginal artists are either 'tribal' people living in the 'outback' – whose work is fair game for appropriation – or 'urban blacks' whose cultural 'authenticity' has been disenfranchised by the brutal process of colonisation. Speaking as a member of the Murri community, Bell states, '... Our culture was ripped from us and not much remains. Most of our languages have disappeared. We don't have black or even dark skin. We don't take shit from you.' His invective is tempered by humour, however, a strategy to sugar coat the ideological pill, ensuring that his mouthful of political homily wilt stick in the throat.
Bell is a key figure in the collective of Indigenous and non-indigenous artists known as the Campfire Group, established in 1993, which evolved into the Fire-Works Gallery. The programme at their Brisbane city exhibition space claims to address 'Aboriginal Art and Other Burning Issues'. The collective's mantra is one of free artistic appropriation and influence, with the political ends justifying the artistic means. Bell, the self-proclaimed 'enfant terrible' of Australian art, wilfully uses and abuses the sacred cows of painting from Jackson Pollock to Colin McCahon , describing his role as '... very similar to Pablo Picasso'. Closer to home, Bell's paintings often make generic reference to the pictograms of rock art and desert painting. In 'Devine inspiration', 1993, a palimpsest of stencilled images and concentric circles is overwritten with an alphabet that begins with 'Abos, Blacks, Coons ...' – an 'ABC' of racist language particular to Australia. It concludes with a withering sequence of words damning the oppressors of Indigenous people as '... Very Weak Xenophobic Yobbo Zookeepers'.
Bell assaults the many fronts of Australian racism, from its most covert manifestations to everyday forms, from nursery rhymes and remarks bandied around the schoolyard to the subversive use of language. Bell highjacks language, the vehicle of Western power, and drives it headlong into the class barriers that disenfranchise minority societies. As George Petelin has written, '... Culture for [Bell] is not something of the past but part of a daily struggle'.
Hetti Perkins in 'Tradition today: Indigenous art in Australia', Art Gallery of New South Wales, Sydney, 2004
© Art Gallery of New South Wales
---
Details
---
Place where the work was made
---
Media category
---
Materials used
synthetic polymer paint and collage on canvas; text panel
---
Dimensions
a - painting, 239.6 x 149.6 x 1.8 cm, strainer
b - text panel, 19.5 x 22.5 cm
---
Signature & date
Not signed. Not dated.
---
Credit
Contemporary Collection Benefactors 1993
---
Accession number
549.1993.a-b
---
Place
Where the work was made
Brisbane
---
Shown in 6 exhibitions
Exhibition history
---

One sun, one moon, Art Gallery of New South Wales, Sydney, 03 Jul 2007–02 Dec 2007

Home: Aboriginal Art from NSW, Art Gallery of New South Wales, Sydney, 09 Jun 2012–02 Dec 2012

Richard Bell: Lessons in etiquette and manners, Monash University Museum of Art, Caulfield East, 05 Feb 2013–13 Apr 2013
---
Referenced in 7 publications
Bibliography
---
Deborah Edwards, One sun one moon: Aboriginal art in Australia, 'Histories in the making: Aboriginal Art and modernism', pg. 51-63, Sydney, 2007, 50 (colour illus.).
Victoria Lynn (Editor), Australian Perspecta 1993, Sydney, 1993, 8. part of an installation "Prospectus .22"
Margo Neale, Yiribana: Aboriginal and Torres Strait Islander collection, Sydney, 1994, 124, 125 (colour illus.), 136, 139. plate no. 61
Hetti Perkins, Tradition today: Indigenous art in Australia, 'Richard Bell', pg. 26, Sydney, 2004, 26, 27 (colour illus.).
Hetti Perkins and Jonathan Jones (Editors), Half light: Portraits from black Australia, 'Richard Bell', pg. 40-47, Sydney, 2008, 40 (colour illus., detail).
Hetti Perkins, Art + soul: a journey into the world of Aboriginal art, 'Bitter + sweet', pg. 173-265, Carlton, 2010, 252, 253 (colour illus.), 282.
John Saxby (Editor), Look, 'The art that made me: Reg Mombassa', Sydney, Nov 2015, 13.