View More:
---
Artist
Sidney Nolan
Australia, England
22 Apr 1917 - 28 Nov 1992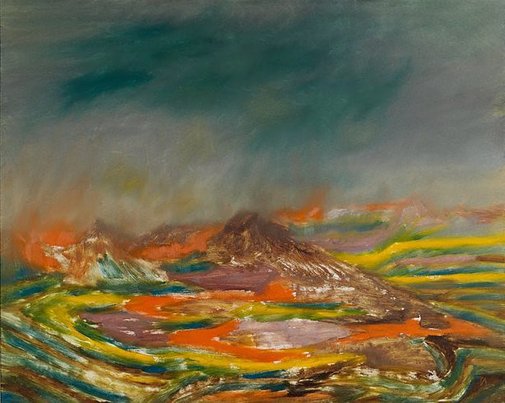 ---
About
Winding, python-like river beds were shallow, dry ... lime-green areas, purple centred ... This was proper painter's country ... barren, patterned by zig-zagging straps, snakes wriggling off between different mountain ... Lake Rudolph became ineffably blue, breathlessly beautiful, as we approached over ground made up of every grey and brown hitherto unimagined. There were unsuspected varieties of pale orange, a new blue, strange whites. A volcano made a neat scoop beside pools, bays and spreading cut-off lagoons of verdigris and prune. Sidney was wrenched sideways, almost standing, concentrated, taut, his eyes like arrows shooting to nail this enchanted moment. Its communication, once crystallised, would be stored, held intact yet forgotten until unconsciously rather than by an act of will it would be called upon in some unpredictable future.
excerpt from Cynthia Nolan, 'One traveller's Africa', Methuen and Co., London, 1965
---
Details
---
Media category
---
Materials used
oil on hardboard
---
Dimensions
120.5 x 152.4 cm board; 143.5 x 174.5 x 6.0 cm frame
---
Signature & date
Signed l.r. corner, beige oil "N [in reverse]". Not dated.
---
Credit
Purchased with grateful acknowledgement to Cynthia Nolan 2005
---
Shown in 4 exhibitions
Exhibition history
---
Referenced in 15 publications
Bibliography
---
Larry Boys, Bulletin, 'Nolan's African journey: a Bulletin portfolio', 'Roving reporter of art: Africa in vivid November from Larry Boys in London', pg. 32, Sydney, 24 Aug 1963, (colour illus.). titled 'Landscape'
Elwyn Lynn, Sidney Nolan: myth and imagery, London, 1967, 38-45. NOTE: General reference.
Hal Missingham, Sidney Nolan. Retrospective exhibition. Paintings from 1937 to 1967, Sydney, 1967. cat.no. 120
Barry Pearce, Look, 'Sidney Nolan and the genius of painting', pg. 12-13, Sydney, Jul 2006, 12, 13 (colour illus.).
Nicholas Usherwood., Nolan's Nolans: a reputation reassessed, 'Introduction', London, 1997. NOTE: General reference. Also see cat.no. 65: 'Rimbaud at Harar' 1963.
Australian and International Paintings, including Contemporary Australian art. Melbourne 1 & 2 May 2000, Melbourne, 2000, 226 (colour illus.). lot no. 263
Jill Sykes (Editor), Look, 'Nolan's Africa', pg. 13, Sydney, Dec 2014-Jan 2015, 13 (colour illus.).
Unknown, Sidney Nolan: such is life, Melbourne, 1987, 160-167. NOTE: General reference.
One traveller's Africa, London, 1965, opposite 29 (illus.). titled 'Landscape'
The Studio, G.S. Whittet, 'May days for the Moderns: London commentary', pg. 10-11, London, Jul 1963.
Unknown (Compilator), Sidney Nolan (1989), London, 1989, (colour illus.). cat.no. 9
Edmund Capon, I blame Duchamp: my life's adventures in art, 'Sidney Nolan', pg. 58-65, Sydney, 2009, 64.
Barry Pearce, Frances Lindsay, Lou Klepac and Edmund Capon, Sidney Nolan, 'The African paintings', pg. 41-45, Sydney, 2007, 14, 51, 54, 178, 188 (colour illus.), 237. cat.no. 91
Art Gallery of New South Wales, Art Gallery of New South Wales annual report 2006, 'Year in review: Australian art', pg. 20-22, Sydney, 2006, 20, 22 (colour illus.).
Sidney Nolan: miners, myths, wildlife, Sydney, 2005, (colour illus.). cat.no. 12