Aboriginal and Torres Strait Islander art
View More:
---
Artist
Daniel Boyd
Australia
1982 -
Language groups
Gangalu, North-east region, Kuku Yalanji, East Cape region, Kudjala, North-east region, Wakka Wakka, North-east region, Gubbi Gubbi, North-east region, Wangerriburra, South-east region, Bandjalung, South-east region, Ni-Vanuatu heritage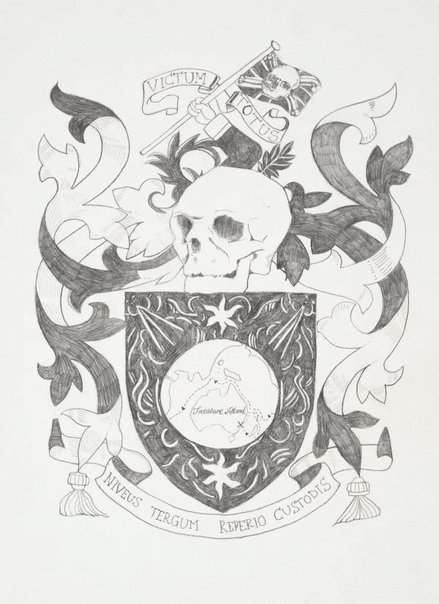 ---
About
Daniel Boyd, born 1982 in Cairns is a Kudjala/Gangalu/Kuku Yalanji/Waka Waka/Gubbi Gubbi/Wangeriburra/Bandjalung man from Far North Queensland, and one of Australia's leading artists. In 2002, Boyd moved from his hometown of Cairns to Canberra, to undertake a Bachelor's degree in Fine Arts (painting) at the School of Art & Design, Australian National University. Now living and working in Sydney, Boyd has been represented in a number of major exhibitions including the 'National Indigenous Art Triennial: Culture Warriors', National Gallery of Australia, in 2007 and 'Wilderness: Balnaves contemporary painting', Art Gallery of New South Wales, Sydney, in 2010.
'Niveus Tergum ...' was completed in 2005 a short time after Boyd's 'Captain Cook' series had launched his career. The series explored the nature of Australian history with colonial 'heroes', often interrupting the narrative of colonial successes and tribulations. The series exposed colonising settlers as men who directly contributed to the subjugation of Aboriginal and Torres Strait Islander people, and their partaking in acts of piracy.
This work, referencing heraldry, questions the ethics of colonisation and furthermore, the influence of Eurocentric cultural interpretations on contemporary society. It continues Boyd's thesis of associating 'New World' exploration with the aforementioned act of piracy, suggested by the skull motif and 'Treasure Island' inscription on the heraldic shield. The skull image superimposed on the Union Jack at the top of the drawing, adjacent to the Latin text "Victum Totus" (meaning 'conquer all'), further emphasises this point.
Boyd's clever use of language as a tool to deliver encrypted political statements is revealed in this drawing. The Latin text "Niveus Tergum Reperio Custodis" inscrolled on the lower section of the drawing has been directly translated by Boyd to mean "white skin find keep".
In regards to Boyd's 'pirates' body of work which includes this drawing, Boyd has written, "Questioning the romantic notions that surround the birth of Australia is primarily what influenced me to create this body of work. With our history being dominated by Eurocentric views it's very important that Aboriginal and Torres Strait Islander people continue to create dialogue from their own perspective to challenge the subjective history that has been created." (Artist statement. National Indigenous Art Triennial: Culture Warriors, National Gallery of Australia, 2007)
In 2008, Boyd revisited this design and image, later producing 'No Beard's coat of arms' 2008, held in the collection of the National Gallery of Victoria.
© Art Gallery of New South Wales 2019
---
Details
---
Place where the work was made
---
Media category
---
Materials used
pencil on paper
---
Dimensions
38.0 x 29.0 cm
---
Credit
Gift of Amanda Love 2011. Donated through the Australian Government's Cultural Gifts Program.
---
Shown in 1 exhibition
Exhibition history
---

Our Land, Art Gallery of New South Wales, Sydney, 21 Jan 2017–18 Jun 2017