Aboriginal and Torres Strait Islander art
View More:
---
Artist
Cheryl Davison
Australia
1965 -
Language groups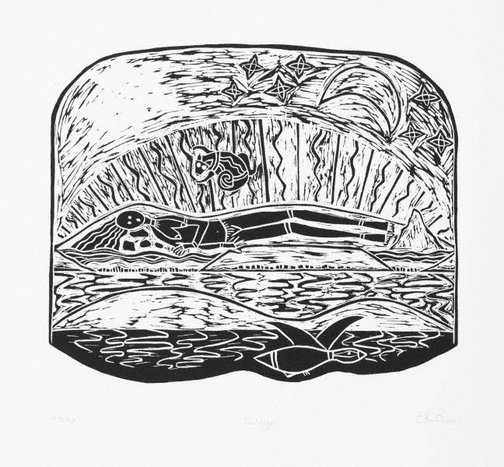 ---
About
Cheryl Davison is a leading artist from the South Coast. Her mother's family are Walbanga people from Eurobodalla and the Ngarigo people in the Snowy Mountains region. Her family is also connected to the Wallaga Lake Aboriginal community. Davison has inherited deep cultural knowledge from her family and is a recognised artist and cultural leader for the South Coast region, exhibiting nationally and internationally.
This suite of works captures a number of important South Coast creation narratives and family stories which have been passed down to Davison.
Images like the 'Plovers' illustrates her family's personal totem, while 'Wonga & Chicks' talk about strong families as Wonga pigeons are known and respected for their ability to care and provide.
Much of Davison's knowledge comes from the elders in her community and her own personal interpretation of these stories.
'Bangu', the flying fox, sat between the animals and the bird, the two groups who'd traditionally fought. When the birds were winning Bangu would flap his wings and align himself with the birds, when the animals were winning Bangu would fold his wings up and show his hairy chest and align himself with the animals. The birds and the animals worked out Bangu's game and they both attacked him, on the ground and in the sky. Today Bangu hunts only at night, avoiding both the birds and the animals.
'Guugu', the swan was originally beautiful and white, but the other birds were jealous of his beauty. The other birds attacked Guugu, pulling out his white feathers and leaving him bleeding. The old crow had watched the other birds attack Guugu and when they left he flew down and wiped away the blood, but he couldn't wipe the blood from Guugu's beak. The old crow gave Guugu some of his feathers, which is what Guugu is today, black with a red beak.
'Gulaga', an ancestral mother, is one of the most important creation sites for Yuin people on the South Coast. Gulagu laying in the landscape is known as Mount Dromedary. Barranguba, the eldest son was keen to be independent and so left his mother's side and went out to sea becoming a small mountain seen today as the base of Mount Dromedary.
Artist statement:
The stories about Gulaga, Gulaga mountain which is on the South Coast. It's a very significant Aboriginal site. This is a story that was told to me by my family and my grandfather, Reggie Walker. My grandfather was a fisherman, he'd row his boat right out to sea and he'd tell us "When you're out there it just looks like a lady, laying down".
The story goes that Guluga was walking east collecting bush tuckers with her two sons, Najanuga and Barranguba. Barranguba said to his mother "I want to move away and set up my own camp". She said "Well you can just move out there into the ocean with the fish and the whales and the dolphins, not too far away you can set up your camp because I still need to keep an eye on you". And so he went out into the ocean and lay down and turned into the island.
When Najanuga saw this he said "Well I want to move away and have my own camp as well" but she said "No, you're too young, and you just stay here at my feet so you're within arms reach of me and I can look after you". So he just sits there at her feet and she's the mountain, and she's pregnant, having a baby.
Now the landscape itself of the mountain, around this area which is central Tilba, Tilba, Tilba area, that's traditionally all birthing place for South Coast women.
The possum cloud there is actually her possum skin cloak, and when its cold the cloud comes over Gulaga like a big possum skin cloak, so I always put the possum in that painting. This is where I'm from.
These stories are from my ancestors, and they're probably thousands of years old. They've just been handed down from generation to generation, and I'm pretty lucky to know the story and be able to pass it on to my daughter, Tasmin, and hopefully my grandkids.
---
Details
---
Place where the work was made
---
Cultural origin
---
Media category
---
Materials used
lino print, black ink on paper
---
Dimensions
30.0 x 30.0 cm blockmark
---
Signature & date
Signed and dated l.r. corner, pencil "C(illeg.) 07".
---
Credit
Gift of Christina Kennedy 2012
---
Place
Where the work was made
Bodalla
---
Shown in 3 exhibitions
Exhibition history