View More:
---
Title
You Yangs landscape
---
Artist
Fred Williams
Australia, England
23 Jan 1927 - 22 Apr 1982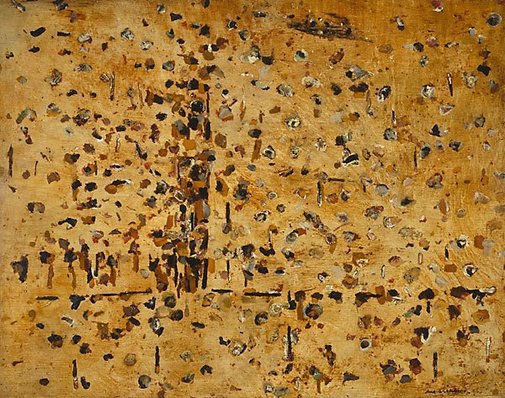 ---
About
Fred Williams was born and trained in Melbourne, at the National Gallery School and the George Bell Art School during the 1940s. At the end of 1951 he left for London and further study, returning to Australia in 1957. During these formative years he focused on depictions of the figure in his art. However, when he returned to Melbourne he redirected his attention to the Australian environment, exploring this subject as a platform for formal invention in his practice. With this as his creative directive, Williams embarked on a seminal series of paintings in the 1960s that changed the way many people viewed the Australian landscape.
Williams first visited the You Yangs – the landscape of granite ridges situated between Melbourne and Geelong in Victoria – in the winter of 1962. Working in situ, he began painting his observations in watercolour, developing these studies in his studio into a series of radically abstracted paintings. 'You Yangs landscape' 1963 is one of his great achievements in this group of works. It exemplifies Williams's distinct vision of the landscape that combines a feel for its expanse with suggestions of its nuanced forms.
'You Yangs landscape' demonstrates how Williams negated the horizon line in his work (which, historically, had been key to Western landscape painting) and offered instead a more spatially ambiguous ordering of the countryside. The picture plane is tilted and imaged as an unstructured space, where gestural abstract markings and dotted areas of intricate paint work are used to invoke the landscape's scattering of trees, rocks and fencing in abbreviated form.
In the traditions of 20th century Australian landscape painting, Williams positioned himself as 'a link between Nolan and Drysdale: Nolan the irrational, Drysdale the formal'.1 He had derived his model of abstraction from studying the structural order of cubist painting as well as the work of Paul Cézanne. Yet as 'You Yangs landscape' demonstrates, Williams used this formal approach to imply the experience of place; where his aesthetic of dots and dashes act like memory's truncated visual mapping of landscapes and evokes a sense of being immersed in its forms.
This work was exhibited in the 1963 Wynne Prize.
1 Fred Williams quoted in Craig McGragor, Qantas Airways, March/April 1985, p20
---
From the Gallery Shop
---
Details
---
Media category
---
Materials used
oil on hardboard
---
Dimensions
119.5 x 152.0 cm board; 133.3 x 165.2 x 4.0 cm frame
---
Signature & date
Signed l.r. corner, black oil "Fred Williams". Not dated.
---
Location
---
Wynne Prize
---
Shown in 10 exhibitions
Exhibition history
---
Referenced in 18 publications
Bibliography
---
Jaynie Anderson, The Cambridge companion to Australian Art, 'Cross-cultural encounters: introduction', pg. 1-10, Port Melbourne, 2011, 8, 346. fig.no. 1.10 (colour illus.), between pg. 44 and 45.
Edmund Capon AM, OBE and Jan Meek (Editors), Portrait of a Gallery, 'Australian 20th Century Art', pg. 71-89, Sydney, 1984, 71 (colour illus.).
Deborah Hart, Fred Williams: infinite horizons, 'Classic Williams', pg. 60-79, Canberra, 2011, 63 (colour illus.), 64, 226.
Joseph Brown Gallery (Organiser), Spring exhibition 1980, Melbourne, 1980, cat.no. 192. n.p. (colour illus.) as 'You-Yangs landscape'. catalogue for the exhibition held 1-10 September 1980
Hendrik Kolenberg, Look, 'Celebrating Fred Williams', pg. 24-25, Sydney, Nov 2004, 24.
Ewen McDonald, AGNSW Collections, 'From Colonialism to late Modernism', pg. 7-106, Sydney, 1994, 68, 69 (colour illus.).
Maudie Palmer (Editor), Encounters with Australian modern art, South Yarra, 2008, 84 (colour illus.). NOTE: Related work reproduced. Titled 'You Yangs III, 1963, private collection.
Barry Pearce, Southern reflections: 10 contemporary Australian artists, 'An Introduction to Australian Art', pg. 34-42, Sydney, 1998, 40 (colour illus.). fig.no. 12
Barry Pearce, Australian art: in the Art Gallery of New South Wales, 'Landscape and gesture', pg. 239-240, Sydney, 2000, 252 (colour illus.), 302.
Barry Pearce, Art Gallery of New South Wales handbook, 'Australian', pg. 13-35, Sydney, 1988, 33 (illus.), 34.
Barry Pearce and Patrick McCaughey, Twentieth century Australian masterworks from the Art Gallery of New South Wales and the Fred Williams Pilbara Series, Tokyo, 1985, 47 (colour illus.). cat.no. 28
Barry Pearce, Three years on: a selection of acquisitions 1978-1981, 'Australian Art', pg. 5-26, Sydney, 1981, 6, 26 (colour illus.). cat.no. 47
Ursula Prunster (Curator), Australian painters; Seeing Cézanne, Sydney, 1998, 31. cat.no. 58
Ursula Prunster, Aspects of Australian art, Sydney, 2000, (colour illus.). card no. 12: Fred Williams 'You Yangs landscape' 1963
Anne Ryan, Fred Williams: from music hall to landscape, drawings and prints, 'Drawing exposes all', pg. 9-13, Sydney, 2001, 12 (colour illus.). illus.no. 1
Archibald, Wynne and Sulman (1963), 1964, cat.no. 72 as 'You Yang landscape'. catalogue for the exhibition held 18 Jan–16 Feb 1964
The Adelaide Festival of Arts 1964: souvenir catalogue of special exhibitions, 1964, cat.no. 35. n.p. index of 'Wynne competition'. 'Selected entries from the Archibald, Wynne and Sulman competitions'
Project 41 - the mosaic, the grid, Sydney, 1983. cat.no. 10