View More:
---
Artist
Ian Fairweather
Scotland, Australia
29 Sep 1891 - 20 May 1974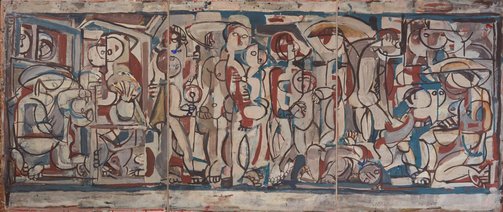 ---
About
Painted while Ian Fairweather was living on Bribie Island, Queensland, Anak Bayan recalls the artist's time in Manila, where he lived for a period during the 1930s. The painting has been viewed as a celebration of birth ('anak bayan' means 'son of the country' in the Tagalog language), yet public birth celebrations are not customary in the Philippines.
The well-known street, Anak Bayan, in the Bukid district was most probably the artist's inspiration for painting. According to Fairweather scholar Murray Bail, Anak Bayan is the artist's 'summation of the crowded everyday in Manila' and 'a streetscape of the mind', encapsulating Fairweather's memories of the Filipino people.
---
From the Gallery Shop
---
Details
---
Other Title
Anak Bayan - Triptych
---
Media category
---
Materials used
gouache on cardboard on hardboard
---
Dimensions
96.8 x 227.3 cm board; 109.0 x 241.3 x 9.0 cm frame
---
Signature & date
Signed l.r., red gouache "Anak BAYAN IF ["IF" monogram]". Not dated.
---
Credit
Bequest of Lucy Swanton 1982
---
Shown in 6 exhibitions
Exhibition history
---

Ian Fairweather (1957), Macquarie Galleries, Sydney, 20 Nov 1957–02 Dec 1957

An exhibition of paintings and drawings from the collection of Lucy Swanton (1960), War Memorial Art Gallery, University of Sydney, Sydney, 02 May 1960–13 May 1960

Project 41: The mosaic -The grid (1983), Art Gallery of New South Wales, Sydney, 25 Mar 1983–24 Apr 1983
---
Referenced in 18 publications
Bibliography
---
Candice Bruce, Brought to Light: Australian Art 1850–1965 from the Queensland Art Gallery collection, '"A Grand Display of Linear Ecstasies". Ian Fairweather Kite Flying', pg. 270-275, Brisbane, 1998, 270.
Deborah Edwards, Australian art: in the Art Gallery of New South Wales, 'Mosaic and figure', pg. 213-214, Sydney, 2000, 228, 229 (colour illus., detail), 230 (colour illus.).
Julie Ewington, Look, 'Ian Fairweather by Murray Bail: Reflections of the artist and writer', pg.10-13, Sydney, Jun 2009, 10-11 (colour illus.). book review
Drusilla Modjeska, Fairweather, 'Painting mother', pg. 44-53, Australia, 1994, 45-46, 48, 50-51, 53, 102 (colour illus.), 142. plate no. 30
Barry Pearce, Art Gallery of New South Wales handbook, 'Australian', pg. 13-35, Sydney, 1988, 32.
Barry Pearce, Look, 'Fairweather's last supper - its journey into our collection', pg. 12-13, Sydney, Jun 2011, 12.
Jill Sykes, Look, 'Members events', pg. 47-49, Sydney, Nov 2008, 49 (colour illus.).
Tony Twigg, Art Monthly Australia, 'Landfall: Ian Fairweather's landing at Oesosole, Roti', pg. 64-65, Canberra, Oct 2011, 64 (colour illus.), 65.
Tony Twigg, Asian art news, 'The wandering artist', pg. 52-57, Hong Kong, Jan 2009-Feb 2009, 52-53 (colour illus.), 56, 57 (colour illus., detail).
Looking At Australia, Australia, 1997, 11, 23, 37, 111.
East of the Sun, Sydney, 1997. List of works
AGNSW Collections, 'From Colonialism to late Modernism', pg. 7-106, Sydney, 1994, 68 (colour illus.).
Ian Fairweather, 'Anak Bayan', pg. 141-157, Sydney, 2009, 141, 142, 144-145 (colour illus.), 254. plate no. 125; cat.no. 140
Look, 'Art that made me: Ildiko Kovacs', pg. 14-15, Sydney, Apr 2016, 15 (colour illus.).
Portrait of a Gallery, 'Australian 20th Century Art', pg. 71-89, Sydney, 1984, 73 (colour illus.).
Project 41 - the mosaic, the grid, Sydney, 1983, 2. cat.no. 8
Ian Fairweather, Sydney, 1981, 134, 138-139 (colour illus.), 140, 242. plate no. 68; cat.no. 136
Aspects of Australian art, Sydney, 2000, (illus.). card no. 11: John Olsen 'Spanish encounter' 1960