View More:
---
Title
A sick tanuki (Tanuki no senkimochi) (above) and Tanuki as the Seven gods of good fortune (Tanuki no shichifukuijin) (below)
---
Artist
Utagawa Kuniyoshi
Japan
1797 - 1861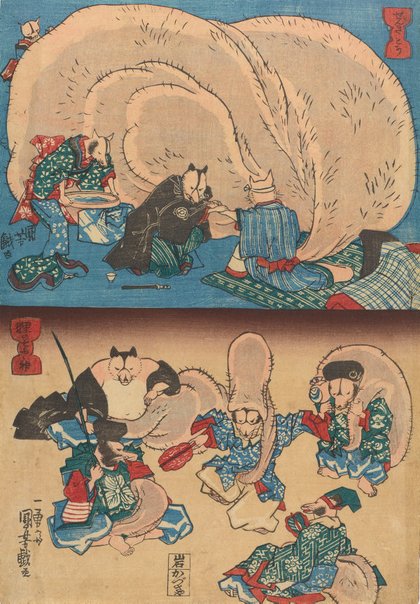 ---
About
The tanuki, frequently translated into English as 'raccoon-dog', is a common comic yōkai character. The creatures, which are real animals, are found throughout Japan and have long been associated with the ability to shape-shift and cause mischief. Tanuki are known for their gigantic scrotum which are used to humorous ends in many stories and depictions.
Utagawa Kuniyoshi's famous series of tanuki images emphasise this special feature. Released around 1834, this print shows at the top a sick tanuki being cared for and below a group of tanuki using their testes to style themselves as the seven gods of good fortune. The tanuki in the centre is portraying Fukurokuju, a god of wisdom, luck, wealth and happiness. Fukurokuju is known for his large head, in this case created using the tanuki's enormous testicles.