View More:
---
Title
Spirit of endurance
---
Artist
Harold Cazneaux
New Zealand, Australia
30 Mar 1878 - 19 Jun 1953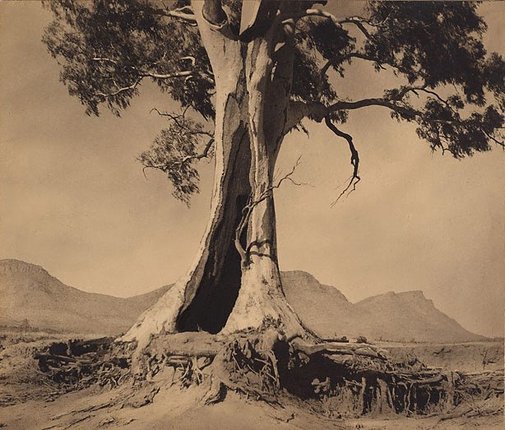 ---
About
Cazneaux called this photograph his 'most Australian picture'.1 It was done at a time when he was concentrating on capturing the Australian landscape, travelling extensively throughout New South Wales, Victoria and South Australia. He made three visits to the Flinders Ranges, where Hans Heysen had painted and Frederick A Joyner had photographed during the 1920s and 1930s. Heysen wrote of the difficulty in capturing the landscape, with its 'clear space' and 'no thickness of atmosphere between you and the objects'.2 Cazneaux managed to achieve this by focusing on a single subject, often a weathered gum, which he would shoot from below, sharply delineating it from a tonal, receding landscape. In works like 'Spirit of endurance' and 'Hollow gum' he manages to capture the sense of light, heat and distance in the ranges. As his titles suggest, these images of trees still showing signs of life despite wound-like cracks, are meant to be read symbolically. The tree has been a recurrent symbol of human resilience. William Moore, author of the first dictionary of Australian art, described one in a photograph by John Eaton: 'like an idealist who survives the buffetings of a callous world, the ti-tree preserves the witchery of its line in spite of the turbulence of intermittent storms.'3 Cazneaux flipped the negative he shot of this tree in the enlarger as he felt it best expressed what he was after in the final image. The tree still stands at Wilpena where it is now known as the Cazneaux tree.
1. Dupain M 1978, 'Cazneaux: photographs by Harold Cazneaux 1878–1953', National Library of Australia, Canberra p 88
2. Thiele C 1968, 'Heysen of Hahndorf', Rigby, Adelaide p 196
3. Moore W 1924, 'The Salon Pictures', 'Australasian Photo-Review', 15 May, p 244
© Art Gallery of New South Wales Photography Collection Handbook, 2007
---
Details
---
Media category
---
Materials used
gelatin silver photograph
---
Dimensions
28.1 x 33.1 cm image/sheet; 30.0 x 34.7 cm card
---
Signature & date
Signed l.r. card, pencil "H. Cazneaux" and u.c. verso card, pencil ".../ Harold Cazneaux... /...". Not dated.
---
Credit
Gift of the Cazneaux family 1975
---
Shown in 11 exhibitions
Exhibition history
---
Referenced in 17 publications
Bibliography
---
Judy Annear, The photograph and Australia, Sydney, Jun 2015, 101 (colour illus.).
Natasha Bullock, Harold Cazneaux: artist in photography, Sydney, 2008.
Natasha Bullock, Look, 'Harold Cazneaux: artist in photography', pg.28-31, Sydney, Jun 2008, 31.
Natasha Bullock (Curator), Soft shadows and sharp lines: Australian photography from Cazneaux to Dupain, Sydney, 2002. no catalogue numbers
Edmund Capon AM, OBE and Jan Meek (Editors), Portrait of a Gallery, 'Photography', pg. 48-55, Sydney, 1984, 51 (illus.).
Helen Ennis, Photography and Australia, London, 2007, 64 (colour illus.).
Valerie Hill, The Cazneaux Women, 'The wheel of life 1930s-1990s', pg.108-133, St Leonards, 2000, 115.
Mark Hinderaker., The Sydney Morning Herald, 'Tangled forest of works inspire reflection and creativity', Sydney, 06 Jan 1983, (illus.).
Josef Lebovic Gallery and Helen Ennis, Masterpieces of Australian Photography, Twentieth Century Photography, Sydney, 1989, 138, 139 (illus.). cat.no. 240
John McDonald, Federation: Australian art and society 1901-2001, 'The land', pg. 36, Canberra, 2000, 61 (illus.), 253.
Ross Mellick and Nick Waterlow, Spirit and place: Art in Australia 1861-1996, Sydney, Nov 1996, 39 (illus.), 145.
Steven Miller, Photography: Art Gallery of New South Wales Collection, 'Australian pictorialism', pg.71-91, Sydney, 2007, 90 (illus.).
Gael Newton, Silver and Grey - Fifty Years of Australian Photography 1900-1950, 1980. plate no. 20
Gael Newton, Australian Pictorial Photography, Melbourne, 1979, cover (illus.), 17, 24. cat.no. 30
Gael Newton, Project 7: Harold Cazneaux 1878 - 1953, Sydney, 1975. cat.no. 41
Ursula Prunster, Seeing is believing: the art in photography, Sydney, 1985. cat.no. 10
Andrew Sayers, Australian art, 'Order and transcendence: art between the wars 1919-39', pg. 120-139, Oxford, 2001, 136 (illus.). plate no. 77