View More:
---
Title
Portrait of Grace Crowley
---
Artist
Ralph Balson
Australia
12 Aug 1890 - 1964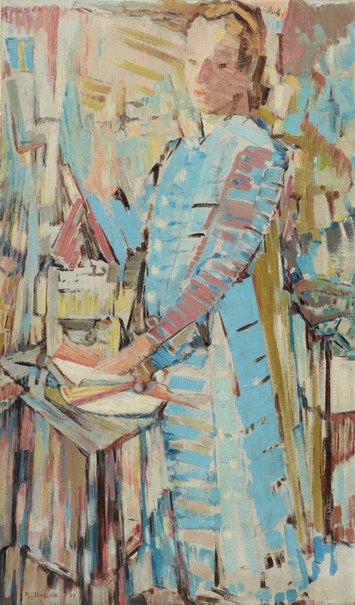 ---
About
Ralph Balson arrived in Sydney in 1913 and was, by trade, a plumber and housepainter. In the early 1920s he began classes at Julian Ashton's Sydney Art School, before joining a small band of Sydney-based artists, including Rah Fizelle, Frank and Margel Hinder and Grace Crowley. Balson quickly absorbed their structural approach to painting, based largely on cubist principles.
Portrait of Grace Crowley depicts Balson's mentor, and reveals his experimentation with pictorial ideas introduced to Crowley in Paris by the influential teacher and painter, André Lhote. Painted in Crowley's studio, the work is executed
in a quasi-abstract style, a prelude to the complete non-figuration Balson unveiled to the Australian public in a historic solo exhibition in 1941.
---
Details
---
Media category
---
Materials used
oil on canvas on cardboard
---
Dimensions
108.8 x 64.3 cm board; 126.0 x 81.5 x 4.5 cm frame
---
Signature & date
Signed and dated l.l. corner, red oil "R.BALSON 39".
Signed and dated top c. verso, "R. Balson/ ... 1939 ...".
---
Credit
Bequest of Grace Crowley 1980
---
Shown in 8 exhibitions
Exhibition history
---
Referenced in 21 publications
Bibliography
---
Bruce Adams, Ralph Balson A Retrospective, Bulleen, Jul 1989, 15 (colour illus.), 21, 73. cat.no. 6
Bruce Adams, Look, 'Ralph Balson in Retrospect', pg. 20-21, Heidelberg, Feb 1990, 20 (colour illus.), 21.
Candice Bruce, Brought to Light: Australian Art 1850–1965 from the Queensland Art Gallery collection, '"Built on Each Other" Grace Crowley and Ralph Balson', pg. 224-229, Brisbane, 1998, 224 (illus.).
Nicholas Chambers, Art and Australia (Vol. 40, No. 2), 'Ralph Balson: "Painting". Abstracting the invisible', pg. 250-251, Sydney, Dec 2002-Feb 2003, 250.
Paula Dredge, Margaret Sawicki, Steven Miller and Lindsay Parker, S.A. Parker Framing Works, 'Works in the collection with known Parker frames', pg. 27-68, Sydney, 2004, 53 (illus.).
Deborah Edwards, Australian art: in the Art Gallery of New South Wales, 'Moderns', pg. 103-104, Sydney, 2000, 127 (colour illus.), 300.
Deborah Edwards, Symposium papers: Colour in art - revisiting 1919 & R-Balson, 'Concerning "A new realm of visual experience"', pg. 34-36, Sydney, 2008, 35.
Renée Free, Balson, Crowley, Fizelle, Hinder, 'Introduction', pg. 5-9, Sydney, 1966, 7, 11. cat.no. 3
Bruce James, Art Gallery of New South Wales handbook, 'Australian Collection: Painting and Sculpture', pg. 102-181, Sydney, 1999, 146 (colour illus.).
Eleonore H. Lange, Exhibition 1, 'Foreward', Sydney, 1939. cat.no. 3 as 'Portrait'
Ewen McDonald, AGNSW Collections, 'From Colonialism to late Modernism', pg. 7-106, Sydney, 1994, 46 (colour illus.).
Paul McGillick, Aspect: Art and Literature, 'The importance of Ralph Balson', pg. 4-17, Mona Vale, Winter 1981, 5.
Denise Mimmocchi, Sydney moderns: art for a new world, 'Towards the abstract: the art of Exhibition 1', pg. 270-271, Sydney, 2013, 270, 272, 273 (colour illus.), 310, 320.
Barry Pearce, Look, 'A quiet love affair: private passion over 33 years gives birth to a book', pg. 26-29, Sydney, Sep 2014, 27 (colour illus.).
Barry Pearce, Three years on: a selection of acquisitions 1978-1981, 'Australian Art', pg. 5-26, Sydney, 1981, 8 (illus.). cat.no. 1
Elena Taylor, Grace Crowley: being modern, Canberra, 2006, 35, 37 (colour illus.).
Daniel Thomas, Art and Australia, 'Ralph Balson', pg. 248-291, Sydney, Mar 1965, 255, 256 (colour illus.).
David Thomas, Deutscher and Hackett fine art auction: Melbourne 29 August 2012, 'Works from the Wesfarmers collection of Australian art part 1: lots 1-23', pg. 58-59, Melbourne, 2012, 58.
Natalie Wilson, Parallel visions: works from the Australian collection, 'Grace Crowley / Ralph Balson / Frank Hinder / Margel Hinder', pg. 88-103, Sydney, 2002, 90, 94 (colour illus.), 142, 147.
Jenny Zimmer, Art Monthly Australia, 'Balson at Heide', pg. 8-9, Canberra, Oct 1989, 8.
Project 41 - the mosaic, the grid, Sydney, 1983, 3. cat.no. 1