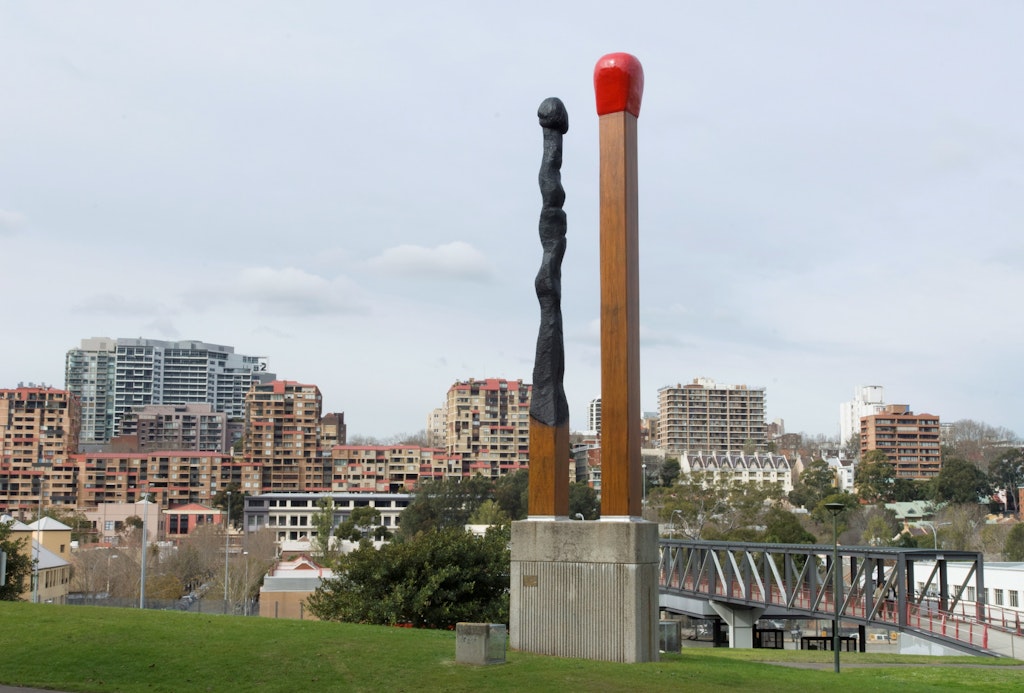 Looming eight metres high, Brett Whiteley's giant pair of matches has become a Sydney landmark, marking the approach to the Art Gallery of NSW from Woolloomooloo.
Titled Almost once, the sculpture is Whiteley's most significant outdoor work, and was created with his assistant Matthew Dillon. It was gifted to the Gallery in 1991 and installed the same year in its current location.
The matchsticks of the sculpture were created using Blackbutt timber, sourced from Grafton in regional NSW. The charred timber of the blackened match was created by suspending the timber matchstick using chains and burning it to a depth of about half an inch. The red head of the unburnt matchstick was made from shaped polystyrene and coated with fibreglass, polyester resin and paint.
As a timber sculpture, Almost once is vulnerable to deterioration. Over the years it has sustained damage from termites and tenacious cockatoos nesting in the timber and eating the sapwood. The paint and coatings have faded in Sydney's harsh sunlight, the bright red head dulled to a dark pink, and the honey-coloured timber has weathered as the protective varnish has degraded.
In 2017, extensive conservation treatment of the sculpture was undertaken, involving the expertise of many people – from timber specialists and engineers to painters, conservators, curators and the artist's estate – with funding support from the Foundation benefactor groups Women's Art Group and Conservation Benefactors.
Find out more about the project in our slideshow.