Francisco de Goya 1746-1828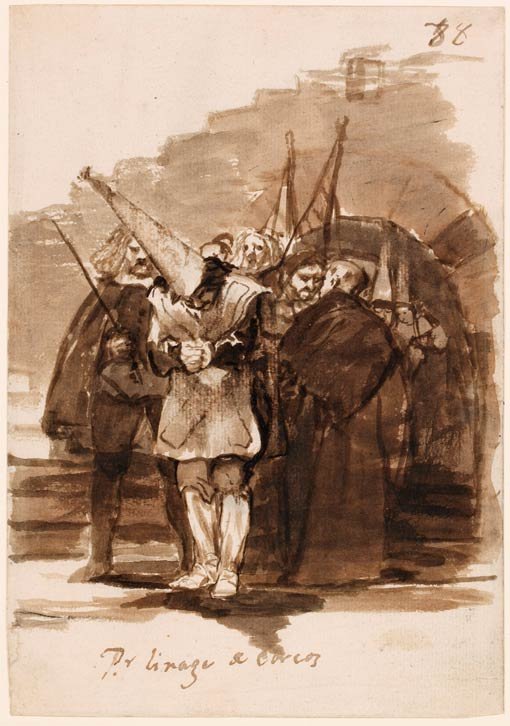 Goya died in Bordeaux at the age of 82 leaving a body of work (about 900 drawings and almost 300 prints) remarkable for its artistic vision and profound humanity. Through his prints and drawings Goya explored fantasy, beliefs and human conduct often through series in order to explore complex and evolving themes. He expressed his most intimate thoughts in sketchbooks, which are rich repositories that provide insight into his personal world and creative process. Goya's series of prints are equally remarkable for their wide-ranging subjects and brilliant imagination.
Although Goya's dedication to graphic art marks him as exceptional amongst his peers, he was far from being a 'lone genius' and his work should be understood in the context of the scientific, social and artistic developments that were taking place during the 18th century. The independence of his thought, his criticism of superstition and his rejection of intellectual oppression reflect the ideas and attitudes of the Age of Enlightenment. Goya witnessed major social and political changes including the horrific effects of the Inquisition and the French occupation of Spain.
Focus work
Francisco de Goya (1746–1828)
For having Jewish ancestry c1808–14
Brush drawing in brown ink and wash, 20.5 × 14.2 cm
1862,0712.187
© The Trustees of the British Museum
From Goya's Inquisition Album, this drawing is one of a group addressing judicial abuse where he concentrates on individuals to express his sympathies. Condemned figures in penitential garments emerge from a prison and file between a priest and an officer of the Inquisition. The tragedy of the scene is underscored by the first figure clasping his hands in anguish, his head hung in shame. Goya asks why are they there? His inscription provides the answer, 'for being Jewish'.
Questions and activities
Goya created an album of images depicting his disgust at what was happening during the Inquisition, when people who weren't Catholic were punished for having a different faith. Create an album of drawings about a social issue you feel strongly about.
Describe the way this image has been drawn. Look closely at the composition and treatment of the figures. How do these elements elevate the emotional quality of the work? Explain the impact of creating a series of drawings as opposed to one.
Discuss the power of the work's title and the inscription on the drawing. Who is the artist 'speaking' to? Can art change social attitudes? Debate this proposition, with specific reference to this artwork.
British Museum links