German language supplement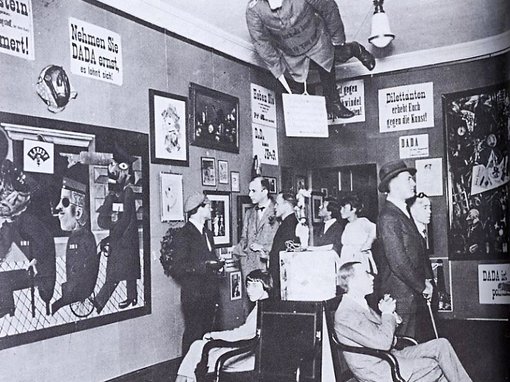 Berlin war die ultimative Metropole ihrer Zeit und ein Sinnbild der Moderne der Weimarer Zeit – ruhelos, stimulierend und äußerst fragil.
– Maggie Finch (German translation by Marina Shine)
Allgemeine Fragen
Wann war die Zeit der Weimarer Republik?
Welchen Platz zeigt Felix Nussbaums Bild?
Woher kommt der Name "Dada"?
Nenne 3 Dada-Künstler außer Hannah Höch!
Welches Ereignis hat die Metropolis-Künstler stark beeinflusst?
Was wollte Metropolis repräsentieren?
Wann entwickelte sich die Neue Sachlichkeit (New Objectivity)?
Wen malten die Künstler der Neuen Sachlichkeit häufig auf ihren Bildern?
Wie heißt die wichtigste Kunst- und Design-Schule des 20. Jahrhunderts?
Wo hat sich der Konstruktivismus zuerst entwickelt?
Years 9–12, German continuers and extension
1.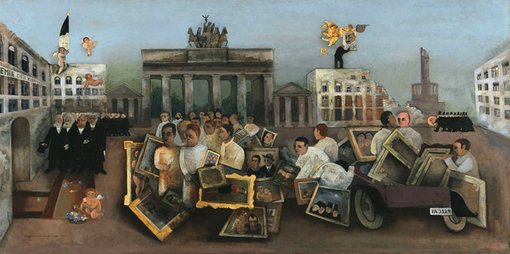 In welcher Stadt befindet sich dieser Platz?
Was für ein berühmtes Bauwerk/Monument befindet sich im Hintergrund?
Wie viele Engel kannst du auf dem Bild sehen?
Wie warm ist es wohl?
Auf dem Bild sind zwei Gruppen von Personen zu sehen: was sind die Unterschiede?
Worum geht es in dem Konflikt zwischen den zwei Gruppen?
Vorne links im Bild hält ein Mann eine Papierrolle in der Hand. Was steht auf dem Papier? (Schreibe ca. 3 Sätze!)
Welche dieser Dinge findest du im Bild wieder?

Hunde
Blaue Blumen
Baum
Bett
Auto
Bücher
Fahne
Regen
Bilder
Klavier
2.
Hannah Höch (1889–1978)
Made for a party 1936
collage, 36 × 19.8 cm
Institute for Foreign Cultural Relations, Stuttgart
Photo: © Institut für Auslandsbeziehungen e.V., Stuttgart
© Hannah Höch / VG Bild-Kunst, Bonn. Licensed by Viscopy, Sydney

Was ist eine Collage?
Gefällt dir dieses Bild und warum?
Schreibe ein kleines Gedicht in deutsch oder englisch:
P________________________________
A________________________________
R________________________________
T________________________________
Y________________________________
3.
Max Beckmann (1884–1950)
The trapeze 1923
oil on canvas, 196.5 × 84 cm
Toledo Museum of Art. Purchased with funds from the Libbey Endowment, Gift of Edward Drummond Libbey
Photo: Photography Incorporated, Toledo
© Max Beckmann/VG Bild-Kunst, Bonn. Licensed by Viscopy, Sydney

Wo sind die Leute auf dem Bild gerade?
Wie viele Beine kannst du zählen?
Welche Farben siehst du auf dem Bild?
Was steht hinten in der linken Ecke des Bildes?
Was für Geräusche können die Leute auf dem Bild wohl hören?

Musik
Glockenläuten
Trommelwirbel
Klatschen
Staubsauger
Flugzeuglärm
Bellende Hunde
Jubelnde Menschen
4.
George Grosz (1893–1959)
Portrait of Walter Mehring 1926
oil on canvas, 110 × 78 cm
Koninklijk Museum voor Schone Kunsten, Antwerp
Photo: © Royal Museum of Fine Arts Antwerp © Lukas-Art in Flanders vzw
© George Grosz/VG Bild-Kunst, Bonn. Licensed by Viscopy, Sydney

Was denkt Walter Mehring wohl?
Wo sitzt er?
Wie viel Uhr könnte es sein? Welche Farbe signalisiert die Tageszeit?
Welche Gefühle könnte der Mann haben?

Wut
Trauer
Freude
Angst
Spaß
Langeweile
Einsamkeit
Verzweiflung
Enttäuschung
Ärger
Neid
Stolz
Überraschung
Male einen neuen Hintergrund!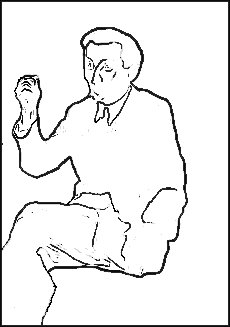 Vergleiche das Bild mit den anderen hier im Raum. Welches Bild gefällt dir am besten und warum?
German Language supplement by Marina Shine and Daniela Meller, Goethe-Institut Australien