View More: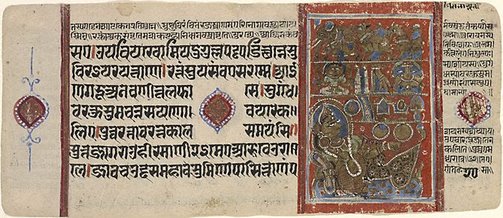 ---
About
The most popular of all the Jain scriptures was the 'Kalpasutra', or 'Book of precepts', which is believed to have been composed around 300BCE. This sutra is a biography of the last 'jina', or Jain 'conqueror', Mahavira (c599-527 BCE) and this scene from the 'Kalpasutra' illustrates Mahavira's mother Queen Trishala's dream in which she sees 14 auspicious objects that allude to the miracle of Mahavira's birth. The objects are: a lion, an elephant, a bull, the goddess Lakshmi, a pair of garlands, the moon, the sun, a banner, an overflowing pot, a lake with lotuses, the milky ocean, a celestial chariot, a heap of jewels and a smokeless fire. These are symbols of kingship or sovereignty and indicate the importance of the newborn child.
The Asian Collections, AGNSW, 2003, pg.36.
---
Details
---
Cultural origin
---
Media categories
---
Materials used
opaque watercolour with gold on paper
---
Dimensions
11.0 x 26.0 cm sheet
---
Signature & date
Not signed. Not dated.
---
---
Shown in 5 exhibitions
Exhibition history
---

Palm-leaf and paper: illustrated manuscripts of India and Southeast Asia:

Divine and Courtly Life in Indian Painting, Art Gallery of New South Wales, Sydney, 04 Oct 1991–08 Jan 1992

Indian Painting, Art Gallery of New South Wales, Sydney, 06 Apr 2001–11 Jun 2001

Intimate Encounters: Indian paintings from Australian collections, Art Gallery of New South Wales, Sydney, 22 Feb 2007–04 May 2007

Beyond Words: Calligraphic Traditions of Asia, Art Gallery of New South Wales, Sydney, 27 Aug 2016–30 Apr 2017