View More:
---
Artist
Thea Proctor
Australia
02 Oct 1879 - 29 Jul 1966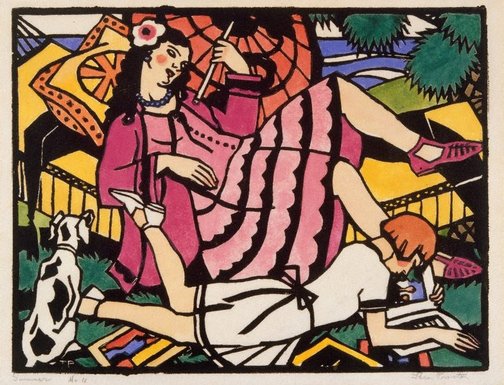 ---
About
Encouraged by the example of Margaret Preston (who gave her the wood to work with) Thea Proctor made her first woodcuts in 1925, later stating that they were made mainly for children's nurseries. This medium suited her interest in
colour and design.
After her return from London in 1921, Proctor epitomised 'the modern' in 1920s Sydney. Her work effortlessly spanned the worlds of art exhibitions, design and décor, and she was involved in the establishment of the Contemporary Group in Sydney, which encouraged young avant-garde artists.
---
Details
---
Media category
---
Materials used
woodcut, printed in black ink, hand-coloured on thin ivory mulberry paper
---
Edition
number 11 from an unknown edition
---
Dimensions
17.5 x 22.8 cm blockmark; 20.4 x 26.5 cm sheet
---
Signature & date
Signed with initials in block to print l.l., white reversed out of black ink "TP". Signed l.r., pencil "Thea Proctor". Not dated.
---
Location
---
Shown in 4 exhibitions
Exhibition history
---
Referenced in 14 publications
Bibliography
---
Helen Campbell, Colour, rhythm, design: wood & lino cuts of the 20s & 30s, 'Introduction', pg. 2, Sydney, 2010, 3 (colour illus.).
Sarah Engledow', The world of Thea Proctor, 'The world of Thea Proctor', pg. 16-84, Canberra, 2005, 45, 49-50, 125 (colour illus.). NOTE: this is not the AGNSW impression
Josef Lebovic, Australian women printmakers, 'Foreword', pg. 2, Sydney, 1988, 12. cat.no. 97a; dated 1930; NOTE: this is not the AGNSW impression.
Jan Minchin, The prints: Thea Proctor, 'Thea Proctor: a biography', pg. 6-13, Sydney, 1980, 72, 73 (colour illus.). cat.no. 25; NOTE: this is not the AGNSW impression
Pamela Gerrish Nunn, Women artists and the decorative arts 1880-1935: the gender of ornament, 'Owning femininity: Thea Proctor and the Australian Avant-garde', pg. 73-95, Aldershot, 2002, 78, 79.
Maria (Connie) Tornatore-Loong, Japan in Sydney: Professor Sadler & modernism, 1920-30s, 'The remarkable Professor Sadler: Japan, Sydney and Australian modernism', pg. 7-49, Sydney, 2011, 28, 34 (colour illus.), 137. cat.no. 37
Thea Proctor, Perth, 1982, 13. NOTE: this is not the AGNSW impression
Janine Burke, Australian women artists 1840-1940, Collingwood, 1980, 133 (illus.), 177. plate no. 58; Collection of National Gallery of Victoria
Nicholas Draffin, Australian woodcuts and linocuts of the 1920s and 1930s, South Melbourne, 1976, 12, 40 (colour illus.). dated circa 1930
Louise Tegart (Editor), Slow burn: A century of Australian women artists from a private collection, Sydney, 2010, 20, 22 (colour illus.). NOTE: this is not the AGNSW impression
Hendrik Kolenberg and Anne Ryan, Australian prints from the Gallery's collection, Sydney, 1998, 60 (colour illus.). cat.no. 48
Kirsty Grant and Jason Smith, In relief: Australian wood engravings, woodcuts and linocuts, Melbourne, 1997, 32 (colour illus.). Collection of the National Gallery of Victoria
Kay Vernon, Harbour hymns, city songs: visions of Sydney from the collection, Sydney, 1990. cat.no. 119
Josef Lebovic, Masterpieces of Australian printmaking, Sydney, 1987, 102, 103. NOTE: this is not the AGNSW impression