View More:
---
Artist
Girolamo Nerli
Italy, Australia, New Zealand
21 Feb 1860 - 24 Jun 1926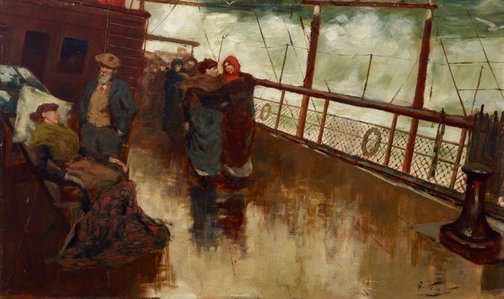 ---
About
Girolamo Nerli was born in Siena, Italy, and trained at the Florence Academy before migrating to Australia in 1885. After a short stay in Melbourne he moved, in 1886, to Sydney where he quickly assimilated himself into the cosmopolitan art scene and began exhibiting at the Art Society.
From 1889 his career was an itinerant one, moving from Sydney to New Zealand, back to Australia; a visit to Samoa in 1892 where he met Robert Louis Stevenson, and in the following year to New Zealand again where he stayed for some years, exerting considerable influence on artists there. At some stage, Nerli returned to Italy, where he died at Nervi.
Unfortunately, Nerli did not commonly date his paintings and the degree of influence he exchanged with the Heidelberg artists is a matter of contention. His delicacy of touch, decorative placement, and choice of subject matter was shared particularly with Streeton and Conder. The artists from overseas who were attracted to Sydney to work on the 'Picturesque Atlas of Australasia' and the 'Bulletin' during the 1880s informed and charged the artistic climate with the influence of Whistler and the current aesthetic tendencies of Europe. Nerli fed his own Italian background into this climate, but also gained significantly from the general cross-pollination that was taking place.
'The voyagers' may have been painted from Nerli's trip to New Zealand 1889-90. However, the costumes are suggestive of early 1890s and it is also possible that the work is dated from the artist's visit to Samoa in 1892. He was back in Sydney the following year before moving to New Zealand for an extended period, but he is reputed to have travelled extensively in those first three years of the decade. The composition is maturely resolved in its rendering of movement and atmosphere, and bears interesting comparison with Roberts' painting 'Coming south' of 1886 in the National Gallery of Victoria.
© Australian Art Department, Art Gallery of New South Wales, 2004
---
Details
---
Media category
---
Materials used
oil on paperboard
---
Dimensions
32.7 x 55.0 cm board; 50.0 x 72.2 x 6.0 cm frame
---
Signature & date
Signed with monogram l.r. corner, black oil "G.P. Nerli". Not dated.
---
Location
---
Shown in 4 exhibitions
Exhibition history
---
Referenced in 16 publications
Bibliography
---
Our Art Critic., The Sydney Morning Herald, 'Grosvenor Galleries exhibition', Sydney, 30 Sep 1952.
Betty Currie., Art and Australia [vol. 16, no. 1], 'Signor Nerli', Sydney, Sep 1978, 56 (colour illus.), 60.
Betty Currie, Girolamo Pieri Nerli (1863-1926), Melbourne, 1976, 17, 19, 29, 34, (illus.).
Michael Dunn, Nerli - An exhibition of paintings & drawings, 'The art of Girolamo Nerli 1860-1926', pg. 11-24, Dunedin, 1988, 21, 32, 97, 98 (illus.). cat.no. 5
Michael Dunn, Nerli: an Italian painter in the South Pacific, 'Nerli's paintings', pg. 18-54, Auckland, 2005, 27-28, 70, 71 (colour illus.). plate no. 8
Michael Fitzgerald, Look, 'Nerli and me', Sydney, Jan 2018-Feb 2018, 61 (colour illus.).
James Gleeson, Masterpieces of Australian painting, Melbourne, 1969, 64 (colour illus.). illus.no. 8
James Gleeson, Impressionist painters 1881-1930, St Kilda, 1971, 99 (colour illus.). plate no. 40
Robert Hughes, The art of Australia, Melbourne, 1970, 70-72.
Alan McCulloch, The golden age of Australian painting - Impressionism and the Heidelberg school, Melbourne, 1969, 30 (colour illus.). plate no. 15a
Hal Missingham, A retrospective exhibition of Australian painting, Sydney, 1953. cat.no. 55
Roger Neill, Robert Louis Stevenson and Count Nerli in Samoa: the story of a portrait, 'Un tantino troppo di bravura', pg. 26-39, England, 1997, 2 (illus.). fig.no. 1
Barry Pearce., Old master paintings from the USSR: A survey of four centuries of European art. Report, 'Girolamo Nerli', Sydney, 1979, (illus.). cat.no. 54
Bernard William Smith, A catalogue of Australian oil paintings in the National Art Gallery of New South Wales 1875-1952, Sydney, 1953, 152.
Martin Terry, Maritime paintings of early Australia 1788-1900, 'The 1890s', pg. 90-104, Carlton South, 1998, 99 (colour illus.). plate no. 61
Vivienne Webb, Australian art: in the Art Gallery of New South Wales, 'Golden age', pg. 37-38, Sydney, 2000, 52 (colour illus.), 301.