View More:
---
Artists
Robert Pollard
England
1755 - 1838
Frances Jukes
England
1747 - 1812
after Thomas Rowlandson
England
1756 - 1827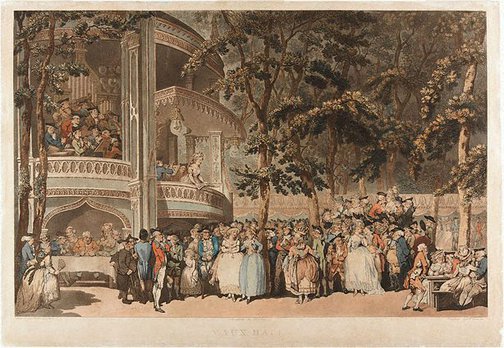 ---
About
Vauxhall Gardens was originally laid out before the Restoration of 1660 on the south bank of the River Thames in present-day Kennington. From modest beginnings it developed, by the 18th century, into one of the leading venues for mass entertainment and the most fashionable of London's pleasure gardens. It attracted a motley crowd of visitors who paid one shilling admission fee after being ferried across the river to Vauxhall Stairs – although regular visitors had the option of buying a season ticket.
Eighteenth-century Vauxhall was the brainchild of its owner-manager, the art-loving impresario Jonathan Tyers, who expanded and improved the site with the addition of chinoiserie buildings, pavilions, piazzas, varied entertainments and artworks (including the famous marble statue of the composer Handel by Louis-François Roubiliac). After delighting Londoners and foreigners for some 200 years, Vauxhall Gardens closed for good in 1859 and today nothing of the place remains.
In its 18th-century heyday, spectacle and sustenance were key ingredients in Vauxhall's success: patrons could buy refreshments or dine in supper boxes, enjoy fireworks or find enchantment down leafy walkways illuminated by hundreds of oil lamps at night – with less illuminated areas providing convenient spots for hasty assignations. There were, of course, the pleasures of promenading, people- watching and celebrity spotting. Musical concerts, like the one shown in this print, were also a regular feature, with many of the best-known singers of the day performing there.
It is little surprise that the most celebrated image of Vauxhall Gardens should have been made by one of the greatest caricaturists of the Georgian period, Thomas Rowlandson. Like his exact contemporary, James Gillray (see page 107), Rowlandson was the only other caricaturist to have received formal training at the Royal Academy Schools. His original 'tinted drawing' of Vauxhall Gardens (that is to say pen and ink outlines filled in with pastel shades of watercolour) was exhibited at the Royal Academy in 1784. It is now in the Victoria and Albert Museum, London. The print, which appeared the following year, was published by John Raphael Smith. It was etched in outline by Robert Pollard and the aquatint tone was added by Francis Jukes before being hand-coloured in the publisher's studio. Vauxhall Gardens was marketed in England and abroad: in France it especially influenced the work of Philibert-Louis Debucourt (see accession number 276.2011).
The subject was one for which the raffish, fast-living Rowlandson felt a natural affinity, and the print offers an amusing, mildly satirical, panorama of this urban, sociable age like no other. The scene is an outdoor concert with the singer Frederika Weichsel performing on a raised balcony. She is accompanied by an orchestra of comical little men blowing their wind instruments. Below, seated in the supper box, are the writers Boswell, Dr Johnson, Mrs Thrale and Oliver Goldsmith. On the far right the Prince of Wales (ground landlord and a regular patron) whispers flirtatiously to the actress Perdita Robinson, shown arm-in-arm with her dwarfish husband. The two figures in the centre are the society beauties Georgiana, Duchess of Devonshire, and her sister, Lady Duncannon, both of whom are ogled (with his one good eye) by a man with a wooden leg usually identified as Admiral Paisley. Standing in stiff profile in the foreground and staring at the ladies through a monocle is the macaroni gossip writer Captain Edward Topham.
Peter Raissis, Prints & drawings Europe 1500–1900, 2014
---
Details
---
Media category
---
Materials used
etching and aquatint, hand coloured
---
Dimensions
54.5 x 79.0 cm trimmed to platemark
---
Signature & date
Not signed. Not dated.
---
Shown in 2 exhibitions
Exhibition history
---
Referenced in 7 publications
Bibliography
---
David Coke and Alan Borg, Vauxhall Gardens: a history, 2011, pp 237-39.
Mary Dorothy George, Catalogue of political and personal satires preserved in the Department of Prints and Drawings in the British Museum, 1938, London, vol 6. no 6853
Joseph Grego, Rowlandson the caricaturist, 1880, vol 1, pp 156-82.
John Hayes, Rowlandson: watercolours and drawings, no 16, London, 1972, p 80.
Peter Raissis, Prints & drawings Europe 1500-1900, Sydney, 2014, p 98, col illus p 99.
Peter Raissis, Look, 'Old Europe: rarely seen prints and drawings on show', pg. 23-25, Sydney, Jun 2006, 25 (colour illus.).
Bret Waller, The school for scandal. Thomas Rowlandson's London: an account of his life & times & especially his depictions of the theatre, together with some discussion of the life & works of Richard Brinsley Sheridan & of his play The school for scandal as performed at the university theatre, 1967, pp 62-63, p 3.