View More:
---
Title
The camp, Sirius Cove
---
Artist
Tom Roberts
England, Australia
08 Mar 1856 - 14 Sep 1931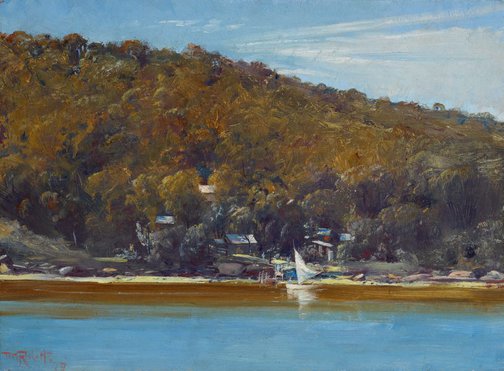 ---
About
This tiny work belatedly records the artists' encampment at Little Sirius Cove, Sydney Harbour, which Tom Roberts and Arthur Streeton shared with others in the early 1880s. The camps became centres for the innovative practice of plein-air painting, which took artists from their studios to work on canvases outdoors.
Roberts depicts his former painting haunt as an idyllic memory, albeit with a photographically sharp focus. It is flawlessly constructed and crisply executed to recall the brightly sunlit scene. Although the artists' camp is long gone, Roberts' view of the headland is still recognisable today, close to the present site of Taronga Park Zoo on the Sydney Harbour foreshore.
---
Details
---
Place where the work was made
---
Media category
---
Materials used
oil on canvas on paperboard
---
Dimensions
25.4 x 34.6 cm board; 24.7 x 33.2 cm sight edge; 44.5 x 53.0 x 5.3 cm frame
---
Signature & date
Signed l.l., red oil "Tom Roberts/ '(illeg)".
---
Place
Where the work was made
Sydney
---
Shown in 9 exhibitions
Exhibition history
---
Referenced in 21 publications
Bibliography
---
Leigh Astbury, Tom Roberts, 'Masculinity and Modernism', pg. 124, Adelaide, 1996, 146, 147 (colour illus.), 211 (illus.).
Susan Bruce, A treasury of Australian bush painting, 'A Farewell to the Days of the Pioneers', pg. 46-54, Adelaide, 1979, 44 (illus.). plate no. 34
Mary Eagle, Australian Impressionism, 'Streeton in the City of Laughing Loveliness', pg. 201-208, Melbourne, 2007, 201, 209 (colour illus.). Fig.no. 1
Arthur Streeton, 'Sydney: 1890-1897', pg. 20-31, Melbourne, 1969, 22 (illus.). illus.no. 9; incorrectly dated 1894.
Anne Grey, Tom Roberts, 'Tom Roberts: La vita con brio', pg. 11-30, Canberra, 2015, 27, 43, 246 (colour illus.), 247, 349. cat.no. 92
Tom Roberts Art Exhibition. Tom Roberts Festival 2001, Inverell, 2001, 10.
Bruce James, Art Gallery of New South Wales handbook, 'Australian Collection: Painting and Sculpture', pg. 102-181, Sydney, 1999, 124 (colour illus.).
Pat Kreuiter, Look, 'Learning to look at art: Introducing and inspiring art lovers of the future', pg. 12-13, Sydney, Oct 2008, 12 (colour illus.). A group of school children are pictured in front of the painting.
Bailed up: the story behind the painting, Sydney, 2006, 14-15.
Tom Roberts exhibition, National Art Gallery of NSW: souvenir catalogue, Sydney, 1947, 10. cat.no. 7
Australia's impressionists, 'Catalogue', pg. 64-109, London, 2016, 92 (colour illus.), 116, 124, 127. cat.no. 28
Jennifer Slatyer, Imant Tillers: one world many visions, 'Biographical notes', pg. 95-108, Canberra, 2006, 95.
100 masterpieces of Australian landscape painting, Melbourne, 1986, 132, 133 (colour illus.). plate no. 63
Daniel Thomas, Art Gallery of New South Wales Quarterly, 'Tom Roberts', pg. 466-487, Sydney, Jul 1969, 471 (illus.).
Daniel Thomas., Sydney Harbour, 'Introduction', Sydney, 1963. cat.no. 24; incorrectly dated 1893; not paginated
Albie Thoms, Bohemians in the bush: the artists' camps of Mosman, 'The Curlew Camp', pg. 49-69, Sydney, 1991, cover (colour illus.), flyleaf (colour illus.), 59, 79. cat.no. 68
Tom Roberts 1856-1931: a catalogue raisonné. Volume 2 - Plates, Melbourne, 1985. plate no. 31; not paginated
Tom Roberts 1856-1931: a catalogue raisonné. Volume 1 - Text, Melbourne, 1985, 157. cat.no. 311
The artist's camp; plein air painting in Melbourne 1885-1898, 'The Artist's Camps', pg. 65-143, Melbourne, 1984, 137 (colour illus.). plate no. 179
Vivienne Webb, Australian art: in the Art Gallery of New South Wales, 'Golden Age', pg. 37-72, Sydney, 2000, 38.
Unknown (Director) and Unknown (Producer), The beach, Australia, 2000, 00:18.11 for 30 seconds (colour, detail).