Title
Nude in a rocking chair
1956
Artist
Spain, France
25 Oct 1881 - 08 Apr 1973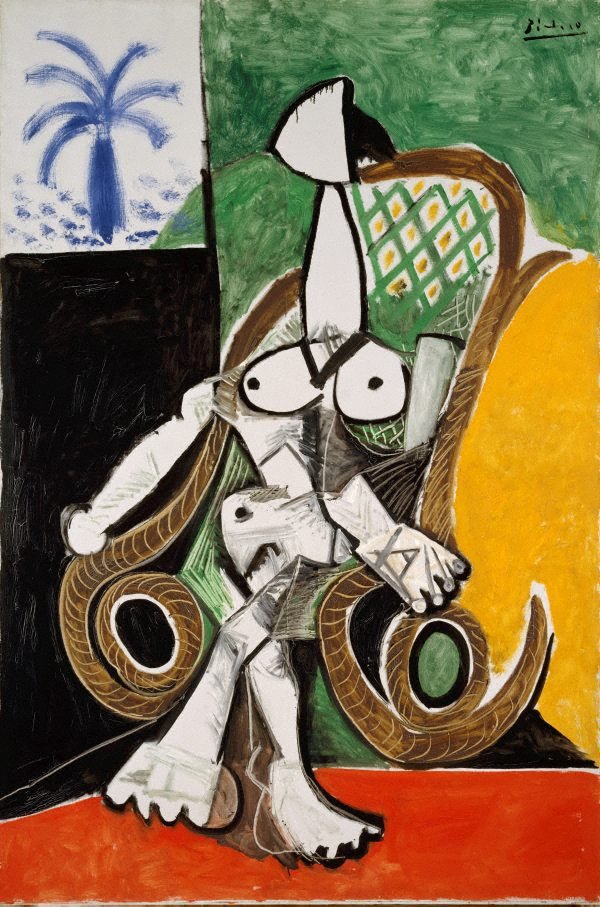 Details

Alternative title

Femme nue à la chaise à bascule Mujer desnuda en una mecedora Nu à la chaise à bascule Femme nue au fauteuil à bascule

Date

1956

Media category

Materials used

oil on canvas

Dimensions

196.0 x 130.8 cm stretcher; 213.0 x 147.5 x 8.0 cm frame

Signature & date

Signed u.r., black oil "Picasso". Dated c. verso canvas, black oil "26.3./ 56.".

Credit

Purchased 1981

Location

19th & 20th c European art

Accession number

66.1981

Copyright

© Pablo Picasso/Succession Pablo Picasso. Licensed by Copyright Agency

Artist information

Pablo Picasso

Works in the collection

Share

About

By the time he painted this faceless female figure, Picasso was a towering legend of modern art. Yet to say she is faceless is not entirely accurate: across her torso, breasts, belly and pudenda the painter has inscribed the disconcerting semblance of his own features. Her nipples are the tell-tale black pupils of his eyes, her serrated vagina is his equally aggressive mouth. Having thus invaded her body, his own erupts in the manner of a physiological mutation. It is not an easy image, but it is wholly truthful to Picasso's deepest intuitions and experience. Anger belies the innocuousness of the subject matter. Fear underscores the anger. It is only very marginally a work of art about appearances. Instead, Picasso enacts a form of black magic, an exorcising ritual of bodily destruction and psychic derangement that plays fast and loose with reality - all within the conventions of the seated portrait. That he did this through the agency of his last great love, Jacqueline Roque, setting her violated form in the serenity of his new villa at Cannes, is admirable and repulsive in equal measure. The gesticulating palm tree may well allude to Matisse, whose recent death reminded Picasso of the inescapability of mortality.

Art Gallery Handbook, 1999.

Exhibition history

Bibliography

Referenced in 26 publications

Provenance

Galerie Louise Leiris, Paris, Paris/France, No 07147 [label verso]

Theodor Ahrenberg, Stockholm/Sweden, by 1960. 'Living with Matisse, Picasso, and Christo. Theodor Ahrenberg and his collections' page 138, B&W photo of painting hanging in Ahrenberg's home 1960

Kronofogdemyndigheten, Stockholm/Sweden, Enforcement Authority, by 1963. Ahrenberg was prosecuted for tax evasion and his art collection confiscated and sold in a series of auctions beginning in 1963

Galerie Beyeler, Feb 1968-1976, Basel/Switzerland

Private Collection, 1976-May 1981, London/England, Purchased by the AGNSW 1981. Collector wishes to remain anonymous.
Other works by Pablo Picasso