View More:
---
Artists
Richard Earlom
England
1743 - 09 Oct 1822
after Frans Snyders
Belgium
1579 - 19 Aug 1657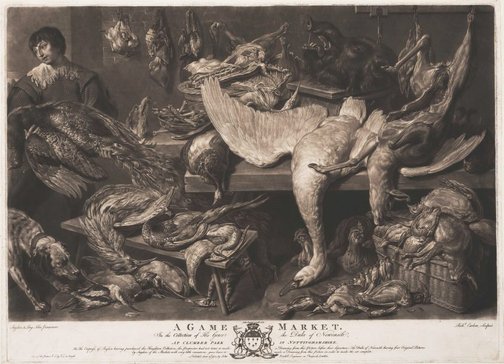 ---
About
The four mezzotints by Richard Earlom, known collectively as 'The markets', reproduce works by Frans Snyders, the leading painter of animals and still lifes in the Southern Netherlands in the 17th century, and a close friend of Rubens. Each market scene offers a spectacular Baroque display of vast quantities of fruit, vegetables, game and fish, piled high on tables, laid out on the ground or heaped into overflowing baskets. The compositions are peopled with robust storeholders and elegant customers, and animated with further animal antics, such as the live seal emerging from beneath the table in 'A fish market'. In the 18th century, the figures were thought to have been painted by Jan Boeckhorst (nicknamed John Long) as indicated by the engraved inscriptions on the prints, but this attribution is now generally rejected. Today the paintings are in the Hermitage, Saint Petersburg, and the City of York Art Gallery. They were purchased by Catherine the Great in 1779 from the estate of Houghton Hall, which had fallen into serious debt under the 3rd Earl of Orford, and installed in the newly built Hermitage Palace in Saint Petersburg.
The mezzotints form part of a much larger corpus of prints, executed by dozens of engravers, entitled 'A Set of Prints Engraved after the Most Capital Paintings in the Collection of Her Imperial Majesty the Empress of Russia, Lately in the Possession of the Earl of Orford at Houghton Hall in Norfolk'. Commonly known as 'The Houghton Gallery', the set consists of 162 prints, and was published by John Boydell between 1774 and 1788.
A masterful and prolific mezzotinter, Earlom is best known for the still life arrangements he engraved after the Dutch flower painter Jan van Huysum and the four market scenes after Snyders. His technical sophistication can be seen particularly in the rendition of the feathers of the dead swan that forms the centrepiece of 'A game market'. Earlom dispensed with underlying etched lines altogether, suggesting the soft texture by the most subtle burnishing of the mezzotint ground.
---
Details
---
Media category
---
Materials used
etching and mezzotint
---
Dimensions
41.7 x 57.8 cm trimmed to plate mark
---
Signature & date
Not signed. Not dated.
---
Credit
European Art Collection Benefactors' Fund 2015
---
Provenance
---
Private Collection, Germany, Sale, Berlin, Galerie Bassenge, 2011
Galerie Bassenge, 2011, Berlin/Germany
C.G. Boerner LLC, 2011, New York/United States of America
---
Referenced in 2 publications
Bibliography
---
Gregory M. Rubinstein, 'Richard Earlom (1743-1822) and Boydell's Houghton Gallery', Print Quarterly, vol 8, 1991, pp 2–27.
Joseph Eduard Wessely, Kritische Verzeichnisse von Werken hervorragender Kupferstecher, 7 vols, Hamburg, 1887-1891, no 109.