View More:
---
Title
Bracelet (rumbung or gelang tangan)
late 19th century-early 20th century
---
Artists
Unknown Artist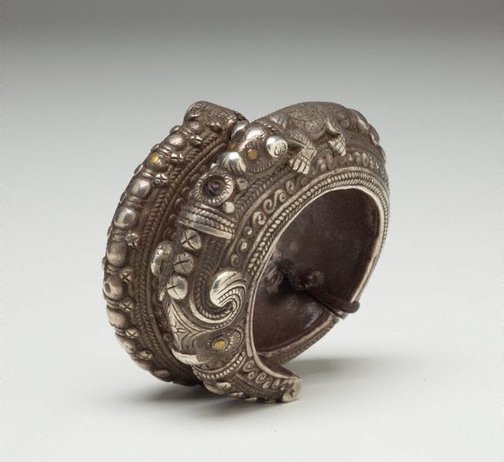 ---
About
The Batak people of North Sumatra inhabit the mountainous interior region centring round Lake Toba. The lake and Samosir Island on the lake are at the heart of Batak activities and culture. Aside from the Toba group, the Batak identify themselves as belonging to five other distinct communities. The Pakpak live west of the lake, the Karo are north-west and the Simalungun are east of the lake. The Angkola and Mandailing Batak who do not share their borders with the lake are further south and in closer proximity to the Indian Ocean. Whilst the Batak have long maintained trading links with coastal communities, especially along the Strait of Malacca,their relative isolation meant that they did not experience direct contact with Europeans until the mid 19th century when they were introduced to Christianity by Dutch missionaries. Whilst most Batak villagers converted to the new monotheistic religion they never entirely abandoned their pre-Christian animist cosmologies and as a result some interesting and syncretic religious practises were established.
This two-part silver bracelet would have been cast using the lost wax technique and later polished and joined using a set of clasps and pins. The mythical creature featured is constituted in part by an elephant, a snake and a lizard and was believed to protect the wearer and his home. The small receptacle in front of the lizard's mouth would have contained organic offerings or other metals. Such bracelets symbolised the chief's prosperity and whilst they usually adorned his right wrist, a wealthier chief might display one on each arm.
---
Details
---
Other Title
Bracelet (gelang tangan)
---
Place where the work was made
---
Cultural origin
---
Date
late 19th century-early 20th century
---
Media category
---
Materials used
silver, copper alloy; lost wax casting
---
Dimensions
9.0 x 8.0 x 4.0 cm
---
Credit
Christopher Worrall Wilson Bequest 2010
---
---
Shown in 1 exhibition
Exhibition history
---

Glorious, Art Gallery of New South Wales, Sydney, 27 May 2017–06 Jan 2019
---
Referenced in 1 publication
Bibliography
---