View More:
---
Title
Constantius appoints Constantine as his successor
---
Artist
Sir Peter Paul Rubens
Flanders
28 Jun 1577 - 30 May 1640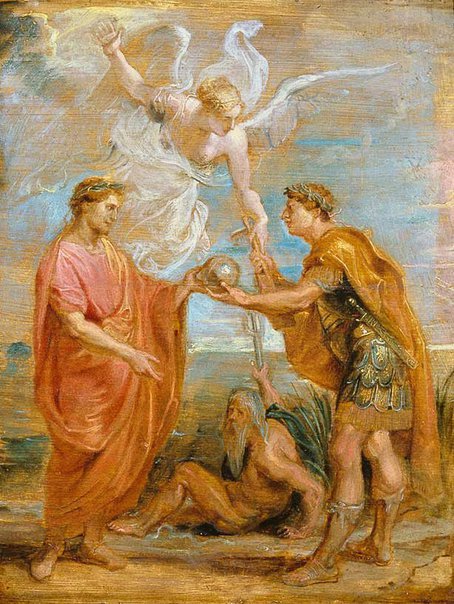 ---
Details
---
Media category
---
Materials used
oil on panel
---
Dimensions
37.6 x 30.2 x 0.5 cm panel; 61.5 x 53.4 x 9.5 cm frame
---
Signature & date
Not signed. Not dated.
---
Credit
Gift of James Fairfax AC 1993
---
Location
---
Shown in 10 exhibitions
Exhibition history
---

Unknown (exhibited for sale):

Unknown, British Institution exhibition, British Institution, London, 1828–1828

Oil sketches and smaller pictures by Sir Peter Paul Rubens, Guildhall of St George, King's Lynn, 1960–1960

Rubens: oil sketches and smaller pictures, Agnew's, London, London, 20 Feb 1961–11 Mar 1961

Constantine the Great: first public exhibition of all major panels of the tapestries from the Barberini Palace, Rome, given to the Philadelphia Museum of Art by the Samuel H. Kress Foundation; the designs by Peter Paul Rubens and Pietro da Cortona, lent by European and American collections, Philadelphia Museum of Art, United States of America, 01 Oct 1964–01 Nov 1964
---
Provenance
---
French royal tapestry works of Saint-Marcel, post 1622, France, With the rest of the set: painted for the French royal tapestry works of Saint-Marcel, 1622; listed at the Saint-Marcel works in 1627; remained there under the directorship of Marc de Comans (d. 1644) and subsequently of Hippolyte de Comans (who became director in 1651); Henri de Valois (1603-1673) or Adrien de Valois (1607-1692)
Philippe, duc d'Orléans, pre 1723, France
Philippe-Joseph ('Egalité'), duc d'Orléans, pre 1792, France, by descent, sold to Thomas Moore Slade 1792
Thomas Moore Slade, 1792, England, Purchased by Thomas Moore Slade in association with the 7th Baron Kinnaird (1754-1805), W. Morland and Thomas Hammersley.
Thomas Hammersley, 1792-1812?, London/England, Thomas Hammersley, his and others' (anon.) sale, Christie's London 6-7 March 1801, lot no. 76 'Constantine receiving the globe and cross', bought in, 67gn. Hammersley and others' (anon.) sale, Coxe, London, 11 June 1808, lot no. 9 'An allegorical representation of Constantine receiving under the influence of the cross, authority over the Earth and Ocean', bought in, 95gn.
Henry Brooksbank, 1828, England, by 1828, lent to the 1828 British Institution exhibition
Stamp Brooksbank, pre 31 May 1834, England, presumably by descent, Governor of the Bank of England 1741-43, his (and others') sale, Stanley, London 31 May 1834, lot no. 89 'The interview between Constantine and his son Crispus'.
Henry Pelham-Clinton, 7th Duke of Newcastle, 14th Earl of Lincoln, pre 1928, England
Francis Pelham-Clinton-Hope, 8th Duke of Newcastle, 15th Earl of Lincoln, 1928-04 Jun 1937, England, by descent, sold Christie London, 4 June 1937, lot no. 90, purchased by Agnew's jointly with Buttery and Clark, £280
Agnew's, London, 04 Jun 1937-17 Feb 1940, London/England, Purchased at Christie London 4 June 1937, lot no. 90, jointly owned by Agnew's with Buttery and Clark. Agnew's 1/3 share was sold to Buttery on 17 February 1940, when presumably Buttery had a buyer.
Horace Buttery, London, 17 Feb 1940, London/England, [dealer]
H.E.M. Benn, post 17 Feb 1940-Dec 1979, Ilkley/Haslemere/Surrey/England, Purchased by Benn from Buttery 1940, sold to Agnew's, December 1979
Agnew's, London, Dec 1979-30 Jul 1981, London/England, Sold to James Fairfax, 30 July 1981. Agnew's stock no. 43546.
James Oswald Fairfax AC, 30 Jul 1981-31 Aug 1993, Bowral/New South Wales/Australia, Gift of James Fairfax 1993. Purchased by James Fairfax from Agnew's 1981.