View More:
---
Title
Beatrice meeting Dante at a marriage feast, denies him her salutation
---
Artist
Dante Gabriel Rossetti
England
12 May 1828 - 09 Apr 1882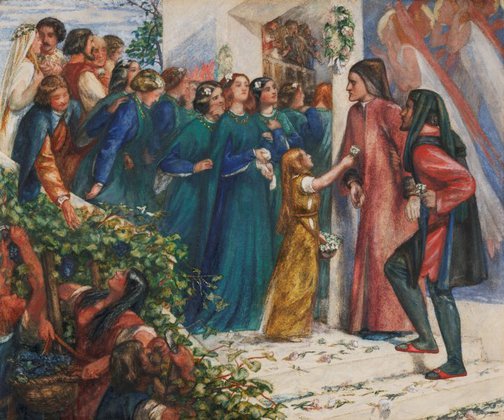 ---
About
Dante Gabriel Rossetti was the main intellectual force behind the Pre-Raphaelite Brotherhood (PRB), formed in 1848, which during its brief existence affected a revolution in British painting. The important members were Rossetti, William Holman Hunt, and John Everett Millais. Ford Madox Brown never became a member of the PRB, but acted as mentor and supporter.
The true Pre-Raphaelite period was brief, lasting from the formation of the brotherhood in 1848 until its effective disbanding in c.1852. The movement retained a certain consistency until c.1865, but after this its importance was mainly through its influence on a new generation of painters.
Rossetti exhibited only two oil paintings during the PRB period. Discouraged by adverse criticism he turned almost exclusively to painting in watercolours. It was in this medium that he produced a series of highly imaginative works based on literary and historical subjects, most commonly set in the middle ages.
Rossetti was a highly literary man who read deeply in Shakespeare, Keats, Browning and above all Dante. In 1848 he completed his translation of Dante's 'Vita Nuova', and intended to complete 13 watercolours illustrating episodes from the poet's life. In fact he seems only to have finished a very small portion of them. Today only four are recorded, including the present work.
The picture shows Dante dressed in a full-length red tunic and leaning on a wall frescoed with light blue angels. A small girl wearing a gold coloured dress offers him flowers. Directly behind her is the figure of Beatrice flanked by two dark-haired bridesmaids. Beatrice is walking in a bridesmaid's procession towards the wedding feast. Dante gazes at his beloved as she passes but she looks haughtily at him. When the present watercolour was first exhibited in 1852, the catalogue carried an abbreviated passage from the 'Vita Nuova', describing the subject of the work.
Rossetti's father was a scholar of Dante. The artist often identified himself with the poet whose name he shared. And Beatrice became for him the poetic counterpart of his lover Elizabeth Siddall who by this date was living with him. She was the model for the figure of Beatrice in this watercolour. Later she was immortalised in Rossetti's famous 'Beata Beatrix' which commemorates her tragic and self-inflicted death in 1862 from an overdose of laudanum.
When it was exhibited in 1852 the present watercolour attracted the admiration of the great critic, John Ruskin: "I am very much delighted with a sketch of Rossetti's in the Winter Exhibition Beatrice and Dante - a most glorious piece of colour. The breadth of the blue-green - and fragmentary gold is a perfect feast" (Ruskin to Holman Hunt, 9 January 1853). Such was his admiration that he shortly afterwards acquired a second version of this watercolour painted in 1855 which is now in the Ashmolean Museum, Oxford.
---
Details
---
Media category
---
Materials used
watercolour and bodycolour with gum and scraping out over traces of pencil
---
Dimensions
35.1 x 42.5 cm image/sheet (irreg.); 61.0 x 68.0 x 2.5 cm frame
---
Signature & date
Not signed. Not dated.
---
Credit
Purchased with funds provided by John Schaeffer 2003
---
Shown in 10 exhibitions
Exhibition history
---
Provenance
---
Mr and Mrs Cecil Charrington, England, 3. then by descent to Mrs David (later Lady) Sells
Mrs Ernest Charrington, England, 2. Mrs Hadley, daughter of Henry Tanworth Wells; then by descent to Mr and Mrs Cecil Charrington
Henry Tanworth Wells RA, 1852, England, 1. From the artist to Henry Tanworth Wells, RA, 1852; then by descent to his daughter Mrs Ernest Charrington
Mrs David Sells, pre 08 Jun 1999, England, 4. Sold Sotheby's London, 8 June 1999, lot 21
Private Collection, post 08 Jun 1999, 5. Purchased Sotheby's London, 8 June 1999, lot 21 (£221,500)
Hirschl & Adler, New York, pre 01 Dec 2003, New York/New York/United States of America, 6. Purchased by the AGNSW from Hirschl & Adler 2003
---
Referenced in 19 publications
Bibliography
---
Maris Teresa Benedetti, Dante Gabriel Rossetti, Florence, 1984, pp 172–73, no 29, illus p 172.
City of Bradford Art Gallery, Catalogue of the works of art in the Cartwright Memorial Hall, 1904, p 13, no 92.
Oswald Dougherty and John Robert Wahl (Editors), Letters of Dante Gabriel Rossetti, Oxford, 1965-1967, vol 1 (1835-1860), p 122.
A.I. Grieve, The art of Dante Gabriel Rossetti: watercolours and drawings of 1850-1855, 1978, vol 3, pp 17–18, no 14, illus p 17.
Martina John, Rossettis Dante. Bild-Text--Relationen und Literaturrezeption bei Dante Gabriel Rossetti, Kiel, 2015, pp 175–83, col illus p 394, Abb. 6.
H C Marillier, The Art Journal, 'The Salutations of Beatrice', London, Dec 1899, pp 353–57: p 356.
H.C. Marillier, Dante Gabriel Rossetti: an illustrated memorial of his art and life, London, 1899, p 150, no 30, illus p 150.
New Gallery, Exhibition of pictures ancient and modern by artists of the British and Continental Schools: including a special selection from the works of Dante Gabriel Rossetti: The New Gallery, Regent Street, 1897-8, London, 1897, p 18, no 54.
Peter Raissis, Look, 'Enter Dante Gabriel Rossetti', Sydney, Apr 2004, pp 9–12: pp 9, 11, col illus 10–11.
Peter Raissis, Victorian watercolours from the Art Gallery of New South Wales, Sydney, 2017, pp 18, 168, 170, col illus pp 8 (detail), 170.
William Michael Rossetti, The Art Journal, 'Notes on Rossetti and his works', London, 1884, pp 148–52: p 151.
W M Rossetti, Dante Gabriel Rossetti: his family letters, with a memoir, 2 vols, London, 1895, vol 1, pp 173, 179.
W M Rossetti (Editor), Præraphaelite diaries and letters, London, 1900, p 306.
Royal Academy of Arts, Dante Gabriel Rossetti: painter and poet, 1973, p 33, no 87, illus plate VIIIa.
Virginia Surtees, The paintings and drawings of Dante Gabriel Rossetti, 1828-1882: a catalogue raisonné, Oxford, 1971, vol 1, p 17, no 50, illus vol 2, pl 33.
Tate Britain, Loan exhibition of paintings and drawings of the 1860 period, 1923, no 1.
Tate Britain, The Pre-Raphaelites, 1984, pp 254–55, no 176, illus p 254.
H Virtue Tebbs, Pictures, drawings, designs and studies by the late Dante Gabriel Rossetti, London, 1883, p 17, no 6.
Crayon, New York, 23 May 1855.